One month into its residency at Mid-America Science Museum, the first traveling Smithsonian exhibit hosted in the facility's new exhibit hall has proved to be a popular attraction.
Casey Wylie, the museum's director of education, said the reception to "Life in One Cubic Foot," which opened on Sept. 25 and will close on Jan. 2, has been positive, with all age groups enjoying the exhibit.
"We've actually still seen pretty high attendance, even for fall, which has been really nice," Wylie said, noting the fact that the exhibit is a creation of the Smithsonian has been a draw in itself.
Video not playing? Click here https://www.youtube.com/embed/gRhF213H_b4
"As with anything Smithsonian, you know it's well crafted," Wylie said. "It's really attracted a lot of adults, as well."
Wylie said she hopes schools are able to take advantage of the exhibit.
"I'm really hoping that we can get some school field trips in here. There's been a few so far," she said. "This is a fantastic exhibit for middle school science. I used to be a middle school science teacher, and this has sixth grade Arkansas NGSS written all over it, so we're really trying to encourage field trips to come see it before they miss it."
The exhibit is located in the Hall of Wonder, the museum expansion built to house traveling exhibits.
Mid-America previously hosted the Smithsonian exhibit "Star Wars: Art of the Starfighter" in 2002 in the original museum building. The exhibit hall expansion, which city voters authorized in September 2018, hosted its inaugural traveling exhibit, "Bionic Me," beginning in May 2020, but this is the first Smithsonian exhibit the new hall has hosted since its completion.
"Life in One Cubic Foot" shows what can be found within the space of one cubic foot of land or water during a 24-hour period, including footage and photos of the different forms of life the researchers encountered while creating the exhibit.
"We start talking about what does biodiversity mean and why is biodiversity important?" Wylie said of one section of the exhibit.
"So biodiversity really helps us see how each organism plays a part in its ecosystem and every organism has a special role and they all interweave with each other," she said.
"It helps you understand that if just one disappears, it affects the entire balance, it affects the whole webs," she said, pointing at a list of crabs that live in the same area.
Another section shows where most of the living things on the planet can be found.
"So this is my favorite fact of the whole thing. The midwater ... the largest living space on Earth. So if you think about it, think about all the different animals that you imagine in the Amazon rainforest or in Africa, most of what lives in our planet lives here, throughout the ocean," Wylie said.
"That's just astounding to realize how microscopically small humans are on this planet and yet we have such an overwhelming disturbing impact on everything, even things we don't see."
The area also has a model of a Paraphronima gracilis, which is a small crustacean with unique eyes.
"This exhibit talks about (how) biodiversity, different organisms play different roles and they all have to adapt in different ways. This huge big thing on his head, that's his eye, so this is actually a model of what his eye would look like," she said.
"It's completely different from a human eye, but they actually work like fiber-optics," Wylie said, noting the eyes "pick up light and that light goes down the nerve ending, which acts pretty much like different fiber-optic cables, so they're able to get enough light to be able to see and function while living deep in the ocean water where they would never see light at all.
"It's just an interesting way to understand that different organisms are special adapted to live in their environment. We really are just one tiny little puzzle piece in a great big jigsaw puzzle, and if you remove one and try to put it somewhere else, it doesn't work that way."
The exhibit also has several hands-on elements so children can make their own biocube and take it home with them.
The museum also built several biocubes and put them around town in places such as the Arkansas School for Mathematics, Sciences, and the Arts, National Park College and the Garland County Library.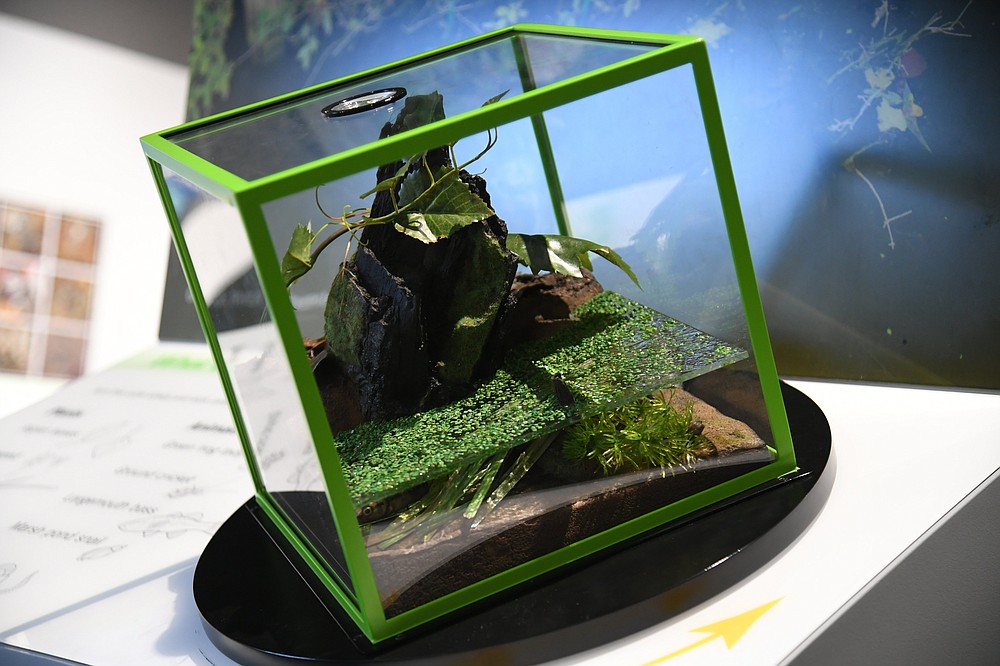 The Sentinel-Record/Tanner Newton /caption: A model of a biocube is on display at Mid-America as part of the Smithsonian exhibit " Life in One Cubic Foot." HS Mid-America-3 102621.JPG attached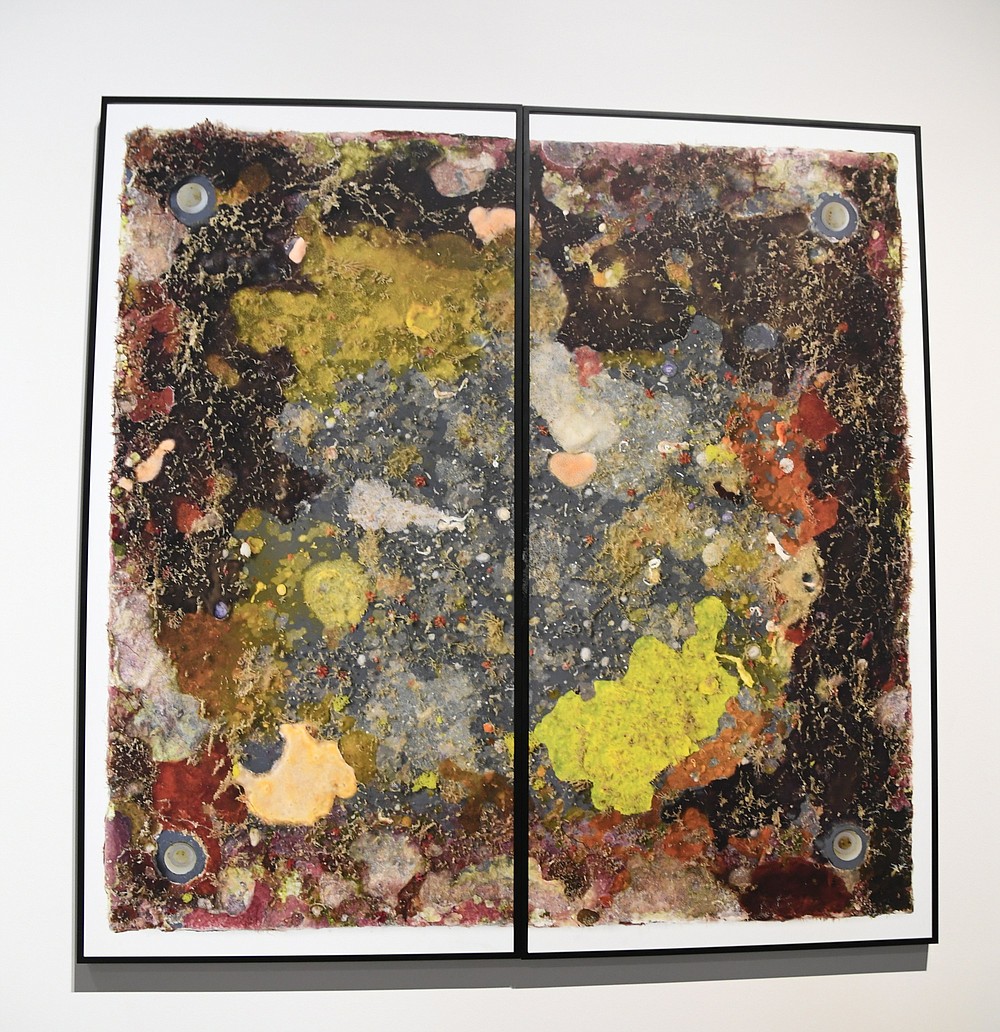 The Sentinel-Record/Tanner Newton /caption: The Smithsonian exhibit at Mid-America shows various lifeforms around the world, such as this photo of living things on a plate in the ocean. HS Mid-America-4 102621.JPG attached.