The annual Tom Daniel Holiday Chili Cook-Off was back for its 18th year Monday, officially lighting up downtown Hot Springs with its traditional Christmas lights display, after taking last year off because of the pandemic.
Hosted by the Downtown Association of Hot Springs, and held at the Exchange Street Parking Plaza, the always-much-anticipated chili cook-off saw a decline in numbers this year, even though the same Christmas spirit was there.
Downtown Association of Hot Springs President Alan Spraggins said the number of teams dropped from 38 to 22 this year with around 1,000 people in attendance. Besides the fact the cook-off was not held last year, he said the lower number was likely due to the general employee shortage of many businesses in the area.
"We had some new teams this year that had never participated," he said. "One actually won. A first-year team actually won it. So, between the participants, chili tasters, spectators, the general public, we had a pretty good turnout. You know, we were pleased with the turnout. Overall, I think it was a success."
The winners of the traditional chili category included Nick Jones and Farm Bureau in first place, while Ben E. Keith reclaimed second after taking it home in 2019. Best nontraditional chili went to Spa City St. Paddy Wagon in first place, and Hot Springs CBD in second.


Video not playing? Click here https://www.youtube.com/embed/4IjWyGdCvNw
Spa City St. Paddy Wagon, which also has a float in the World's Shortest St. Patrick's Day Parade each year, won with its corned beef chili, which is made from a multigenerational Irish family recipe, to go along with its St. Patrick's Day theme.
Monday Night Mafia took home the prize for the People's Choice award, as well as best decorated booth.
Spraggins said that while there is always a lot of competition at the event, there is an equal amount of fun.
"You know, it's funny; Some teams are about winning the chili, and some teams are all about winning the booth. They don't care what the chili tastes like; they're there for the fun and the booth and all," he said.
The Fun City Chorus of Hot Springs -- a group of men, of all ages, that sings a cappella music in the barbershop harmony style -- provided live entertainment as the chili cook-off contest culminated in the lighting of downtown's Christmas light displays.
The annual spectacle, broadcast live on KATV Channel 7, is funded in part by the proceeds from the event.
"You know, the thing was, we weren't able to have it last year and so we did not really know what to expect ... with COVID lingering around, you know," Spraggins said. "But we could see that even with the turnout we had, everybody was still happy to be there. And all the Christmas lights downtown are officially lit."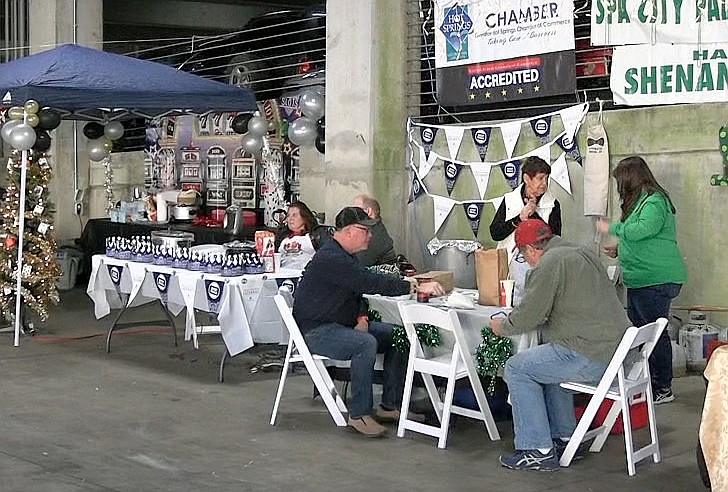 Teams await the start of the annual Tom Daniel Holiday Chili Cook-Off on Monday at Exchange Street Parking Plaza. - Photo by Tyler Wann of The Sentinel-Record