A local man is facing felony charges following a traffic stop Tuesday evening after a loaded gun with a high-capacity magazine and over 150 grams of marijuana were allegedly found in his possession.
Rickey James, 21, who lists a Spring Street address, was taken into custody shortly before 7 p.m. and charged with simultaneous possession of drugs and a firearm, punishable by up to life in prison, possession of marijuana with purpose to deliver, punishable by up to 10 years, and possession of drug paraphernalia, punishable by up to six years.
James, who lists no prior criminal history, was also charged with a misdemeanor count of driving while intoxicated, drugs, punishable by up to one year in jail. He was being held on zero bond and was set to appear Wednesday in Garland County District Court.
According to the probable cause affidavit, around 6:30 p.m. Tuesday, Garland County sheriff's Cpl. Matthew Cogburn saw a black Infiniti passenger car eastbound in the 100 block of Airport Road without taillights and made a traffic stop.
He made contact with the driver, identified as James, and reportedly noticed his eyelids were droopy, his eyes were red and watery and his speech was slurred. He also noted a strong odor of marijuana coming from the car.
Deputy Candice Presley arrived to assist and she was checking James' registration as Cogburn checked his driver's license. Cogburn said he saw James handing Presley a small glass jar of marijuana and she had him step out of the vehicle.
Cogburn asked James when he last smoked marijuana and he allegedly said, "Man, a couple of hours ago." Asked if there was anything else in the vehicle, James reportedly indicated there was a gun under the seat which turned out to be a loaded Glock 9-mm handgun with a high-capacity magazine and one round in the chamber.
In the back seat, deputies reportedly located a backpack with a larger glass jar of marijuana containing around 159.8 grams, or 5.6 ounces, digital scales and several empty plastic baggies.
At that point, Cogburn took James into custody and notified officers with the 18th Judicial District East Drug Task Force, who later assumed the investigation.
Once at the detention center, James submitted to field sobriety tests and allegedly gave indications of being impaired, although a Breathalyzer test showed his blood alcohol content to be zero percent. James submitted to a drug influence evaluation and Cogburn, a certified drug recognition expert, determined he was under the influence of cannabis and "unable to operate a vehicle safely."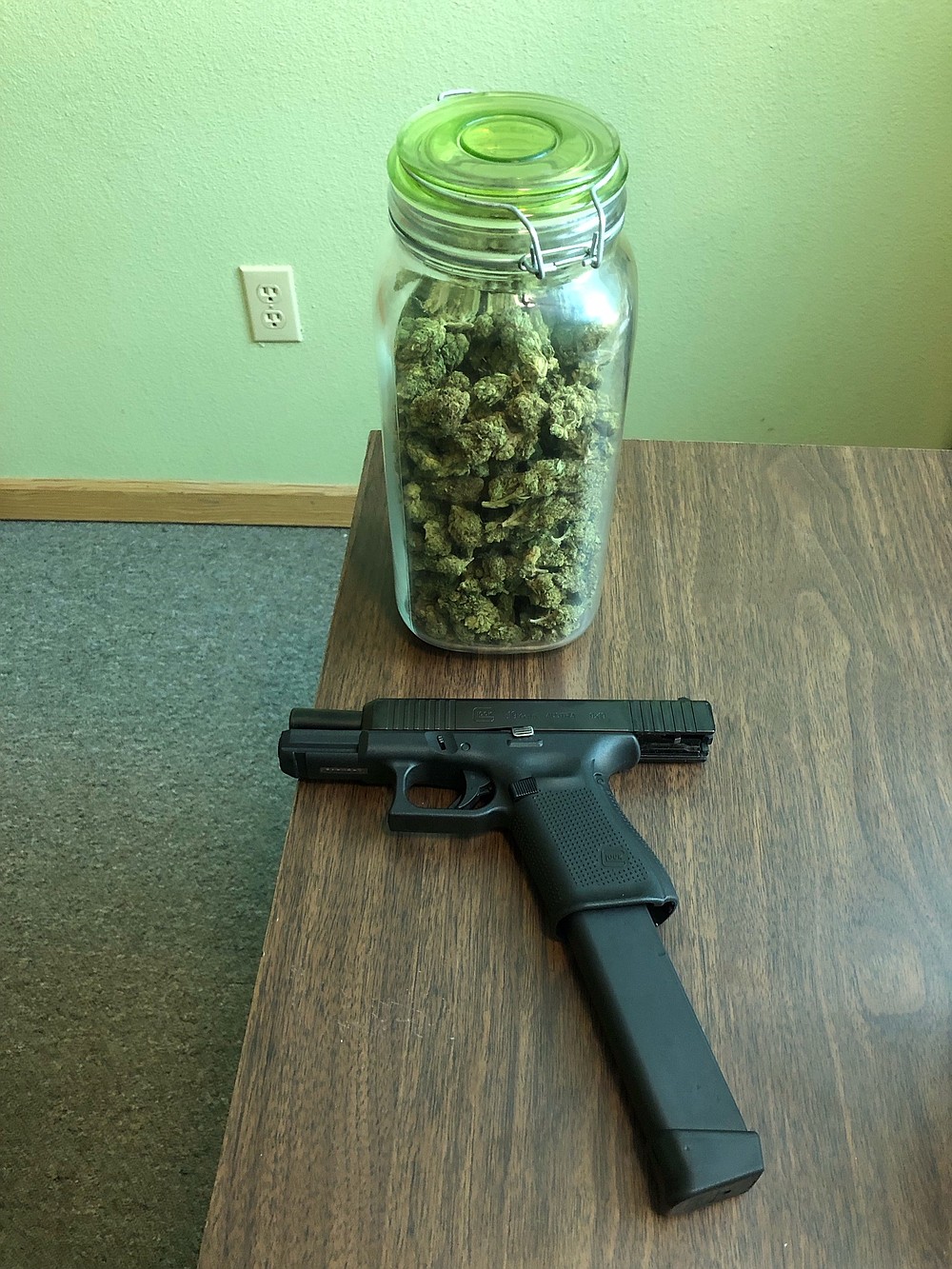 A glass jar containing over 150 grams of suspected marijuana and a Glock 9-mm handgun with a high-capacity magazine recovered during a traffic stop Tuesday night are shown. Photo is courtesy of the Garland County prosecutor's office. - Submitted photo