For the fourth holiday season in a row, the terrifying dinosaurs residing in the woods at Mid-America Science Museum will become more friendly as they spread some Christmas cheer as part of Dino-Lites, which opens on Friday.
The Oaklawn Foundation DinoTrek is a trail through the museum's wooded area populated by 13 dinosaur replicas. Each November, Hot Springs organizations decorate the dinosaurs, covering them in Christmas lights and other adornments, for Dino-Lites.
The official opening of Dino-Lites will be held at 5 p.m. Friday.
"This is our fourth annual Dino-Lites, and every year it just gets better and better," said Diane LaFollette, the museum's executive director. "We're really excited."
Hot Springs Mayor Pat McCabe, who is credited with coming up with the idea for Dino-Lites, will again be in attendance on Friday to officially open the exhibit to the public by flipping the switch to turn on the lights.
"We have him every year; it was his idea," LaFollette said.
LaFollette said she is impressed with the festive displays, saying that there are "some super cute dinosaurs."
While Dino-Lites doesn't officially open until Friday, LaFollette said that numerous families have already enjoyed the festive displays. Many people have walked by while the businesses were decorating their dinosaurs.
"We've had so many people walking there and enjoying them," she said.
One of the final groups to decorate their dinosaur was Hot Springs National Park, on Tuesday. Ashley Waymouth, park ranger/anniversary coordinator, said that the park's dinosaur is about to take a thermal bath on Bathhouse Row.
The dinosaur that HSNP decorated is wearing a bathrobe and a shower cap, holding a sponge in one claw and standing in front of a bubble bath.
"Oh, I love it. I think he's really playful and we wanted to encapsulate the spa experience, and we feel the dinosaur really does," Waymouth said.
Waymouth said she is looking forward to seeing the dinosaurs covered in lights at night, and seeing what all the other dinosaurs look like.
Museum visitors will be able vote for their favorite dinosaur through the holiday season. LaFollette said that voting ends on Dec. 18, but the displays will stay up until New Year's. The winning dinosaur team will receive $500.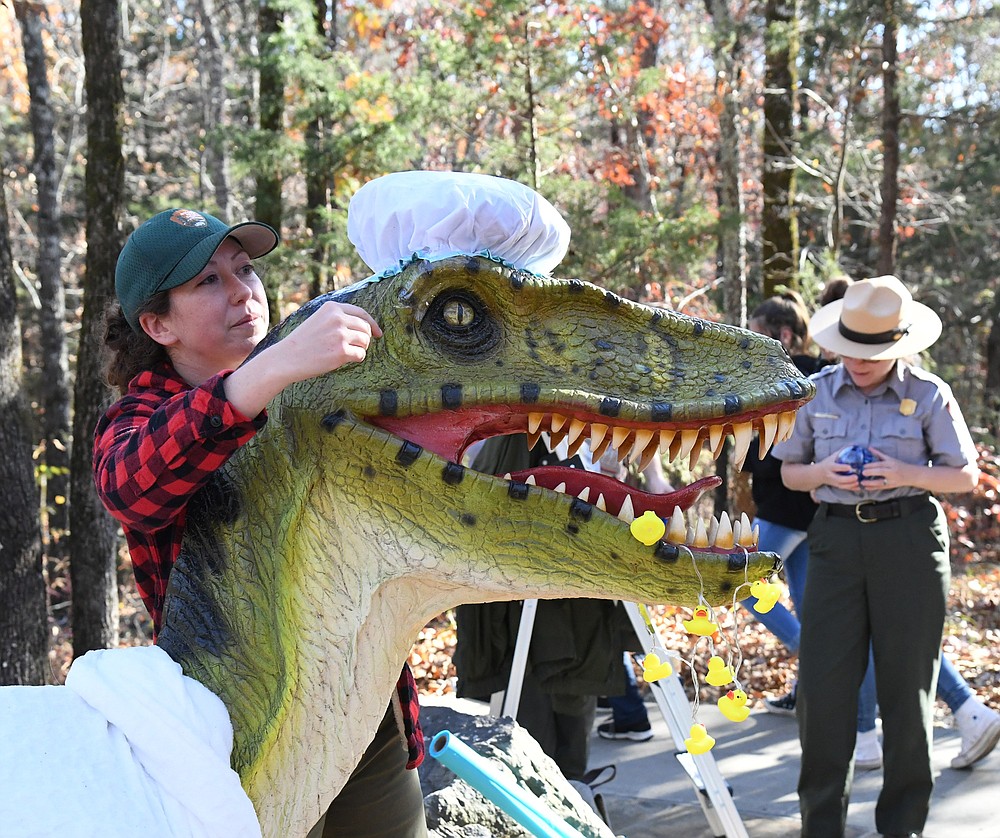 Hot Springs National Park archaeologist Victoria Reichard ties a shower cap to a dinosaur's head at Mid-America, while Park Ranger/Anniversary Coordinator Ashley Waymouth makes decorations in the background. - Photo by Tanner Newton of The Sentinel-Record