While the COVID-19 booster shot, which increases a person's immune response, is targeted for older adults and people with weakened immune systems, the majority of the public will be eligible to receive the booster shot six months after their second dose of the Pfizer vaccine.
"It's a small number of people who would not qualify for this, just because the list of medical conditions that they're saying is so broad," Garland County vaccine coordinator Dr. Cody Turner said. "I mean, even down to obesity. And so basically anyone over the age of 18 who's obese or has a BMI greater than 30, which is probably 75% of the population, would qualify based on that."
U.S. health officials now recommend boosters for some people at higher risk for severe illness from COVID-19 based on evidence that protection against milder disease can wane, especially among older adults. The U.S. Centers for Disease Control and Prevention says people 65 and older, long-term care residents and others ages 50 to 64 with health problems such as diabetes or heart disease should get boosters if they got Pfizer shots at least six months ago, The Associated Press reported on Wednesday.
The agency stopped short of recommending boosters for people 18 to 49 with health problems, but says they can also get the shot after considering their individual risk. The same is true for anyone 18 to 64 whose job could put them at higher risk for infection, such as health care workers, teachers, first responders, agriculture workers and public transit workers, the AP reported.
Turner, a local pharmacist, said people are not required to show proof of the preexisting conditions to receive their booster shot, noting it is based on the honor system. They do have to show proof of receiving the initial two vaccinations prior to the third.
Turner said the same requirements exist in which people need to bring their vaccine card not only for status verification, but so health officials can update the card to include the new dose and ensure that someone does not accidentally receive a fourth dose.
Turner said the Pfizer booster shot is the same as its first two doses.
"It's the same dose for Pfizer," he said. "Moderna may be a lower dose; They've not announced yet. But it's the same exact vaccine -- the same way the first two shots were the same dose of the same vaccine -- this is just a continuation of that."
According to the FDA emergency use authorization guidelines, those who have been fully vaccinated with the Pfizer vaccine for six months or longer can now receive the booster if they are age 65 or older; age 18 or older and at high risk for severe COVID-19; or live or work in a high-risk situation such as health care workers, teachers and people in prisons and homeless shelters.
Turner said while there are no area mass outdoor clinics scheduled that he knows of -- such as the one in March at the Garland County Fairgrounds -- people may sign up for their free booster shots at East Gate Pharmacy in Hot Springs Village and some other local pharmacies. People may also visit their doctor's office or the health department.
"So at this point in time, Pfizer has extended their emergency use authorization to everyone over the age of 65 so that everyone over the age of 65 is eligible to receive a third shot of Pfizer six months after the completion of their initial series," he said. "At this time, though, specifically for our company (East Gate Pharmacy), we are holding on giving the true booster shots for mass clinics because we're still giving so many primary and second shots in the stores; that it'd be hard to handle all three. We already have maybe 3,000 people booked in the Village for booster shots at this point through our website."
Turner said that even if an eligible person chooses not to receive the booster shot, they are still considered fully vaccinated which will likely keep it from being an annual shot.
"It's still encouraged to get the booster, just because of waning immune system responses," he said. "But it could go either way. I mean, at this point, Moderna is already announcing that they're going to develop a combination flu/COVID vaccine that will be available next year in the event that it's an annual thing.
"But if it's not and this is more like, you know, a hepatitis vaccine where you get a series of three or four depending on which hepatitis vaccine, it's those last one or two shots that really solidify long-term immunity. This should be like that to where you only need this third shot and this should be the end of it. We won't really know until I would say probably six months from now," he said.
Studies were performed on those who received the vaccine during the summer of 2020 regarding the point at which the vaccine stopped being effective.
"And that's where we learned that a booster shot is really needed six to eight months later and then once we see where those people are at three months from now give or take, we'll know whether or not the third shot was all we needed," he said.
Garland County Health Officer Dr. Gene Shelby said Wednesday he believes vaccinations have received a "bad rap" lately.
"Vaccinations, you know -- all kinds of vaccinations -- have been one of the miracles of medicine over the last 100, 120 years, and it really made a huge impact on everything from polio to measles to smallpox," he said.
"And that's kind of the disheartening thing is that people have really kind of started questioning the utility, or the good aspects of vaccinations. And hopefully, that's just going to be a temporary thing, but I think that until we get more people vaccinated, we're going to be living with COVID for a while," Shelby said.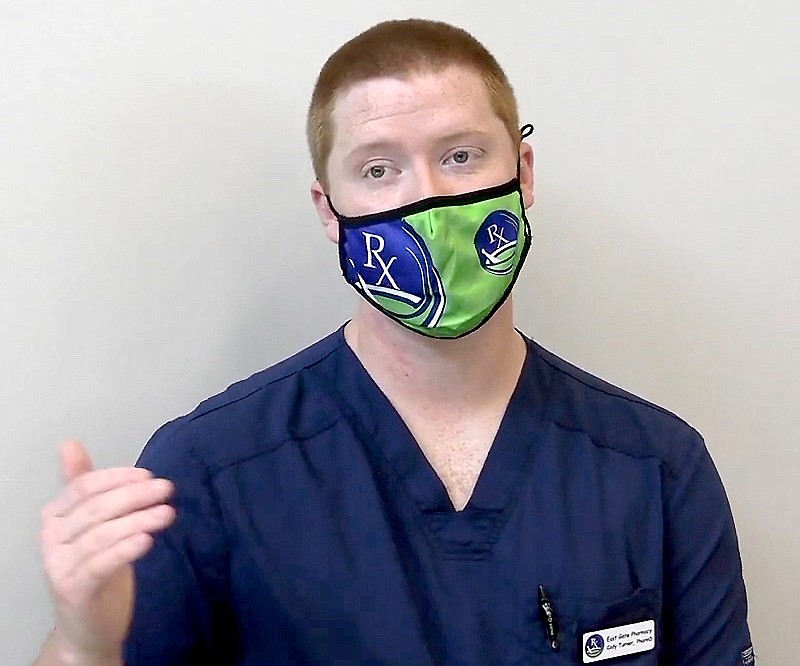 A file photo of Garland County vaccine coordinator Dr. Cody Turner. - File photo by The Sentinel-Record