The 30th annual Hot Springs Documentary Film Festival starts today with comedian and actress Tig Notaro helping to kick off the nine-day event.
The participation of Notaro, who will serve as the festival's opening night honorary chair, was announced Thursday at the eleventh hour because she only just became available for the festival.
"Historically, we have a celebrity joining us on the opening night, and we've actually been talking about getting Tig in attendance for several, several weeks now and we initially had her confirmed, and she was filming a project in New Orleans, and when the hurricane hit, it kind of messed up her production schedule, so for a moment we lost her but we're so thrilled that last night we got the great news that her schedule's been cleared and she's on a plane right now headed for Arkansas," Jen Gerber, festival executive director, told The Sentinel-Record.
Video not playing? Click here https://www.youtube.com/embed/cPX7Tjeou18
They wanted the comedian because "she's been a huge champion for telling Southern stories and elevating Southern voices," Gerber said. "We're also just huge fans of her."
Notaro also made a documentary for Netflix called "Tig" that was co-directed by Ashley York, an alumni of the festival, Gerber said, noting York's movie, "Hillbilly," was one of the opening night films for the festival in 2018.
"There are a lot of things that tie Tig back to Arkansas, and we are so thrilled to welcome her to the state," she said.
As opening night honorary chair, Notaro attends all the opening night festivities and will be speaking on opening night, Gerber said, noting, "I can't wait to hear all she has to say. I know she has a huge passion for documentary storytelling and is excited to shine a light on the stories that we have on display this week."
Asked if she expects Notaro to entertain people and make the audience laugh, Gerber said, "I would expect nothing less."
Past opening night honorary chairs have included Missi Pyle, Beau Bridges, Louis Gossett Jr., Kathleen Turner and Diane Ladd.
Most of the movies in the festival will be shown at Arlington Resort Hotel & Spa and the Malco, but the opening night of the festival will take place at the convention center with the opening film, "Citizen Ash," screening in Horner Hall.
Gerber said that she looks forward to seeing the festival start.
"I've been realizing that because last year was sort of a different year with our mostly hybrid festival, that we've been anticipating this for more than two years," she said. "We're really excited for all the films, for the guests that are coming, for the parties and special events that we have in store, I really think we have an incredible festival to look forward for this week."
Due to COVID-19, they are limiting the number of seats available at each screening. As a result, Gerber said those wishing to attend screenings should pre-order their tickets instead of waiting to buy at the door.
For the opening events, Gerber said they are already "getting capacity notices that things are getting close," but stressed that "we will absolutely try to accommodate everyone, so I don't want someone to be deterred if it looks like something is filled up, please still try to come and we'll do all we can to accommodate, but we are seeing high demand."
In addition to movies, the festival will continue the wellness series they started last year with the first event scheduled for Saturday.
"We'll be doing a bike parade with Hot Springs Bicycle Touring Company ... and we're doing a water tasting tour, going to every water source in town, including Mountain Valley Visitors Center," Gerber said.
"I think one of the things Hot Springs is most famous for is our water, and for many of our out-of-town guests, this is a great opportunity to get to see the city a little more in slow motion and up close and personal, get to learn a little bit about the history of our town and get to taste all the incredible water that we have available," she said.
The bike parade starts at 2 p.m. on Saturday, and it will start and finish at the Hot Springs Bicycle Touring Company. The event is free and open to the public.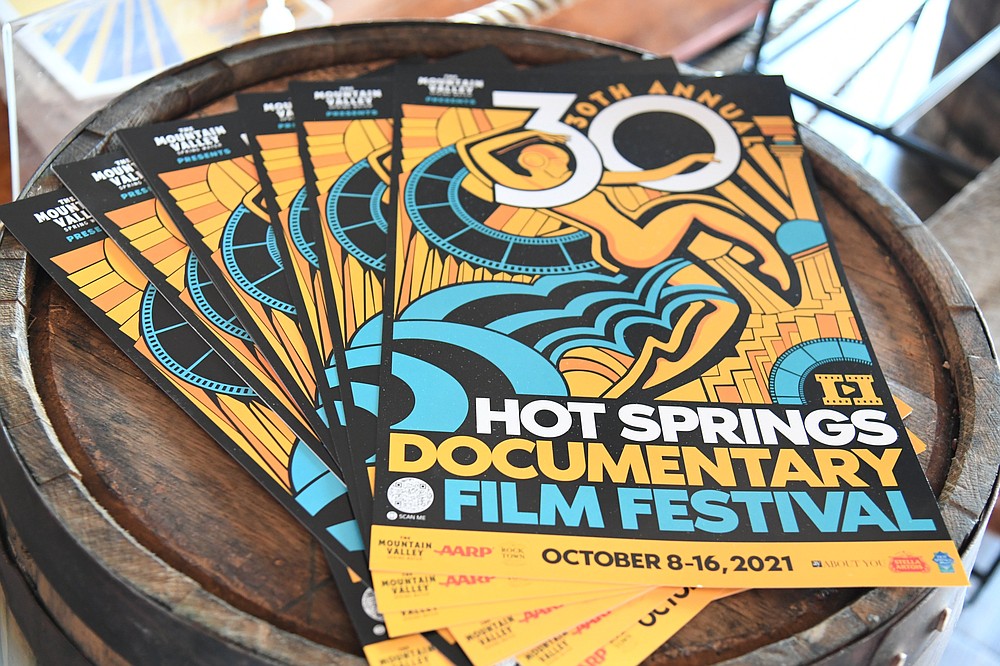 Posters for the 30th Hot Springs Documentary Film Festival are displayed on Thursday. Tig Notaro will serve as the opening night honorary chair, and will speak at Horner Hall in the Hot Springs Convention Center. - Photo by Tanner Newton of The Sentinel-Record