The 30th annual Hot Springs Documentary Film Festival opened Friday night with plenty of laughs and heartfelt appreciation for the festival from comedian Tig Notaro.
Notaro was a last-minute addition to the festival, serving as the opening night honorary chair. Her comedy skills were on full display from the outset, when an audience member laughed at an awkward moment, causing Notaro to question if it was coming from her agent.
"I am thrilled to be here. I have wanted to come to this town for probably 20 years. I heard about it and I read about it -- and why is somebody laughing at that?" Notaro said, adding "sometimes you get laughs where you didn't imagine them and you just have to go 'Well, it was a laugh, so I'll take it.'"
"But maybe that's my agent laughing because when this offer came in for me to come here ... when my agent contacted me about this, I was like, 'Oh, yeah, this is a priority. I want to go to this.' She was like 'Really? It's a documentary film festival in Arkansas.' I was like, 'No, I know. I've wanted to go to Hot Springs for a long time,'" Notaro said.
"Every time ... my agents kept trying to revisit this potential trip, they kept saying, 'Alright, you're sure you want to go to Alabama?'" Notaro said to a loud laugh.
Video not playing? Click here https://www.youtube.com/embed/dNB8opSViBA
Notaro shared a story about her 5-year-old son recently telling her wife that he doesn't want to listen to fictional books anymore. "When she picked him up from school, he said, 'Mom, can we buy some real books?'" she said. Her son elaborated that "I want books about real things. He said 'I'm reading a real book ... at school about giraffes.'
"He said 'I don't want to hear made-up stories anymore. I want to learn about real things,' and I loved that because obviously, I think it's important and fun to hear stories, whether they're made up or written about real lives, but I just loved that his interests had shifted to reality, like learning about things and life in a different way than just 'Peppa Pig,'" Notaro said.
She compared her son's reaction to her own reaction to documentary films as a child. "As a child, I remember when a teacher would put on a documentary, I hated them. I did not want factual information, and I think documentaries have come such a long way."
Notaro touched on her own documentary, "Tig," which revolved around her breast cancer diagnosis, keeping the audience laughing throughout her introduction. One moment that got a large pop from the crowd was when she did an impression of actor Morgan Freeman.
Video not playing? Click here https://www.youtube.com/embed/cP9V1DSZk3s
"By the way, I do have a documentary podcast, like Jen (Gerber) mentioned, and somebody said that their mother, when they were watching ... 'March of the Penguins' and said 'I just think it's so cool that Morgan Freeman spent an entire year of his life following penguins around,'" Notaro said. She then did an impression of Freeman, saying 'I can't believe I took this job, it's so cold out."
Another film festival guest Friday night was Rex Miller, co-director of "Citizen Ashe," about tennis legend Arthur Ashe, which opened the festival.
Miller said that when he was invited to the festival "I was like 'Heck yeah, I'm coming to Arkansas." He said that this is not his first time in the state. "Back in '88 I did a trip to the Mississippi Delta, and it really profoundly affected me. I ended up coming back about 32 times over the next eight years, and some of those trips took me across the river to Helena and to Little Rock and even went out to Eureka Springs a couple of times.
"It's a thrill to be here, opening night film. I've never had an opening night film at a festival before, and I wanted to thank the whole team here in Hot Springs. I think it's amazing what you're doing here to support nonfiction storytelling. We need all the support we can get."
After the movie started, Miller spoke with The Sentinel-Record, saying that he had only been in Hot Springs for a couple of hours, "but it's great to be here, I've done a little tour of the town to all the amazing old bath facilities."
"It's beautiful and I just got to hear Tig Notaro give a great little talk, so I'm pretty fired up," he said.
"Having a film open this festival is a beautiful thing. It's a great honor; there's some amazing films here, so the fact that Arthur's story got selected to open this like very prestigious festival is amazing," Miller said.
"Five years ago I released a film about the tennis player Althea Gibson, who was the first Black tennis champion, and she came about 10 years before Arthur. So when that film came out, I got a call from a stranger who said 'Hey, I liked your Althea film ... my father was a 'Life Magazine' photographer, and in 1968, he spent a week with Arthur Ashe as he was winning the US Open, and we have 41 rolls of film that nobody's ever seen before, and you should do a film about all this," Miller said.
"It took a while to get it up and running, and it wouldn't have happened without (his wife) Jeanne Ashe's participation and cooperation and encouragement," he said.
"It's been kind of a long road, five and half years, but with a lot of support, and my amazing colleague Sam Pollard, my co-director, we finally got it done," Miller said.
This is not the first, or last, festival that "Citizen Ashe" has screened at. "The film was shown a few weeks ago at the Telluride Film Festival (in Colorado), and it's actually being shown Sunday night in London, England, and I'm headed there myself, so this was a little bit of a step to the left, but I was really excited to be able to come here, being a Southerner myself at this point, living in North Carolina, and having spent a lot of time shooting on a former project in the Mississippi Delta and occasionally hopping to Arkansas, it's kinda a nice thrill to come here, even if it's just for 24 hours," he said.
Miller also spoke about how much he appreciates the HSDFF.
"The fact that this festival has been going on for 30 years, supporting nonfiction filmmaking is an incredible feat. OK, we all know the big money is with the big stars and scripted shows, but down here in Hot Springs, you guys have been supporting nonfiction filmmaking and it's really appreciated by all us filmmakers, so thank you guys and please keep it up," Miller said.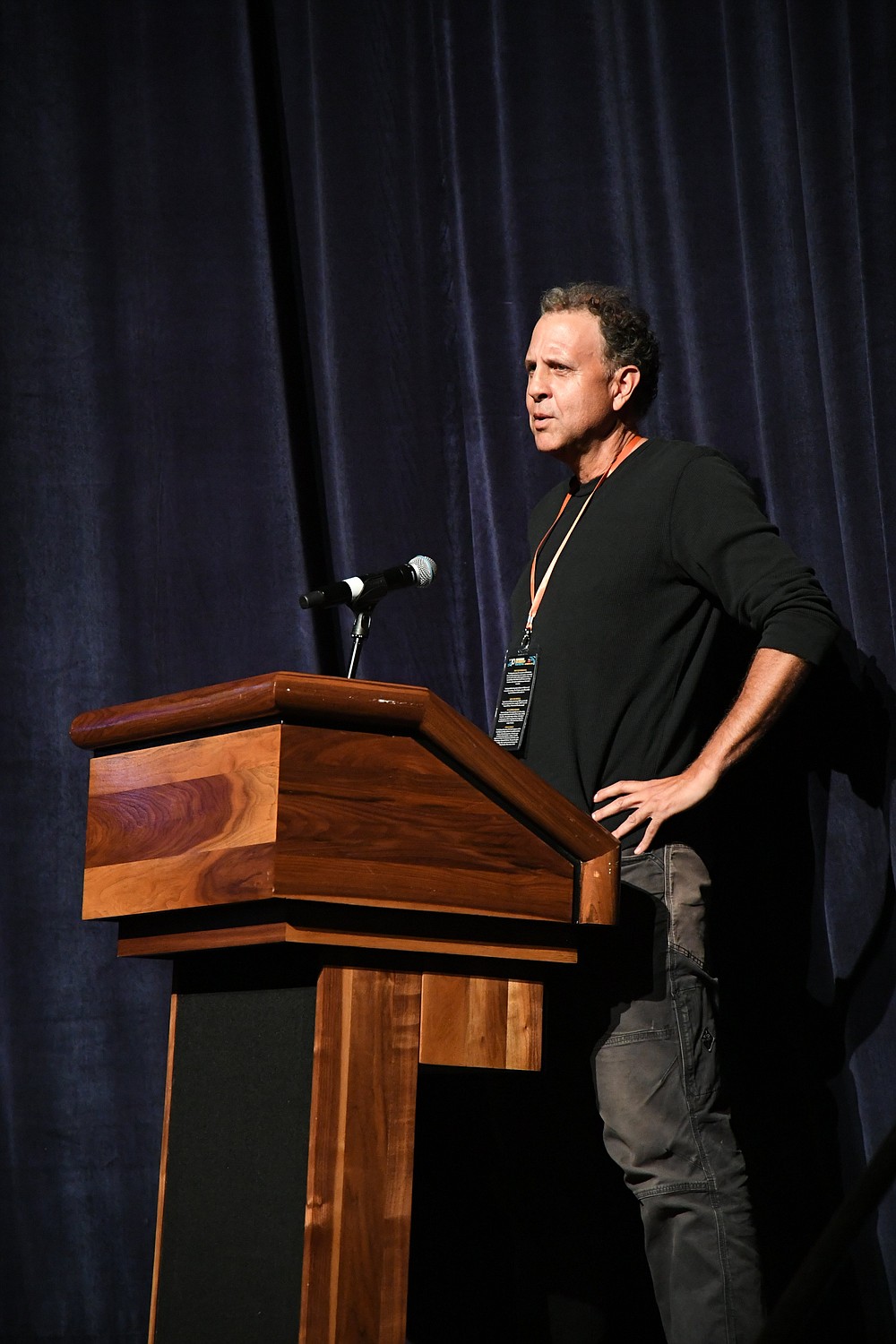 Rex Miller, co-director of "Citizen Ashe," speaks prior to a screening of the movie at Horner Hall on the opening night of the Hot Springs Documentary Film Festival on Friday. - Photo by Tanner Newton of The Sentinel-Record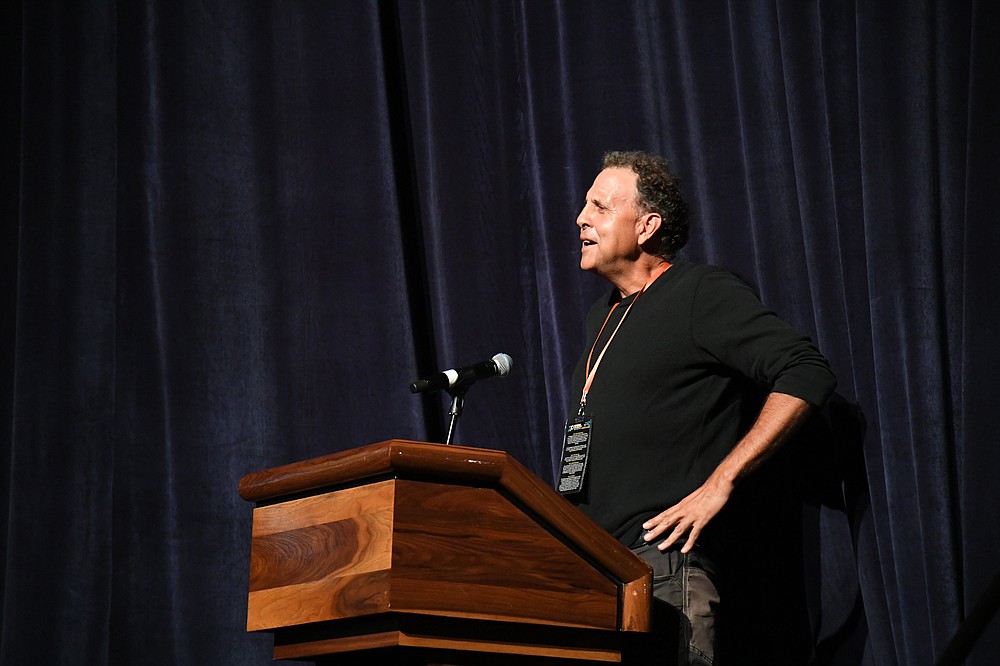 Rex Miller, co-director of "Citizen Ashe," speaks prior to a screening of the movie at Horner Hall on the opening night of the Hot Springs Documentary Film Festival on Friday. - Photo by Tanner Newton of The Sentinel-Record