Garland County Master Gardeners selected the home of Tony Gordon and Derrille Warner at 909 Garland as the October Yard of the Month.
"This 1940s home has come a long way in four years they have owned this property. The black wrought fence along the front that is planted with antique roses and wooden privacy fences along the back and sides lend a New Orleans theme. Tony and Derrille have done the planning, planting and plotting of this wonderful yard. Their excitement, enthusiasm and love of plants (have) led to propagating many of their plants. They love to incorporate decorations for each holiday season, and are currently completing their Halloween decorations for everyone to drive by and enjoy," a news release said.
"They have added a three-tier fountain surrounded by zinnia, Angel Trumpets, Mexican petunias and lilies. Small boxwood hedges have been added to define and give structure to the areas. Winding paths, statues, antique weather vanes, sundial, a flock of turkeys, even a concrete alligator add whimsy to this garden. Several different types of Japanese Maples, a weeping peach tree, Little Gem Magnolias, Japanese Beauty Berry and Marley's Pink Japanese Snowball bush were added. Antique roses cascade over the trellis that they built and big blue pots hold coleus, begonias, hosta, and ferns. Banana trees, hibiscus, cannas and elephant ears lend a tropical feel along with several small water features to the seating areas," it said.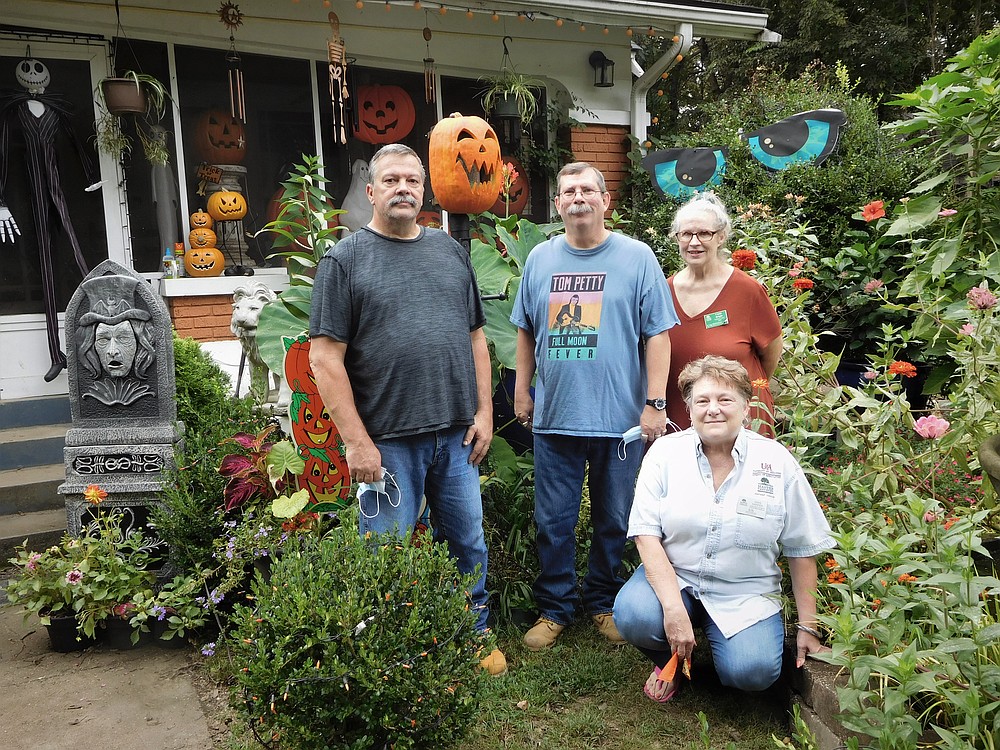 From left are homeowners Derrille Warner and Tony Gordon and Master Gardeners Cindy Bright and Gaye Harper. Not pictured are Master Gardeners Carolyn Davis and Jennetta Sanders. - Submitted photo