Jonesboro picked up its fifth-straight Class 5A state boys and girls tennis titles Tuesday, although the boys title came down to the boys singles final between Lakeside junior Ben Hollis and Jonesboro sophomore Joe Patton.
Hollis and Patton met up last year in the state final, but this year, a win for Hollis would mean a shared championship with the Hurricane.
The pair were evenly matched, trading games throughout the first set with an average of over six points per set. Hollis took the early lead with Patton matching him until the seventh game when the Jonesboro sophomore took his first lead in the set, 4-3.
"It was just nerves, just kind of a little bit tight, tense," Patton said of the early back-and-forth. "I was just playing a little bit too tentative. I was just slicing a lot, playing back behind the baseline, and then I started feeling it out. I got a few good points. I was serving for the set, I recall, and he broke me, and I had to fight back. I was down Love-30 in like a big game, and I got the hold, so I just had to loosen up in that first set. (It) just gave me that relief, and then I i've loosened up in that second set."
The two players continued to battle, drawing even at six games apiece to force a tiebreak.
Patton jumped out to a 3-0 lead, but Hollis refused to lie down, pulling within 6-5 before Patton hit a deep cross on Hollis' last serve of the tiebreak to take the first set.
Following the break between sets, Hollis clearly began to experience some issues with cramping, picking up just one point in the first game of the second set before Patton hit a deep shot past an advancing Hollis to take the lead.
Hollis called for a medical timeout, giving him three minutes to rehydrate and prepare for the rest of the set. He came back out of the break well, matching Patton point-for-point and taking the lead before Patton hit a shot down the line to force a deuce and then hit a deep shot past Hollis to take the 2-0 lead.
"The first set was really good for sure," Hollis said. "It was really tough points, tough battle. But second set, you know, he was playing a little bit better, and I wasn't moving as much. And I was missing a little bit more, but it was pretty decent. Pretty overall good play."
Hollis continued to battle -- both with Patton and his cramping shoulder -- clearly working to avoid a medical walkover in the state final. Patton pushed out to a 5-0 lead, but Hollis battled back, forcing Patton into a few errors to win the sixth game of the set.
The pair matched point-for-point again in the seventh game, but Patton closed out the game with a shot down the line, a deep cross past Hollis and then a light dump across the net to earn his second-straight state title and his school's fifth straight team title.
"I came in (and) I already had the mindset: I know there's not as much cushioning," Patton said. "Last year, there was -- we had both doubles teams already there. We're good to go. I came in; I knew Benjamin. He's been playing well; he's doing so much better, and I was like I have to play -- I have to keep my mind right, keep my game right, play right. Don't like -- don't try and tough it out, lengthen it without having to like last year. Like, we want to keep it -- we want to try and keep it short. It's not going to be like that every single day, but it was a good match nonetheless."
The sophomore credited the work that he's done during the summer and the season for helping him earn the state title once again.
"It feels great," he said. "It's nice to say to have it, but it's just -- I don't know what to say. It's just ... the work shows -- the lessons, the hours -- it all shows, and I mean, I'm playing for it, and I'm playing for the team."
Jonesboro head coach Jason Morgan was very pleased with the way the boys team performed, especially with Patton securing the win in the end.
"Overall, I was just super proud of my guys," he said. "When things aren't going real well, you know, they're pretty emotionally stable. You don't see a lot of highs and lows with them, which is always helpful in big matches. And with Joseph in the singles final, he put in a lot of work this summer. He went down to tennis academy in Florida all summer long and just worked and worked, and you know, he's playing in tournaments every weekend. So, man, all of these kids play year round, so I'm just super proud of them. They're a close group; they love being a part of the team, and it's just wonderful for them."
Lakeside's doubles team of William Ivy and Griffin Gulley pulled out a long semifinal to defeat Jonesboro's Win Gibson and Mills Arnold to set up the possible shared title for the Rams.
Ivy and Gulley battled to hold on for the win in the second set, forcing a tiebreaker set.
"I was doing everything I could to crash at the net and just hit smack the ball at the net," Gulley said. "I wasn't really thinking much. I was just doing it."
The pair quickly fell behind in the second, 2-0, before battling back to tie the set up, but Gibson and Arnold took control after three double faults in a single game en route to a 6-2 win and a tied match.
The two duos kept the third set in check with neither team taking more than a two-game lead. After falling behind 2-4, Gulley and Ivy won four straight games to secure their state final berth.
"It was that one ball (that) was the turning point," Ivy said. "It was when Griffin hit the overhead, and it just went right on the line. And I was like, 'We're taking over now.' We were just like, just push through, and we got it."
Ivy and Gulley finished as runners-up, falling to Jonesboro's Ethan Richardson and Carson Fowler, who defeated Lakeside's Greyson Cornelison and Walker Wood to advance to the final. Cornelison and Wood finished fourth after a loss to Gibson and Arnold.
Overall, Lakeside head coach Shawny Green was pleased with the way her team performed, picking up second place.
"I'm very proud of the way my boys competed," she said. "They all -- I think they all played their hearts out, and that's all that you can ask for them. And so I'm super proud of them. It's not the finish that we would have hoped for, but I feel like everyone gave it their best. And so I'm just super proud of them."
Green also noted that she was glad the weather held off. The rains started Tuesday less than 15 minutes after the final game was completed.
"I think it went pretty good, and I think it ran pretty smoothly," she said. "Got lucky with the weather because it rained right before we started playing on Monday, and now comes a downpour as soon as we get finished. So the weather was great. It was a little windy yesterday, but I think for the most part, it went super good."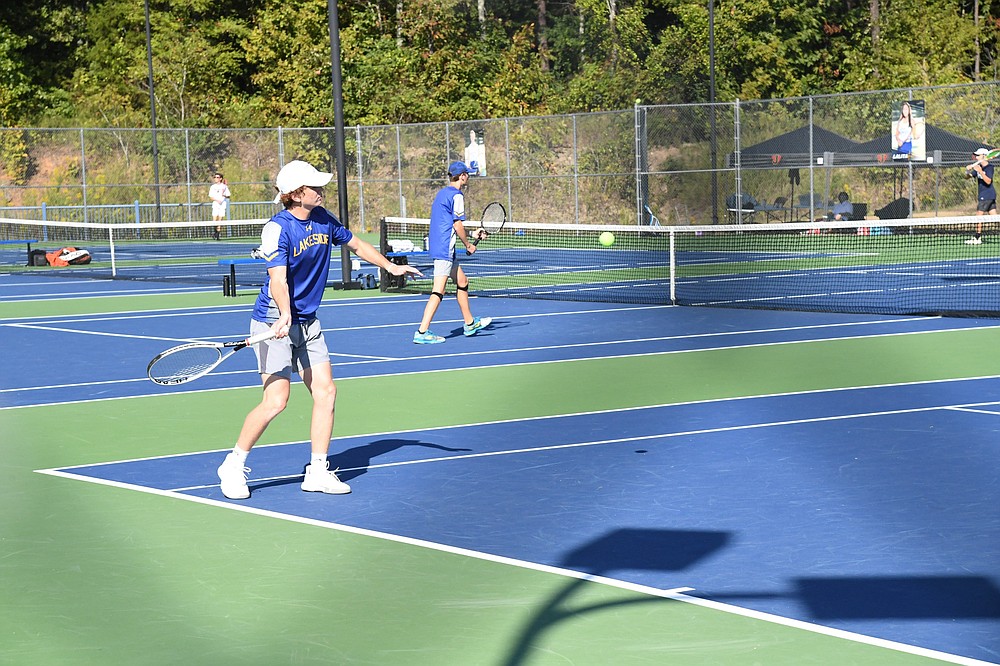 Lakeside's Griffin Gulley hits the ball against Jonesboro's Win Gibson and Mills Arnold in the Class 5A state semifinal Tuesday morning. Gulley and teammate William Ivy won the match and finished as the state runners-up. - Photo by Tanner Newton of The Sentinel-Record