Garland County has a pair of new coaches that are helping to develop young women into better athletes, and while one is a local athlete who is coming back home, the other is trying to make her mark on the community.
Neither Kellie Lampo Davis nor Autumn Wyatt initially had plans to coach, but now both of them are in their first head coaching positions.
Davis made a name for herself as a basketball standout at Jessieville before going to Harding to continue her basketball career, but now she is on the Jessieville sideline as a coach, just not in basketball.
Davis is now the head volleyball coach at Jessieville, a sport that she has not played since she was a freshman in high school, but the Lady Lions are 7-6 overall and 7-4 in 3A-Central play under a coach that less than a year ago was planning to go into accounting, not coaching.
Finishing up the final semester of a bachelor's degree in accounting at Harding, Davis had an epiphany as the Lady Bisons left Durant, Okla., following a 73-55 loss to Southeastern Oklahoma State.
"We're headed home from Oklahoma, and I looked at (head coach Tim Kirby) and I said, 'How can I get into coaching?' I was like a month away from graduating with an accounting degree," she recalled. "And he was just like, 'Are you serious about this?' I said, 'I think so, but I might just be like, sad that my last game's over.'"
Davis decided to give it a shot and go work in accounting, but she quickly realized that it was not what she wanted.
"So I went to work in a corporate job, and it just was not for me," she said. "And I just started making phone calls of 'What do I need to do to get back in the gym?' because I just feel like I have a lot to give in that area."
While the decision came as a surprise to her family, they did support her. Over the summer, her sister, who is a junior high volleyball coach at Bryant, worked with her to prepare her for the season.
"We took a trip to Dallas," Davis said. "And the whole ride -- that whole five-hour car ride, she just helped me get back on my game with volleyball and making sure that I was aware of (what I needed to know) -- even drills, gave me ideas for drills and everything. So my family support is great, and my sister has been great to make sure that anything that I wanted to know, I could know because I want to be the best that I can be in this."
Going into the season, Davis was a bit nervous about how things could go.
"I want to be able to give the girls, all of them, like and meet their expectations," she said. "Because I know they all have expectations. They all have goals, and as a coach, I want to be able to meet those goals for them and help them meet those goals. So I think my biggest fear is falling short of that and not giving them the year that they really want to have."
With a solid start to the season, Davis is pleased with how well things have gone so far.
"I think it's gone so good," she said. "I was talking to someone, and I was saying, 'It's a different kind of nervous that you get whenever you're coaching versus playing. But I love like being on this side of it. It's so, it's rewarding to be on this side of it and to see the girls that you work so hard with every day and see them having fun and see them getting wins. It just makes it really fun on this end of it, so I love it."
She is also pleased by the work ethic the players have shown on the court each day.
"We have a really, really talented varsity team," she said. "They've worked their tails off for me, and they've done really good. And they're really coachable. They listened to the adjustments that we make in practice each day, and they, they've just really responded well to that. And COVID kind of hit the team a little bit as far as numbers, so we've had a few that were out. ... We're excited to have the full team back, but even with those low numbers, we responded really well. And so I couldn't be prouder of the way that they're doing this year."
While she may not have the knowledge and experience of some other coaches, she is bringing the competitiveness and drive that she showed on the basketball court to her new sport.
"I get out there, and I'll play with them every once in a while," she said. "And so it's just like getting out there being with it every single day, your knowledge is going to increase, and you're going to get more, like I said, comfortable."
A Keller, Texas, native and graduate from East Central University in Ada, Okla., Wyatt was recently named the new head softball coach for the National Park Nighthawks.
Wyatt earned her bachelor's degree in criminal justice, but she was unsure what she wanted to do after graduating, leading her to apply for graduate school.
"I applied for a bunch of graduate assistantships for softball coaching," she said. "And I applied to schools that either had a criminal justice masters or a coaching masters, and I kind of just left it up to fate of "OK, whichever one accepts me, whatever program that is, that's just the direction I'm going to go.'"
Wyatt was accepted to the masters program in coaching at Southern Arkansas, and she got her "foot in the door" as a coach before moving to New Hampshire to take a job working with the softball coach she played for at East Central. She later moved back to Ada to take a job as the university's assistant athletic director for compliance and academics.
She realized fairly quickly that working in the university's compliance office was not what she wanted to do.
"One thing I didn't like, and I think that's why I also went to coaching, is just I feel like they came in my office for one or two reasons -- so they're ineligible, or I'm putting them in the transfer portal and they're leaving us," she said. "So I just felt like I could never get that positive experience I wanted. And so as a compliance officer, I was actually able to get quite a few athletes eligible through NCAA appeals and things like that. ... But it just stinks when you have to break the news to a kid of they're gonna have to sit out a year, or you learn that East Central wasn't a place for them. And while you do want to see them succeed, you kind of wish it was still at your institution."
Getting the head coaching job at National Park was a big change for Wyatt.
"Obviously, as a Division II coach and compliance officer, I was used to following the rules," she said. "We had so many rules on how many hours we can practice, how many days off, who could be with them, everything like that, and kind of getting here, it's 'All right. Here's our suggestions, but kind of just go out, put them on the field, and let's get them going.'
"So I think it's trying to balance that and realize I can have them more than I was used to before. And I think something else that's different is, like you said, kind of the stigma attached to junior college, and that's what I'm really trying to break. So it shouldn't be a last resort or anything like that. I want to get to the point where people are choosing National Park over some of these bigger schools."
As a fairly young coach, Wyatt is not much older than the players she is coaching, but she feels that she is able to connect with the players in a different way.
"I think I'm at a really good age right now where they don't look at me as like an old person, per se, but they do realize that I'm old enough that I've been through it before. I've had various experience and things like that, so I'm young enough to where they can still relate to me and say, 'OK, I'm not too far removed from playing and being in your shoes and things like that.'"
Early on, Wyatt said that it was clear that her players had researched her.
"The first couple of weeks, I mean, they were just spitting out facts from my bio, so they did their research on me," she said with a laugh. "They were really wanting to know what they were getting into, so I think once they saw the success that I was able to have as a player, and as a coach, that they were like, 'Alright. OK, maybe we did get a good one here.'
"And then just on the field as I walk them through different scenarios and things that I want, and I really explain why we do things, I kind of see them buying in of like, 'Wow, this really makes sense. And we really like this, and this is going to help us be successful.' So as we go along that trust -- which is huge. I mean, if you don't have trust, you don't have anything. So that trust is being built stronger and stronger. And I think that's only helping our relationship."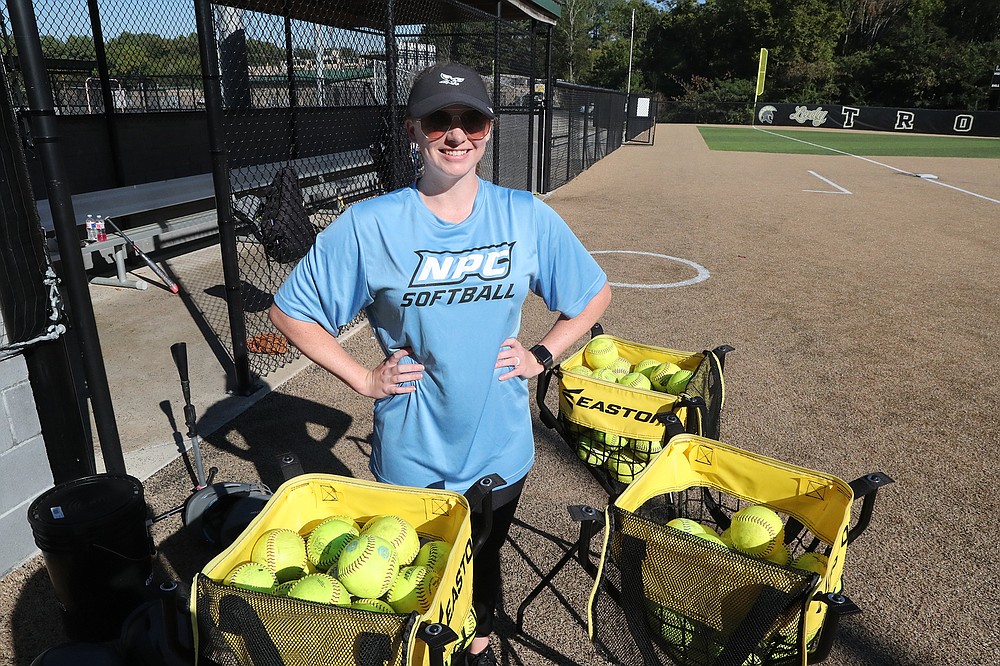 National Park head softball coach Autumn Wyatt may not have originally planned to be a coach, but now in her first head coaching job, she could not be happier. - Photo by Richard Rasmussen of The Sentinel-Record