Beth Mitchell, a service tech for Daniell Heat & Air, got into the heating, ventilation, and air conditioning industry purely by accident.
"My husband was in this field, and I was getting a business degree and took air conditioning as the elective. And then he came, and he needed help in the field one day, and I never left. Well, I say I never (but) I always come back to air conditioning because there's times when you think, 'Oh, I just can't do this anymore.' So, I went to work in a factory for three weeks and came back to air conditioning, and then I drove a truck for a year and came back to air conditioning. And that's how I ended up at Daniell Heat & Air; they were hiring when I got off the road," Mitchell said.
Mitchell's job is to service, repair and install the HVAC equipment.
"The problem with service techs is that we have the fix-it mentality, but if you're just fixing the air conditioning and you don't look at the unit as a whole, what are you really doing for your customer?" Mitchell said.
Mitchell took educational steps to get into the HVAC industry, such as attending Arkansas State University in Searcy to receive her certificate in HVAC. She received her EPA license, and two years later, she received her contractor's license in HVAC.
Mitchell said that a typical day for her depends on the season.
"In the summer, we run from sun up to sun down fixing air conditioners, replacing parts, cleaning the systems. Right now, we're slowing down; we're coming out of our peak season. So right now, what we're doing is we're getting furnaces and heaters ready for the next season. A typical day can last 18 to 20 hours during the summer months. And then, in the winter times, do the routine maintenance. I tell everybody that's new to this industry, kiss your family goodbye in May. And then in September, you'll be able to tell them hello, again, because you don't see a whole lot of your family because you work so much during those peak seasons," she said.
Mitchell's love of people is one of the reasons she enjoys her job.
"They're just different than you, and you can always learn something new from somebody else. If you just stop and listen. I've never met a stranger in all my life. When someone's hot, and they're moody, and they're cranky, and you come in there, and you have a smile on your face -- you're like their superhero. You're going to get them cooling again; you're going to save the day," Mitchell said.
At Daniell Heat & Air, the employees are one big team working as one functioning unit.
"We realized that it takes everybody from the woman answering the phone to the people installing the units in order to get things done. It's not necessarily a one-man operation because there's a lot of us," Mitchell said.
"We all have our special talents. For instance, I have the gift of gab. So if someone who has a difficult customer, the technicians can call and say, 'Hey, Beth, this one is different. How do I need to approach this customer?' We all have our different talents; someone may be better at working on a furnace. Someone may be better working at heat pumps, but if you ever need that extra help -- at Daniell (Heat & Air), we have a support team that is there to help you through that," she said. "We actually have a training room on site. And we have one guy that does mainly nothing but technical support. So if you call him and you need a little assistance, he'll either come out or help you over the phone. Great guy. This is the only company I've ever worked for that does that, and I have a life coach here, too."
The Steve Dooley Training Room is the training center at Daniell Heat & Air, and it has four systems set up to help troubleshoot, such as electrical, the refrigerant cycle, and problems will be placed in the systems that employees have to find.
Mitchell's advice to women thinking about going into the HVAC industry is to do it.
"Don't let fear or anyone's negativity hold you back. Don't worry about some things because there's always ways around it. So, if you can't lift a 150-pound compressor, find a way," Mitchell said. "Most women I noticed they need to get out of their own head. It's stereotypical for people to think that we should work in certain industries. And so we've been taught that our whole lives, and we just need to start thinking outside the box. Anyone can do it. Pray about it and move on.
"I believe that (women) will be passionate and love it as well if they will just try. Don't let anybody tell you anything different. My favorite thing is when I knock on the door, and the customer answers, and they're like, 'Oh, it's a girl,' and a lot of the older homeowners will be like, 'Here, let me get your tool bag.' I'm like, 'Oh, it's OK. I got this," she said.
The best advice Mitchell has been given was from Jason Daniell, saying, "don't sweat the small stuff."
"I think it was because a lot of times, I'm my own worst enemy and my own worst critic. So if something were to happen, he would just say, 'you know what, let's not sweat the small stuff. Let's just pick up the pieces and move on,'" Mitchell said.
Mitchell wants homeowners to know in order to keep their HVAC system working properly to change their filters and have routine maintenance done.
"The filter is the life of the unit," Mitchell said.
The life expectancy for an HVAC system is 10 to 15 years.
Mitchell does recommend getting a new HVAC system if problems start occurring, but if problems don't arise, keep the system.
"If it's working fine, if your electric bills are not crazy and you don't have a major repair when in doubt, wear that thing out," Mitchell said. "Unless you just really want to be proactive. I'm just a firm believer in if it's not costing you money -- just clean it, let it go, change your filters."
When Mitchell is not at work, she is very active in both of her grandbabies' lives.
"I got a 9-year-old and a 2-year-old," she said. "And we go kayaking, and we've just spent a lot of time this year. We've actually took two trips to Branson -- so we travel -- and I go to Clinton almost every weekend to be with my family up there."
Right now, Bug, one of Mitchell's grandsons, is in football. "So, in the morning, we go to the football game, and we have a barbecue in the afternoon, and there is a pond on the property, so either we'll go (down) to the pond (to) kayak or go fishing, but then we also have a side-by-side so we'll go trail riding, too," she said.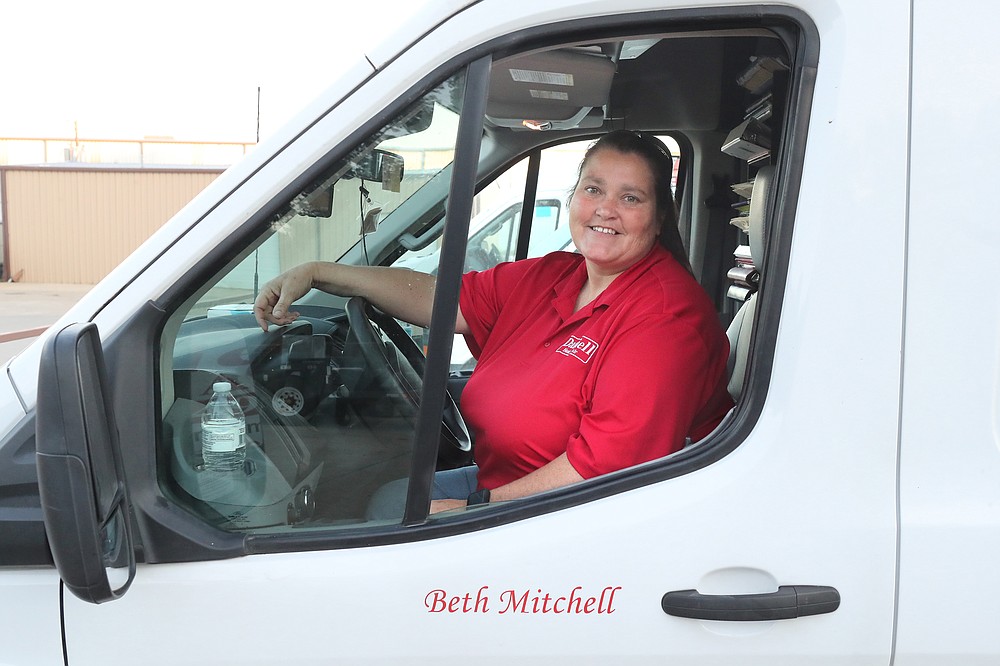 Beth Mitchell in her Daniell Heat & Air work truck. Photo by Richard Rasmussen of The Sentinel-Record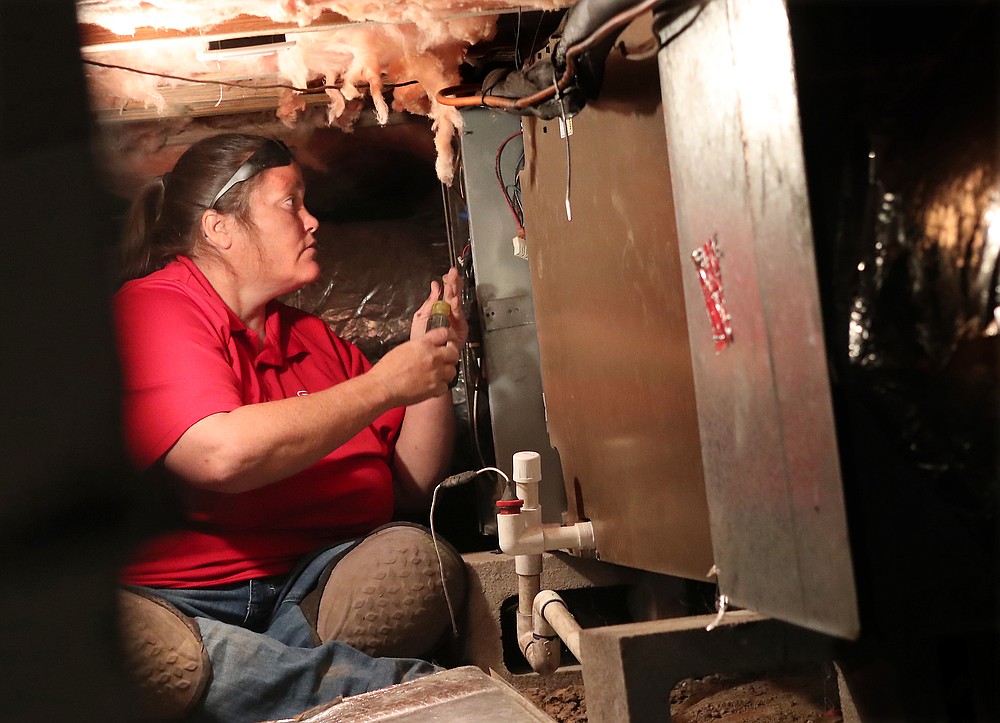 Beth Mitchell works on a heating unit under a house. Photo by Richard Rasmussen of The Sentinel-Record