A Glenwood couple were arrested Friday morning after they were allegedly spotted smoking meth in the parking lot of an area business.
Jason Charles Wolf, 46, and Laura E. Wolf, 49, who both lists a Glenwood address, were both taken into custody at 7:30 a.m. at Oaklawn Racing Casino Resort, 2705 Central Ave., and each charged with possession of a controlled substance, meth, and possession of drug paraphernalia, each punishable by up to six years in prison.
Laura Wolf, who also had a warrant for failure to comply, was later released on a $7,500 bond and Jason Wolf was released on a $5,000 bond and both are set to appear on Nov. 4 in Garland County District Court.
According to the probable cause affidavits, shortly after 7 a.m., Hot Springs police were dispatched to Oaklawn regarding a man and woman sitting in a white Chrysler car who were observed on surveillance video smoking what appeared to be drugs from a glass pipe and using a torch to light the pipe.
Officer 1st Class Shane Lewis and Officer Kristopher Wootten arrived and reportedly observed the woman, later identified as Laura Wolf, sitting in the passenger side of the car with a man, later identified as Jason Wolf, in the driver's seat. Security officers confirmed seeing the two smoking a pipe and passing it back and forth.
A computer check revealed the warrant for Laura Wolf. According to court records, she had pleaded no contest on Nov. 5, 2018, to a misdemeanor count of theft of property involving shoplifting at Walmart and was sentenced to six months' probation, but on Jan. 10, 2019, a warrant was issued for her for reportedly violating the conditions of her probation.
The officers asked the couple if they could search the vehicle and they both reportedly consented. When Laura Wolf exited the car, she reportedly placed her purse at the trunk of the vehicle where Jason Wolf picked it up and "held it close to him."
The officers retrieved the purse, which was allegedly found to contain a glass pipe with residue and a small glass jar containing about 1 gram of what later tested positive for meth. They also located a purple torch in the purse.
Both suspects declined to answer any questions about the drugs found and were both taken into custody.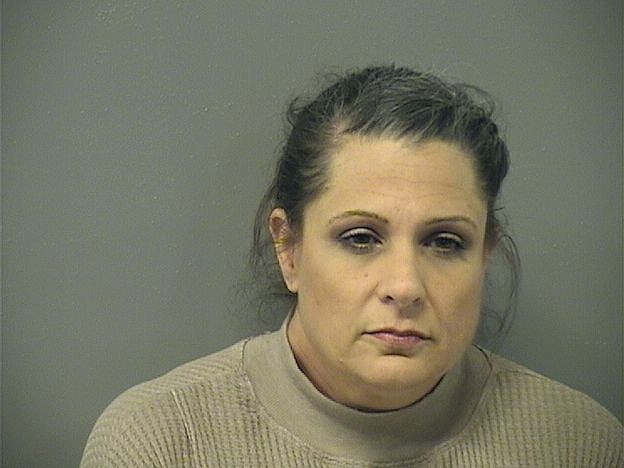 Laura E. Wolf - Submitted photo