PEARCY -- While keeping its mask mandate in effect in the classroom, the Lake Hamilton School Board voted to remove the mandate at optional indoor events Monday night during its monthly meeting.
The board also approved the removal of the mandate for face coverings if the Legislature's ban on masks is allowed by the courts; if the district implements a test-to-stay protocol; or if the COVID-19 vaccines are made available for currently ineligible students.
While reviewing the monthly COVID-19 statistics, District Superintendent Shawn Higginbotham said the district saw seven new cases last week along with eight new cases on Monday alone.
"Our cases more than doubled today," he said. "We had no staff positive when we got to school this morning but as they called in, we had five positive staff. That's more than we had in all of September and half of October. ... My recommendation tonight is to modify the mask requirement for optional events. Masks will be optional at optional indoor events. It includes, but not limited to, extracurricular events and athletic contests."
He also recommended two other potential expirations for the mask requirements.
Video not playing? Click here https://www.youtube.com/embed/-5xwoXLTT98
"One of those being if we have a test-to-stay protocol as a viable opportunity for kids not to quarantine from close contact, infected at school, they could continue to attend school as long as they meet the requirements if we have a test-to-stay protocol. Or, when we do get a vaccine -- and the parents can make that choice about the vaccine -- then the vaccine will prevent quarantine of those parents who choose to do that. Not mandated, not required, but a choice by the parents. Then it will really be a choice and not a one-sided," he said.
Higginbotham noted the main reason for keeping the mandate in effect has to do with the State Health Department's quarantine rules.
"There have been 40 new student cases since the last board meeting," he said. "That would have resulted, without masks -- as I said, my stance is keeping kids in school -- without the masks, those 40 new student cases would have resulted in a very conservative 300 additional quarantines just since the last board meeting.
"One new case at the high school today would have taken out 17 other students without the masks. Seventeen students would have had to go home -- they're in school today because we have the mask mandate; they'll be in school tomorrow. In the primary alone, there have been nine cases in seven different classes, which could have resulted in 18 to 23 quarantined students for each positive case. So, you can do the math on that," he said.
Various student parents addressed the board and strongly expressed their desire for the mandate to be removed completely. Jordan Bradbury, who is the mother of a Lake Hamilton kindergarten student, spoke about other districts such as Fort Smith and Springdale which recently removed their mask mandates, as well as the difficulty students have wearing masks in physical education courses indoors.
"I'd like to propose tonight just a couple different things," she said. "First, if the board doesn't overturn the mandate, then do a poll. Second, if the board doesn't overturn the mandate, then to use some of the grant money, the $9 million, and invest in some outdoor tents -- some outdoor buildings. You can build a lot with $9 million, to get these kids some outdoor activity if we're not going to take these off.
"That way they can learn," she said. "They're not constantly having to be interrupted during class time being told to take your mask off. There are other options out there. Third, if the board doesn't overturn the mandate, then let's get rid of it during P.E. time. And the fourth, most simple thing, just get rid of the mandate."
The district had 62 students quarantined as of the meeting, with only 13 of them being from exposure at school, and 29 from youth league sports. There were 16 positive cases among the students.
"As far as the community, as Ms. Bradbury pointed out, we're in the green but we haven't been in the green for very long," Higginbotham said. "We've come from purple to red, orange, and all the phases. We have 14 cases per 10,000 according to the Arkansas Center for Health Improvement website, up from 12 cases per 10,000 last week. So we actually saw an increase. This is our second consecutive week below 20 and we hope it stays there."
Those districts colored in green represent 0-9 cases per 10,000 residents while orange represents 20-29, red 50-99, and purple 100 or more. Higginbotham noted that since the last board meeting there have been option changes regarding quarantines. If a district is at least 70% vaccinated, the quarantine rules do not apply.
"But the 70% is not realistic at this point I don't believe," he said. "There's also a test-to-stay option where students and their parents can agree to test daily and submit to that protocol and stay regardless of their exposure in school as an alternative to quarantine. This is an option that interests me greatly because quarantine has been my stance on this face covering since the beginning. Not necessarily all of the health benefits that the Arkansas Department of Health and the (Centers for Disease Control and Prevention) will say, but merely the fact that we can keep kids in school."
He said they have been lobbying for 3 feet rather than 6 feet in their health department rules, noting, "The CDC recommends 3 feet but the department of health right now recommends 6. We can do 3 feet in schools and drop masks but not as long as the health department rule is 6 feet."
Excell Berryhill addressed the board, passing out information regarding the unhealthy effects of wearing a mask, while John Schroeder, who has three children in the district, asked the board to specifically state their respective stances and do a vote count regarding the removal of the mandate.
"I'm not here to be confrontational but I am here to tell you that I stand 100% on the side of liberty," Schroeder said. "It becomes the parents' obligation whether we want to mask our children or not. This stuff is political theater. This stuff is about money."
Test-to-stay, or modified quarantine, allows students who have been exposed to COVID-19 to stay in school as long as they take frequent tests for the virus and adhere to other precautions. Four districts in the state were chosen to pilot the program but the pilot is set to expire this week. Higginbotham said they will then hear from those districts regarding the success rate.
"I want one mask to matter," he said. "I want it to matter that a parent can make a decision for his child or her child. Unfortunately, that's not how the quarantine rules work. I make a decision for my child, it impacts every child and adult that that child comes into contact with all day long. No matter how much we wish it were not true. So you take that decision away from me. You take that decision away from another parent when you go without the mask."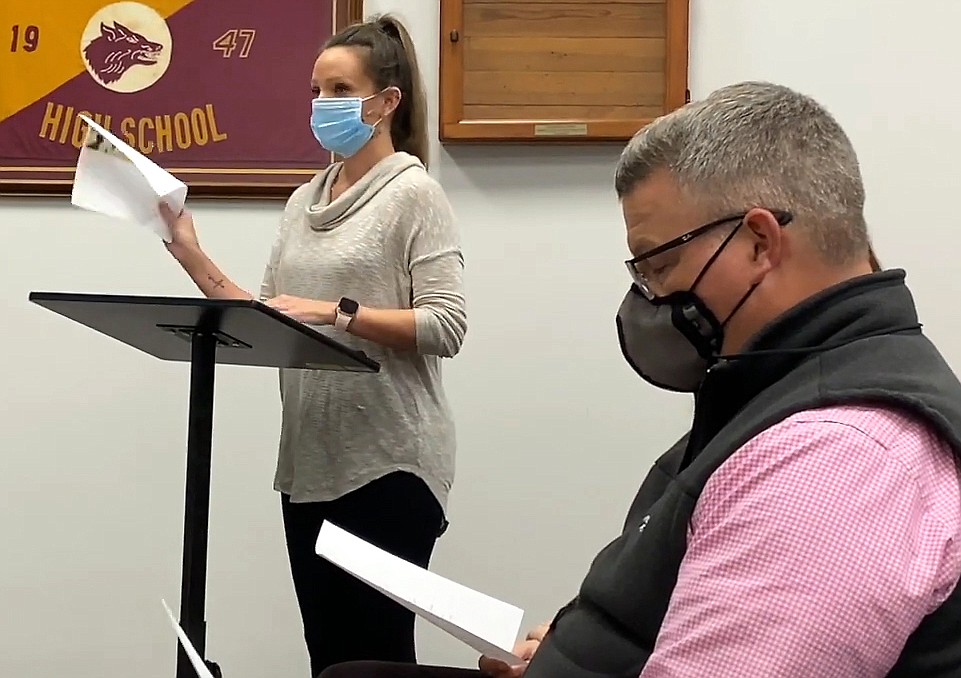 Parent Jordan Bradbury voices her concerns to the Lake Hamilton School Board Monday night. - Photo by Brandon Smith of The Sentinel-Record

Parent John Schroeder talks during the Lake Hamilton School Board meeting on Monday night. - Photo by Brandon Smith of The Sentinel-Record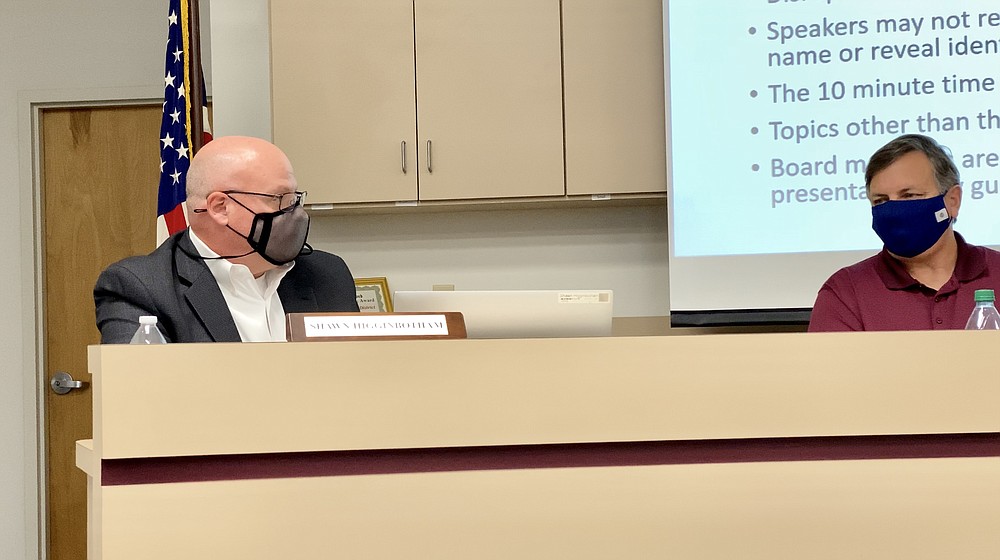 Lake Hamilton School District Superintendent Shawn Higginbotham addresses the Lake Hamilton School Board Monday night. - Photo by Brandon Smith of The Sentinel-Record