Only a couple of weekends are left for visitors to enjoy chills, thrills and family friendly fall fun at Magic Springs Theme & Water Park as its Halloween Weekends event draws to a close on Oct. 31.
Visitors can ride all of the park's rides as well as enjoy a number of Halloween and fall-themed activities on Saturdays and Sundays from noon to 6 p.m. through Halloween.
"Halloween Weekends is all about fall, family fun and festivities," Michelle Keeney, the park's sales and marketing director, said. "Guests can enjoy an enchanted harvest quest through the Magic Farms Hay Maze, brave the zombies in The Undead Cemetery, show their strength and skill by chunkin' a punkin' at our Cata-Punkin at the pond, and enjoy their favorite theme park rides."
Keeney said there are also a few activities aimed at younger park guests.
"For the little ones, we have Halloween Inflatables, spooky arts and crafts, a trick-or-treat trail and The Great Pumpkin Roll Contest. Everyone can enjoy ghostly games like Skeleball, Zombie Brain Smash and Monster Operations as well as participate in our contests and games," she said.
The park also has a costume contest each Saturday. The final contest of the season will be a group event, but the rest of the month's contests are solo. There are three age groups for the contests: 6 and younger, 7 to 12, and 13 and older.
First-place winners in the solo costume contest receive a 2022 season pass. Second-place winners receive a one-day ticket and third-place winners get a goodie bag. For the group contest, the first-place winner will receive a golden 2022 season pass, which includes a free meal each time the pass is used.
New to the park this season is a baby dragon named Legend.
"This year we are excited to introduce Justin Time Entertainment featuring 'Legend' the Baby Dragon along with humorous balloon art, juggling and magic," Keeney said. "This show invites guests to meet and watch a feeding of our adorable baby dragon 'Legend.' Legend is a baby dragon hatched from an unusual-looking egg we found deep within an ancient volcano in the land of Macedonia."
Keeney said as the pandemic is still ongoing, the park is dedicated to keeping its customers safe.
"We are committed to continue the tradition of providing quality family fun to our visitors. The safety and well-being of our guests and team members have always been our top priority," she said. "As we continue to monitor this evolving situation, we maintained sanitation protocol and will continue to follow the guidance of federal, state and local health agencies."
Keeney said face masks are optional for guests, but noted, "We continue to encourage you to wear a mask while indoors or when social distancing from other guests outside your group is not possible. Vaccinations are still being generously administered and the public is more educated about masks. Magic Springs continues to encourage everyone to get vaccinated and wear masks if they desire."
The 2021 season, Keeney said, was a busy one.
"We were pleased to see that the 2021 season was much busier than the 2020 season as guests were ready to get out of the house and enjoy safe, outdoor fun with family and friends. We, like all industries not only in the state of Arkansas but all over the nation, struggled to gain staff throughout the season, particularly lifeguards. With a shortage of workers and supply chain distribution issues, we encountered new challenges that impacted our park operations," she said.
Keeney said next season will see the return of several things from the past.
"Be on the lookout for the return of haunted houses and Magic Screams in 2022," she said.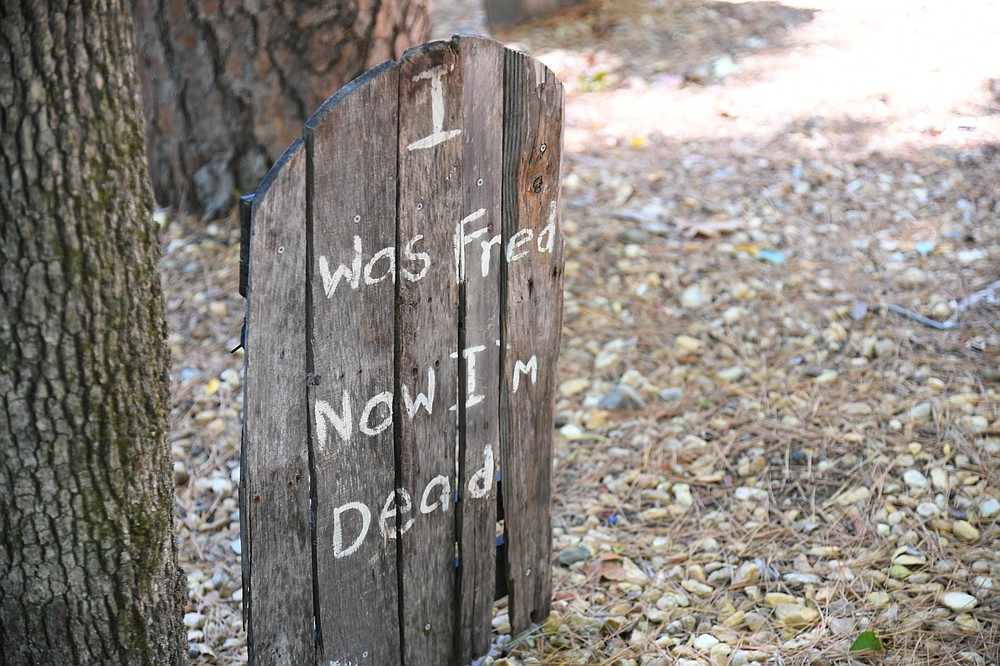 The Undead Cemetery for the brave at heart at Magic Springs. - Photo by Tanner Newton of The Sentinel-Record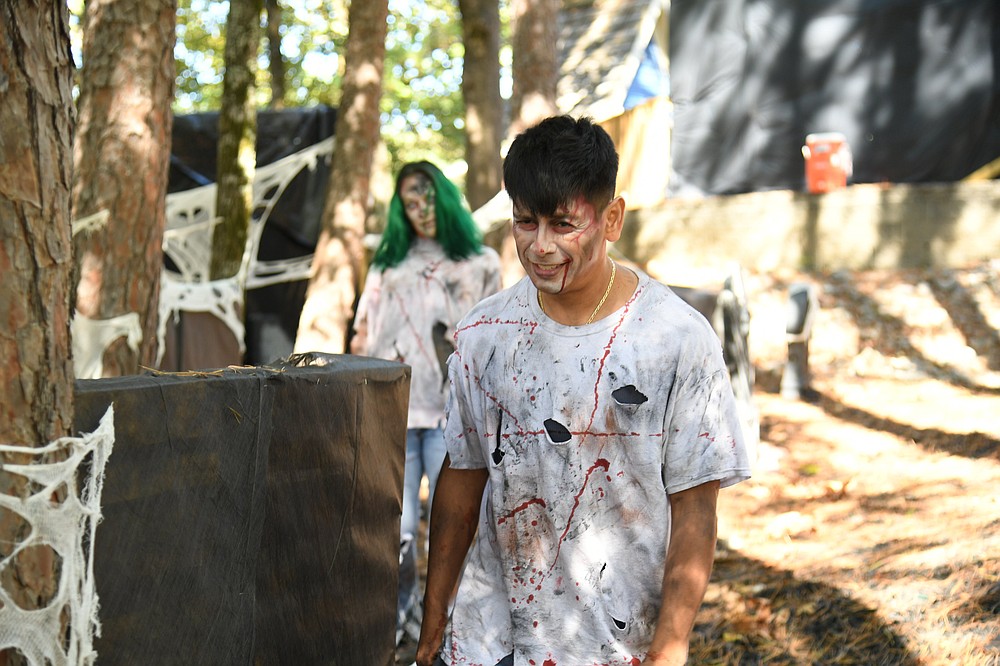 Zombies roam the grounds at Magic Springs Theme & Water Park. - Photo by Tanner Newton of The Sentinel-Record