Pickleball takes over downtown Hot Springs today with The Big Pickle, a three-day festival.
The Big Pickle is the creation of business partners David Tappe and Kate Tully, who own IQ Pickleball. The two ran the successful pickleball tournament at the Hot Springs Convention Center in July. While the tournament was a fierce competition, the festival will be a looser experience with a focus on fun.
"It is a big pickleball festival where we have three zones. We'll have everything from a midway/carnival kind of activity at ... the Bridge Street area ... which will be sandwiched right in between the Blues Festival that's in Hill Wheatley Plaza, and the Jazz Festival which is underneath" the skybridge on Broadway, Tappe said.
Registration starts at 3:30 p.m. today, and glow-in-the-dark pickleball will be played from 8 to 10 p.m. On Saturday, the festival will start at 8 a.m. and the last event starts at 8 p.m. On Sunday, the festival starts at 8 a.m. and ends at 5 p.m.
Tappe said the idea for a pickleball festival came from the experiences he and Tully noticed at pickleball tournaments.
"There's all kinds of pickleball tournaments. We even host the big Spa City Classic that was just here in July at the sports arena. There's pickleball tournaments all over the county, literally all over the world. And there's a few festivals, but even those festivals are more like tournaments," Tappe said.
Video not playing? Click here https://www.youtube.com/embed/0qQ3x3XEIXE
"What gave birth to our idea was that when we would go to tournaments, tournaments are pretty intense. A lot of stiff competition. Also in a lot of tournaments, you might play a match and then you might wait for two hours before you play your next match, be spread out all day long. And what we found is when people would get through with the tournament, they would have little pick-up games," Tappe said.
"We were having people say, 'Man, this is the best part of the tournament,' just the fun stuff that takes place between the games or even after the tournaments are over at night, and we said 'why don't we get rid of the tournament and just have these fun kind of things,'" Tappe said.
There are three zones of pickleball. One zone is based on cardio and fitness, one is inspired by carnival games and one has more traditional pickleball, he said.
"There's a magic to it because I've never seen a sport that has the kind of competition, community and camaraderie all wrapped up in one. You can have multiple generations competing pretty fiercely against each other, so you can have grandparents with their grandkids, guys competing with girls, it's just fun," Tully said.
Tully said the festival will be for experienced players and the inexperienced. "So most of the courts are registered players but over by the blues stage in Hill Wheatley Plaza, we have a demo court with demo paddles, so if you hear the kind of popping of the pickleballs around downtown and you want to try it out, that's the place to go," she said.
Preregistration has already ended for the festival, and Tully said they had between 150 and 200 people preregister. The event is free to watch, but those who want to participate can purchase a day pass for $40 for adults and $15 for children.
The festival will take place at the same time as the two music festivals "There's live music up and down the strip," Tappe said, noting the Hot Springs Farmers Market will also occur during the festival.
Tully and Tappe said they hope for the festival to become a yearly tradition in Hot Springs.
"Our long-term goal is to make this the Mardi Gras of pickleball," Tappe said. Tully noted "10 or 11" states are represented in the festival this year.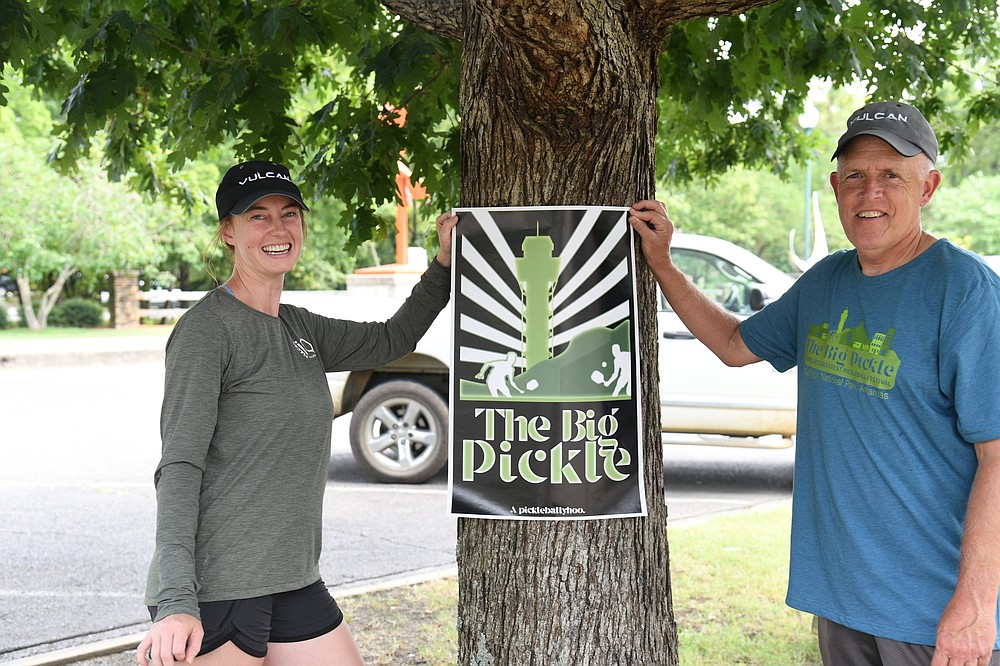 Kate Tully, left and David Tappe show off a poster for The Big Pickle, a pickleball festival, at Garland County Veterans Memorial and Military Park.- Photo by Tanner Newton of The Sentinel-Record