Serving as a keynote speaker at Wednesday's Arkansas Connectivity Summit at the Hot Springs Convention Center, Gov. Asa Hutchinson pushed for the urgency of the Arkansas Rural Connect grant program while funding and resources are available.
Hutchinson announced the first round of the grant initiative, designed to expand the broadband footprint in rural Arkansas communities, in August of 2019 to help close the digital divide in the state. While the program was started before the COVID-19 pandemic, Hutchinson said additional funding and other tools now available offer a great opportunity.
"It's a unique time because we have funding that is available for expanding internet access," Hutchinson told The Sentinel-Record.
"The need is great there. We actually have the tools in place to accomplish that, and so it's really a matter of execution and that's always a challenge because you have a lot of partners. But, you know, we've got to get legislative approval for the spending and that's the case that I made today, is that we need to accelerate what we're doing because with all the money that's going to be spent nationally, and all the projects across the country, there's going to be a real shortage of contractors -- of those that put fiber in the ground -- and so the project will start going slower into next year," he said.
"We need to accelerate this to try to get ahead of that curve. You know, the urgency is now and so I think it's a great opportunity for us and that's the case I made today."
Wednesday's all-day summit, hosted by the Arkansas State Chamber and the Arkansas Farm Bureau, focused on developing plans to improve high-speed broadband connectivity and cellular connectivity. The summit featured government and community leaders, industry stakeholders, and others, while hosting official legislative committee meetings on site.
Video not playing? Click here https://www.youtube.com/embed/hsgQ5TMOujs
As internet connectivity becomes more and more an essential piece to virtually every aspect of today's society, Hutchinson said "closing the digital divide" has been one of his top priorities as governor and Arkansans realize that significance.
"Well, they do," he said. "Absolutely. I mean, first of all, the consumers do. For those that live in the rural areas, they know how this diminishes your quality of life if you don't have access to that connectivity. ... And so the consumers understand it, the policymakers understand it, and so there's a united opinion -- this is not about agreement -- this is about execution and getting it done. And that's part of my job to do and then, again, we have a lot of partners we got to bring together to accomplish it."
Hutchinson said when COVID-19 hit, everybody across the nation knew just how critical the initiative was and how it needed to be in place to improve education and access to services. By starting so early, he noted this gives Arkansas a big advantage when compared to other states.
"We started it before COVID and we've put $4 million of our general revenue dollars to work," he said. "Then came the CARES Act and the ARPA funds. In all total, we have now put $279 million into our Rural Connect Program. This is a big start for us. It gives us a bragging point that we started early on this effort. When all of the work is done for these grants, we will have provided high-speed internet service to almost 90,000 households in the state, which is 213,000 individuals.
"This will take our broadband coverage from 83% in June of last year to 88% statewide. In the rural areas, it will take our connectivity from 68% to 75%. Now, that is a great success story, but that means we still have a long ways to go. When you start out somewhat behind in connectivity, as Arkansas was, you can start early; You can get a jump and you can move up but we still have much more to do," Hutchinson said.
Speaking about the importance of the program, he said it comes down to everyone being able to access information. That access, he noted, is the "key to success" and "key to the quality of life that we desire."
"It improves education, it allows our schools to do more with the students, it makes computer coding successful because it gives the skill, but it also gives the opportunity to use that skill when you have connectivity," he said.
"Today we're putting more state services online. It gives those in the rural areas of our state the same access and convenience, the same services, as you have in the urban areas of our state. But most importantly, it gives job opportunities and economic growth to our rural areas," Hutchinson said.
"You can envision a time when we're struggling with growing in rural areas, to be able to have someone move from California or New York or Austin, because they want more rural environment, but they have skills to work for any company in the world," he said.
"And they say, 'I would locate maybe in my hometown where I grew up,' or a location that, 'I love and can be in a rural environment and raise our kids but I can still work for a global company.' You can do that with skills and with connectivity, and so that's the job opportunities and the economic growth that we all want."
Hutchinson said if the state is able to get out $250 million more in contracts, most of them will be completed by the end of 2022. He said that is the result they're looking for in making a difference in communities throughout the state.
"We have never had a greater opportunity than we have right now," he said. "The strategy and plan is in place and will continue to improve with additional technical support, we just need to execute."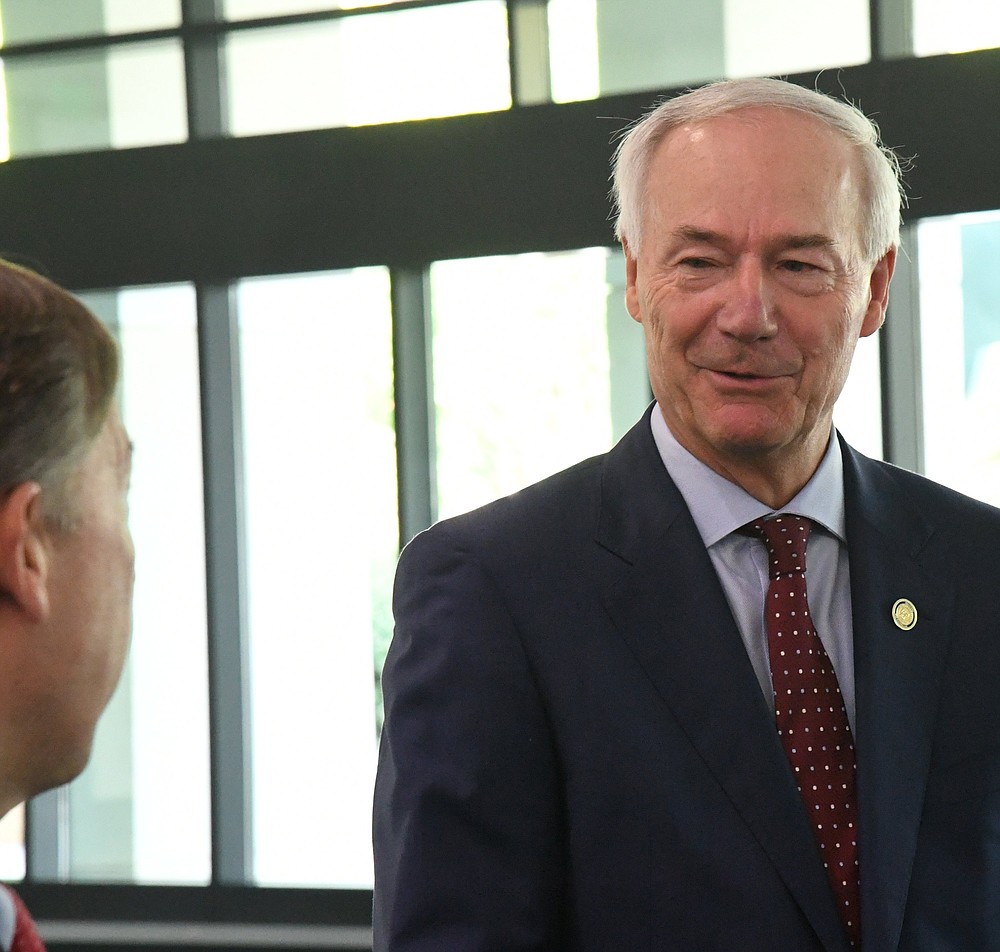 Gov. Asa Hutchinson, right, speaks with Missouri House of Representatives member Louis Riggs on Wednesday at the Arkansas Connectivity Summit in the lobby of the Hot Springs Convention Center. - Photo by Tanner Newton of The Sentinel-Record