In the basement of a more than 100-year-old building, classic German food has been cooking for over 30 years in what is now known as Steinhaus Keller.
"I first got involved in the restaurant back in the early 2000s," Steinhaus co-owner David McGuire said. "I was working my way through Henderson (State University), waiting tables down here, and it was the Brau Haus at that time, and just caught the restaurant bug."
McGuire said many people are intimidated by German cuisine, but they shouldn't be.
"If they didn't grow up with it, maybe they find it kind of intimidating. I will tell you German food is very much like Southern comfort food, actually. A lot of cabbage and potato, carrot, right, pork, sausages, you know, traditional creme-based sauces ... if you had a grandmother or mom that really like to cook, you would find German food really quite familiar," he said.
"The sauerkraut's not scary. The red cabbage, if you're from the Midwest, right; lot of red cabbage," he said.
Steinhaus Keller has been open for over eight years, but the building where it is located "has been an Austrian or German restaurant for over 30 years," McGuire said, noting it started as the Edelweiss Keller before spending 18 years as Brau Haus under owner John Linehan.
Both McGuire and his wife, Amanda, were working at Brau Haus when Linehan decided to close down the restaurant.
"And John had decided to get out of the restaurant business and had had enough of it and so we were there working, were made aware of his plans, and put a business proposal together for the owner of the building, and they said yes, shockingly," he said.
Video not playing? Click here https://www.youtube.com/embed/IB7qhNoR1-A
"We took over in 2013," McGuire said, but he had been working in the building for a long time prior to taking over.
"I've been working here, on and off, for dang near 24 years," he said. "Half of my life's been spent down here actually."
While taking over a restaurant was intimidating, he said, "it was so busy, matter of fact, I don't know that you really had time to freak out."
They did a remodel of the building that took about six months before they opened Steinhaus Keller, he said, noting, "The building itself was built in 1889, you know, and being in the basement has its own challenges."
"Steinhaus Keller means the stone-house basement," McGuire said.
"Amanda's family is from the Colorado area, and they are of German descent," he said when asked why they kept the German theme.
"After I graduated high school, I went to culinary school in Scottsdale (Ariz.), where I'm also a certified French/American chef. It's just continental European cooking techniques. In Europe I find most of the techniques are all the same, it's just the ingredients are different -- the language and the names -- but they're all pretty common, so it was pretty familiar, actually," McGuire said.
McGuire said cooking "was just something that came easy and I enjoyed it. I enjoy working with my hands and the creative expression that food allowed me to have."
After working in Scottsdale and in Minnesota, McGuire said he decided to return to Hot Springs. "Originally I am from Hot Springs. I graduated from Lakeside. Both of my parents were teachers at Lakeside. I was in the graduating class of 1995, so Hot Springs was always home."
He said that while working out of state, he honestly didn't think about returning to Hot Springs.
"I moved out to Arizona, like maybe making it a home out here, so different, right, big, the Scottsdale/Phoenix area. The time I spent out there, what I found myself really missing was natural environment. I missed Hot Springs. I missed the water and the greenery and the trees, and my family being here. You know it's ... roughly an 18-hour straight drive. It was just almost too far," McGuire said.
"German restaurants have been kind of fading from the American Midwest scene," he said, but the disappearance of these restaurants "wasn't because of the popularity of the cuisine, it was because the families have been doing them for so long, right. You get into a restaurant for 20-25 years, you bring your children up in it. Your kids may or may not want to do it, right, and if the kids don't take it over, the parents get to a place where we can't do this forever, right, and they close, and that's unfortunate."
When asked why he chose to spend so much of his life working there, McGuire said "Because this building is a Rathskeller, in the truest definition. You know, it's a stone-house basement. It definitely has that true European grotto feel of below the street, under the street. As you walk in it's just a unique vibe."
He noted the location is kind of difficult to find which also adds to the appeal.
"We like that it's hidden. You find and get in the door, you've done something. People (ask) 'How do we find this place? It's so difficult,' It really is hidden. It makes it kind of like an adventure," he said.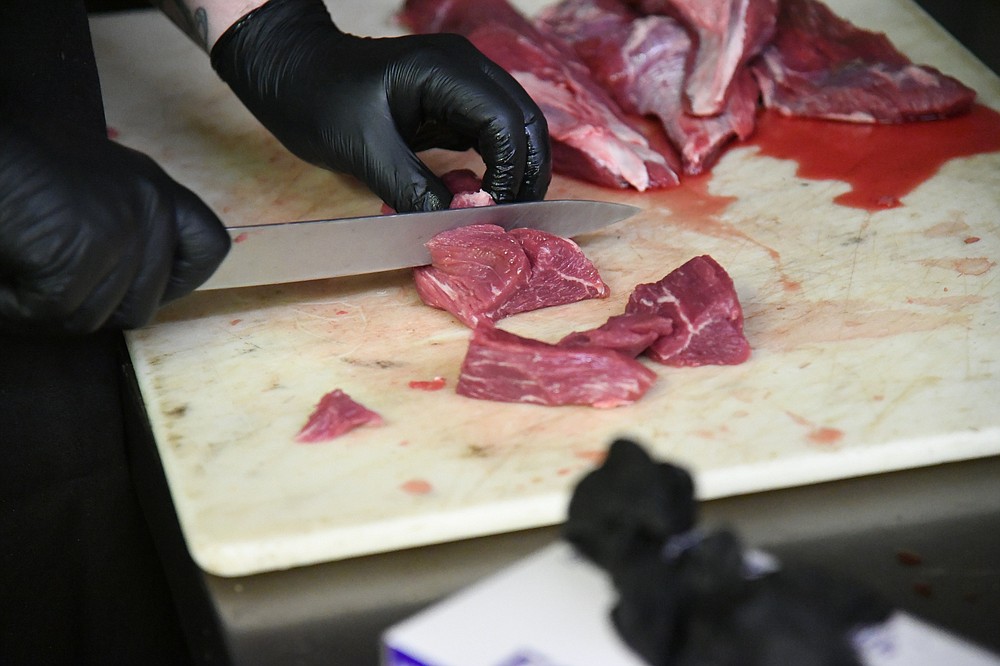 Kory Hill, line cook at Steinhaus Keller, cuts up a steak for goulash. - Photo by Tanner Newton of The Sentinel-Record
Q&A with David McGuire
The following are excerpts from an interview with David McGuire, presented in a question-and-answer format:
What's the food that changed your life?
McGuire: Wow, the meal that changed my life, huh? That's a tough one actually. I guess there's kind of two that kinda stick out. As a kid, as a young kid, going to my first crawfish boil, not really understanding and seeing those red bugs and what was going on and that whole thing, and watching people interact and taking like the joy and the drinks and the food and the atmosphere was like a big deal, like, 'Wow, people are really having a lot of fun doing this.' And I guess then my favorite meal would have been -- Nanny. You know she grew up in a different world, but would cook these elaborate Sunday dinners, right, and it was the fresh, black-iron skillet, fried chicken with greens, fresh potatoes with purple hull peas, jalapeno relish. Things like that right, like real tastes. Things that 'wow,' that were made from love and done because she wanted to do them. Her love language, expressing her appreciation and 'I love you and this is what I've given you' those two things stick out the most to me.
What is your favorite restaurant?
McGuire: Honestly, it's a funny thing. Love food. Me and Amanda love to eat breakfast. We go to Colorado quite a bit and we love Colorado breakfast up there, green chili breakfast, we just love it. And we love those breakfasts, also, I think, one of our favorite restaurants actually is in Eureka Springs. It's the Thai House. It's on the main street, on the main drag. It's this nice hot pink little Thai restaurant. We love Thai food. It's fantastic. I would say the Thai House and just any place in Colorado where you can get green chili breakfast.
What's the best cooking advice you've ever received?
McGuire: "Knives are sharp and fire burns."
What is something few people know about you?
McGuire: Well, I am a history buff. I do enjoy watching my YouTube on ancient lost history a great deal. I think that's part of the interesting thing that I find with food is the anthropology aspect that you can, through language and culture, but through food, you can trace back a lot of things and share commonalities and traits through groups. I still really have that passion, where people are from and where they're kind of going, so maybe that's something that people really don't realize about me, my interest in anthropology.
What's your favorite thing about Hot Springs?
McGuire: The nature. Being, living across the country, I don't know if people realize how good they have it here. We have pretty, clean environment, really clean water, and there's room. There's greenery, there's golf courses. We're really fortunate.
What's your go-to comfort food?
McGuire: Cheeseburger. Cheeseburgers are the best.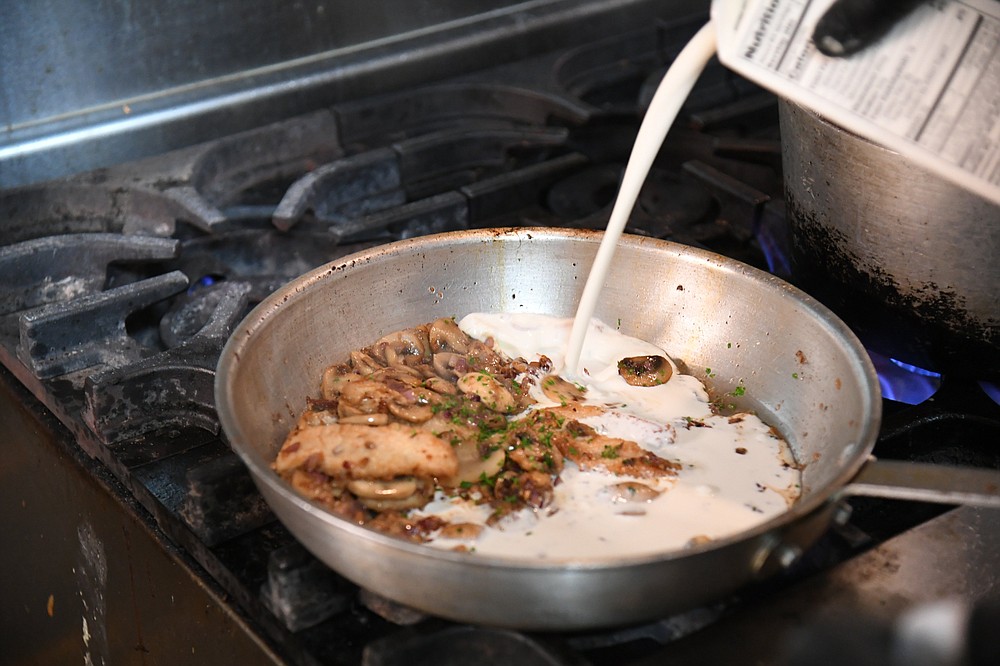 David McGuire, owner of Steinhaus Keller, makes Chicken Diane in the restaurant's kitchen on Wednesday. - Photo by Tanner Newton of The Sentinel-Record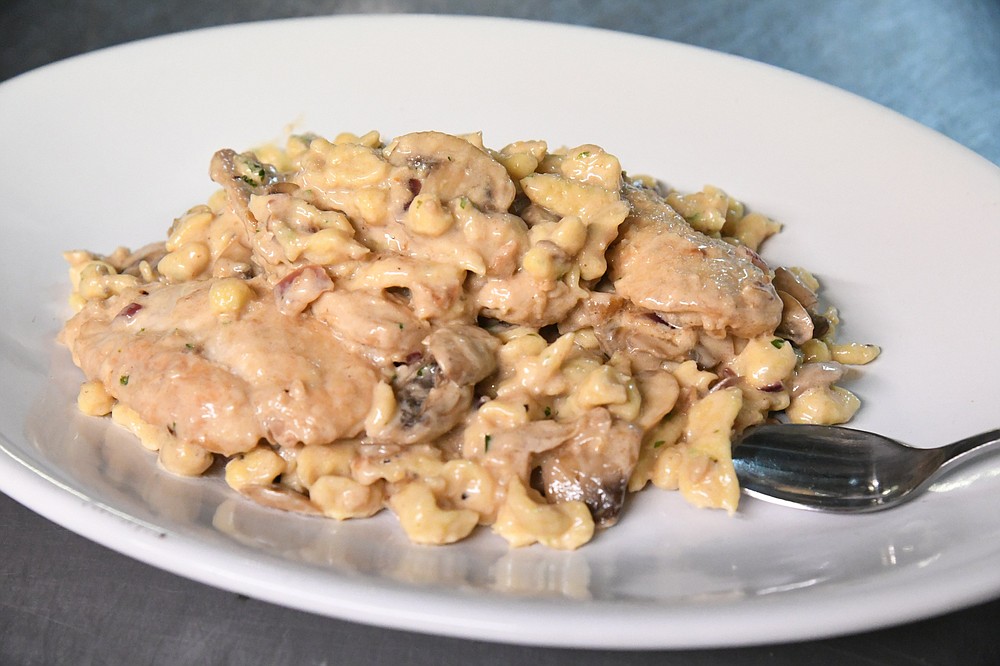 A plate of Chicken Diane is shown in the kitchen of Steinhaus Keller. - Photo by Tanner Newton of The Sentinel-Record