PEARCY -- Patriotic melodies from the Power Band of Arkansas filled the air accompanied by chants of "USA, USA" from cheerleaders Friday afternoon along Adam Brown Road as the Lake Hamilton School District commemorated the 20th anniversary of the Sept. 11, 2001, terrorist attacks.
The 9.11.01 Remembrance Parade featured decorative floats from each school building, as well as area first responders, medical professionals, and past and present military members.
Lake Hamilton Director of Communications and Public Relations Brian Bridges, who coordinated the special event, noted the special meaning behind Friday's parade.
"It made us stop for a minute, and put all the COVID aside, put all the battle of the face coverings aside, put all the battles of politics aside, and for this moment -- we were united and we were remembering and we were honoring those that lost their lives," Bridges said.
"We were honoring those that played a part in everything that we've done since 9/11 with your first responders, military, or police department. ... It's been a week-long; it's been a culminating activity," he said.
Video not playing? Click here https://www.youtube.com/embed/dohm8nkpzU0
"So all of our students, K-12, they've been learning 9/11 and really learning about patriotism and freedom, you know. Our country's so divided and I think that's one of the things that made my heart so full today, is -- I felt united today. And when I watched this parade, I saw united students; I saw the red, white and blue, I saw the flags being waved, I saw the appreciation our students and community and faculty and staff were giving to these people ... it was so special. And it was something that I needed and something that I feel like this community needed. This is an awesome community," Bridges said.
The idea to celebrate the 20th anniversary came during the summer after one of the district's high school history teachers came and met with Superintendent Shawn Higginbotham and Denise Miller.
"And she's been with the district for many years and she just brought it to our attention and reminded us that this was the 20th anniversary and that, you know, her idea was to do something special district wide," said Bridges.
Gallery: 9/11 Parade
Gallery not showing? Click here https://www.hotsr.com/photos/galleries/2021/sep/10/911-parade/
"And so we brainstormed together with her and came up with the idea that we could do a remembrance parade. You know, we wanted to be able to still follow COVID protocols as far as spreading people out and being outside, but we wanted our students to stop and pause and remember and reflect and learn about the events that happened on 9/11.
"Not one of our students was born, you know, was alive, during 9/11. They don't remember 9/11 and so it was an idea that this is going to be a time of remembrance, of honor, of what happened -- and also in honor of our current medical professionals, first responders, our military personnel, our sheriff's department, our police department."
As the celebration was a kindergarten through 12th-grade event, students from each of the buildings rode on the floats they made along with the school nurse from each building and the school resource officers.
"We were so thrilled to have the Hot Springs Police Department, our 70 West Fire Department, Garland County Sheriff's Department ... so many more to name," Bridges said. "We had LifeNet come out with their ambulance, the SWAT team was here. ... The students' faces when they saw those cars and those vehicles, the motorcycles, you know, it was just so neat. It was so neat and everyone that I've just talked to as I've left, you know, coordinating the event, has (expressed) how appreciative that they were that this event was able to take place.
"And the parents that have come to me, they said, 'I can't wait until I go home and talk to my child tonight about this event.' And what's that going to do? It's going to spark conversation. It's going to spark that united patriotism, that remembrance, so that we truly never forget. And that's what this is about. We never want to forget the lives that were lost and we never want to forget those that put their lives on the line to help us -- on that day, and since then, and before that day."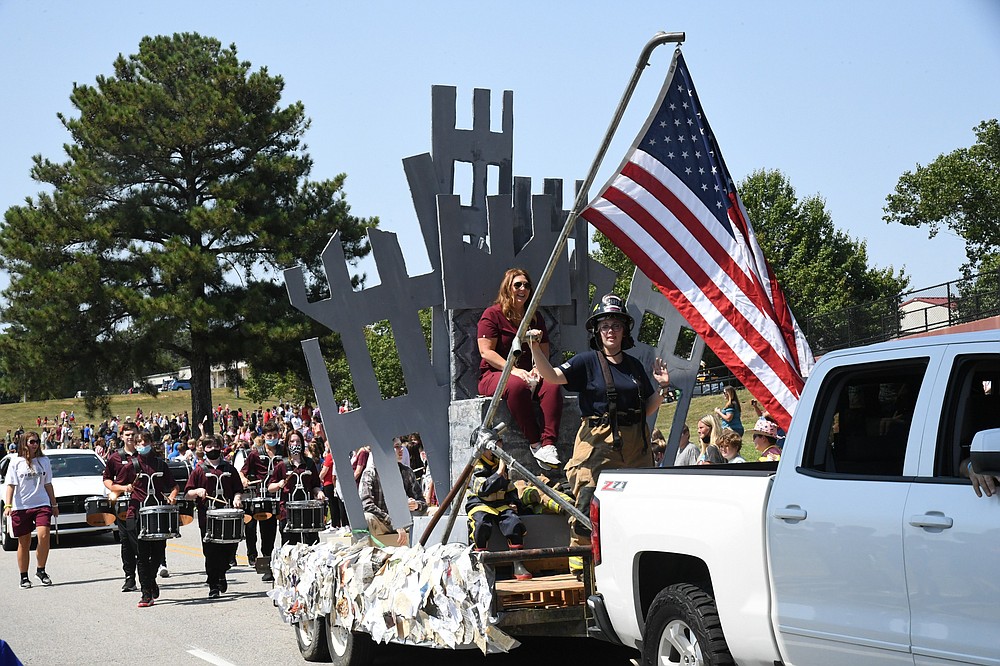 A float commemorating ground zero at the World Trade Center makes its way through the Lake Hamilton Campus Friday afternoon.