Emergent Arts and Hot Springs Children's Dance Theatre Company will offer a 10-week class, starting Thursday, to teach children 12 to 18 years old how to make costumes for an upcoming performance of "The Nutcracker."
The two previously collaborated on classes that focused on set design but, because of the COVID-19 pandemic, this will be the first class the two have offered in two years.
"We've done three for set design, and now this will be our first one of the series of costume design to give local students the opportunity to experience what it's like to be backstage and the creative aspects of the performing arts," Edmond Cooper, artistic director and president of the Children's Dance Theatre, said.
While students will be creating costumes for the ballet, Cooper and Erin Holliday, executive director of Emergent Arts, said the class is open to any child 12 to 18 regardless of whether they will perform in the ballet.
"This particular class is 12 and up," Holliday said, while previous classes allowed those as young as 10 to participate.
Video not playing? Click here https://www.youtube.com/embed/nemaIHe1rNQ
"The biggest reason we're doing 12 and up, so at Emergent Arts, because of COVID this year, everybody who participates in our programs and comes into the building has to be vaccinated and masked," and 12 is the age where they are eligible to be vaccinated, Holliday said.
Another concern, she noted, is "they'll be using sewing machines ... so starting at 12, you're more likely for the students coming in, even if they've never seen a sewing machine, to be able to pick it up a little more quickly than a younger kid would be able to."
Holliday said the lessons learned in the class can be used elsewhere. For example, she said, "cosplay is huge."
The class will be taught by professional costume designer William Henshaw, Holliday said. "Kids as young as 12 are going to have access to a professional costumer and learn directly from someone in the field (which) is something really cool for us."
Cooper said the partnership between the theater and Emergent Arts started because "Erin's always embraced kids who may not have the financial resources or the geographic challenge of being able to travel somewhere else, that they are given the opportunity to experience that, and I felt like that would be a good conduit for those kids to be attracted too and to get those that may really, really flourish because, you know, some of them are really great artists."
"We have all kinds of kids that come through, kind of like Eddie was talking about, because we have scholarships, you know we'll have kids that maybe don't have the financial means otherwise, or maybe we'll have kids who just want to make stuff, and what's really great about the set design and costuming, not only are they making something, but then they are seeing it on stage," Holliday said.
"Some people love theater; they don't want to be on stage ... our organization, we just try to find different opportunities to be creative and be successful," she said.
The class is $25 for the semester, and Holliday said there are scholarships available for those who need financial assistance. Classes will be held from 4:30 to 6:30 p.m., beginning Thursday, through Nov. 18.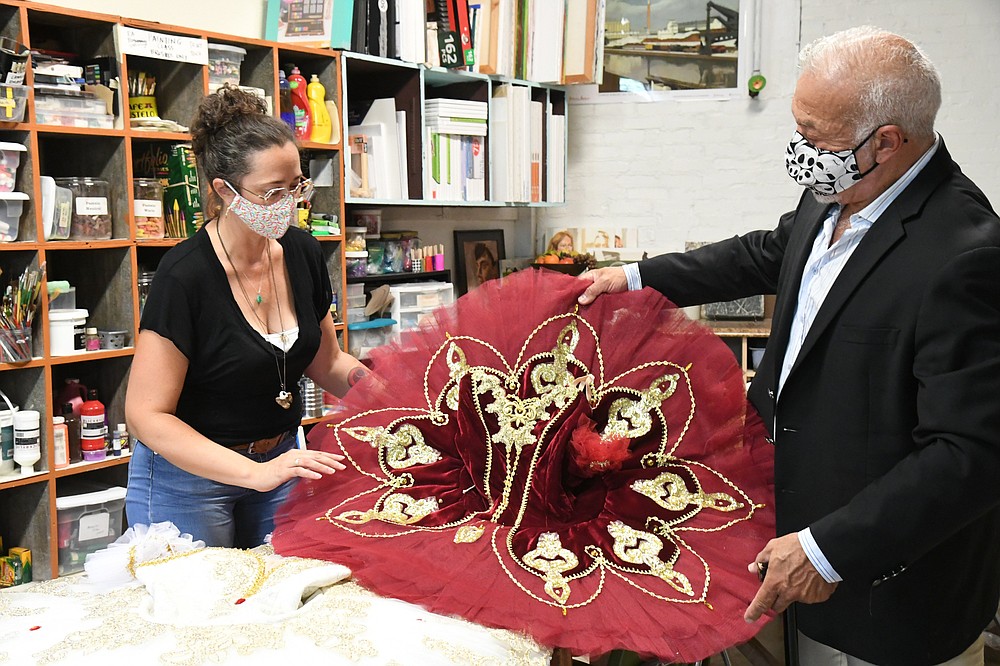 The Sentinel-Record/Tanner Newton /caption: Erin Holliday, left, executive director of Emergent Arts, and Edmond Cooper, artistic director and president of the Hot Springs Dance Theatre Company, look at ballet costumes. HS EmergentBallet-2 090821.JPG attached