Participants will meet in-person every Tuesday and Thursday at Transportation Depot to prepare for the Spa Running Festival, set to take place on Nov. 13.
Depending on their individual level of interest and ability, runners will be matched with coaches who will work to achieve their goals for race day. The clinic is designed to prepare participants for the festival and everyone is encouraged to participate and grow stronger and faster as a runner, in general, a news release said.
Cindy Baswell, Spa Running Festival race director, said all participants, from beginner to advanced, will be trained in methods and mileage recommendations.
"The event is for every type of runner," she said, "since we have all four events. We have the half marathon, what we call the 'Summit to Summit,' the 10K, the 5K, and then we can't forget about the kids' race, called the Squirt Race."
Video not playing? Click here https://www.youtube.com/embed/j_miLKKLaFw
Baswell said they put on the clinic to "help those people that want to do their first 5K and don't know how to do it, or those runners that want to progress and move (forward) in distance."
The clinic, sponsored by Arkansas Blue Cross Blue Shield, will meet for eight weeks, up until the week of the race.
"We have a beginner group for the 5K and 10K," Baswell said. "And then we have intermediate groups for 5K and 10K. Then, we have one group for everyone that is wanting to do the half marathon, because if you're doing the half marathon then you're not a beginner. We also have a walking group, because we know everybody can't (run) and they still want to do physical activity. We do have beginner and intermediate walking groups. So, like I said, we have something for everybody; if you're wanting to get out and learn how to run and start that new healthy lifestyle for yourself."
Baswell says because of COVID-19 they are going to do things "just a tad differently this year." In the past, the group gathered as one big group, but this year they will utilize social distancing. Each group will go to their designated area, which will make the groups smaller. They will also provide more online races through platforms such as Facebook.
"We have about 75 people that are signed up," Baswell said. "We're hoping to get more. Typically, we have had 200 to 300 people. I think people may be a little bit reluctant with COVID. We want to stress that we are following safety measures. And that's why we're doing this a little bit differently."
The Spa Running Festival has been around for 40 years. "The Spa 10K was the original race," Baswell said, "and it started back in 1982. Not too long after that, we added the 5K. And then in 2015, we added the half marathon, and we rebranded the name of the race from the Spa 10K to the Spa Running Festival. We've had the half marathon for ... this would be the seventh year ... and it's just been a game changer for the race. Over that period, we have seen over a 25% increase in participation."
The festival's biggest year, according to Baswell, was in 2019 with 2,000 registered participants. "With COVID, last year, we canceled the half marathon," she said, "but we still had the 10K and 5K race. We had over 700 runners that came. COVID was very much real to us. We were having to follow the COVID protocol guidelines. We had to get approval by the state Health Department. All of those things were in place and we were able to put on a very successful race."
Baswell said they are excited to bring back the half marathon this year. The festival is sponsored by Window Mart and already has over 1,000 runners preregistered. "We already have our permits from the city of Hot Springs and Hot Springs National Park," she said. "We feel very confident our race is going to happen. We're just going to have to wait closer to the event to determine if we do have to put any COVID protocols in place."
Those interested in signing up for the Spa Running Festival Training Clinic can go to https://bit.ly/3nRnji2.
To sign up for the Spa City Running Festival go to https://bit.ly/3nLexSP.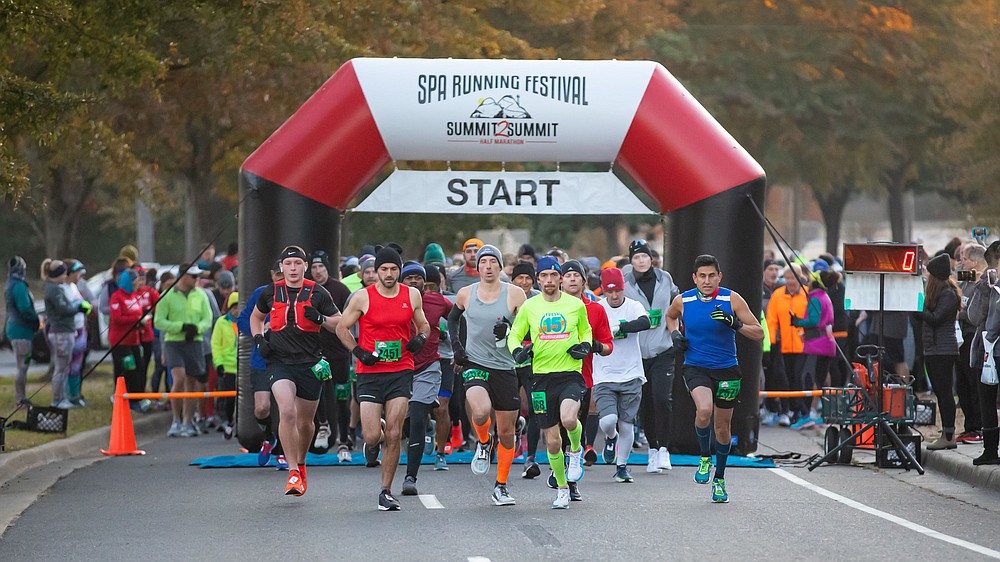 Half marathon start line in 2019 Spa Running Festival.