Patrycja Krakowiak, a science teacher at the Arkansas School for Mathematics, Sciences, and the Arts, was recently recognized for being one of six Arkansas teachers selected as a 2021 state finalist for the Presidential Awards for Excellence in Mathematics and Science Teaching.
As a science division finalist, Krakowiak was selected by the National Science Foundation, which, on behalf of The White House, oversees the program that recognizes outstanding science, technology, engineering, and math teachers who have demonstrated a commitment to professional development, innovative teaching techniques, and technology use in their classrooms.
"I tell my family it's kind of like a Nobel Prize for a teacher, in my opinion ... for a science teacher," Krakowiak said. "It's kind of the highest award you can receive in the country."
Now in her 17th year teaching at ASMSA, Krakowiak was formerly a research scientist with a doctorate in human genetics. In addition to doing her postdoctoral fellowship at the National Institutes of Health in Bethesda, Md., she worked as an assistant professor at the University of Arkansas Medical School Children's Hospital Research Institute where she studied birth defects.
"It feels like someone has recognized your hard work but they've also recognized the excellence and innovation in what you do," she said. "It's not just running a classroom and, you know, coming in and getting a paycheck. It's a really thoughtful process of how to get kids excited about science -- that's what I'm all about."
In fact, her personal philosophy in teaching revolves around "engaging the student," she said.
"If a student fails my class, it is on me. I didn't get them excited enough about the content and information. I use a lot of analogy and a lot of real-life examples to explain very complex molecular biology concepts that are very abstract. And I'm a comedian. You know, I'm a performer," Krakowiak said.
"One of my daughters is a musician and she says, 'I'm sorry mom, but my path has led me so far from what you do.' And I said, 'No, I'm a performer every day. I have to, no matter what I'm feeling, I have to be there.' And I'm very genuine about it but I'm aware these kids pay attention to me. If I'm excited, they'll get excited. If I care about what I'm teaching, they're going to care. If I pay attention to every student, then they're going to know that they are important to me."
The ASMSA students are "a select group who really want to learn," Krakowiak said, "And so I can push much deeper and much farther into content that is on the graduate level. Sometimes we read papers from publications that you wouldn't read until you're a graduate student, you know, so we really push the envelope quite a bit. And my philosophy is to expect; push students up here -- they'll come to here. If I expect here -- they're going (to) only rise up to this level."
While admittedly a "tough" teacher, she said she is a very understanding teacher. In challenging her students every day, she said it is up to her to incorporate the right technological tools to get each of them fully engaged and interested in learning more.
"I think that when I am teaching, if students are falling asleep, I change everything I'm doing," she said. "I change pace. I am constantly thinking on my feet and I'm constantly watching. We have so many engagement tools in our classrooms now."
As bad as the COVID-19 pandemic has been, she noted it has also proved valuable in some ways.
"So we have something called Pear Deck that's a tool where you have like a slide presentation but then you ask questions and the students answer on their devices," she said. "That could be labeling, drawing; that could be, you know, writing a short answer. It's not just 'A, B, C, D.' And I can see it all on the board anonymously immediately, and so they know that other students maybe didn't catch something and I can immediately come back and teach it.
"I'm constantly having them do something during class. You know, they're not just sort of spacing out. They're having to show me they're understanding what I'm talking about," she said. "We've played Quizlet Live, which is a competition game where they're trying to answer questions faster than someone else. Look at all these different tools that really have made a huge difference, where students are excited to be in the classroom and want to learn, which -- like I said -- that's the number one thing that I want to do."
Krakowiak said there are three things she would like to tell teachers all over the state: that she understands, being a teacher, how hard this past year and a half has been; that actively pursuing professional development not only benefits the teacher but benefits the student; and to realize their passion in their work does not go unnoticed.
"It has been the hardest (year) in my career no matter what I had done before and it has been disheartening," she said. "It has been full of trauma and it has an impact, and we have to be very aware to get help if we need it. But I do want to say we not just appreciate the teachers but we want them to know there is support, there is help, and that we want to put our best foot forward for our students because they've had a rough time, too.
"And the administrators, if anyone is listening, to continue to support the teachers who are really having to do so much more than they've ever had to do. They're at their breaking point. We need to give each other a little bit more leniency in all kinds of things. And pursuing professional development such as national board certification, presidential award, and there are many others, is very good for the person themselves but also for the students," she said.
"So if you can't make yourself do it for you, do it for those students who you are going to be teaching for the rest of your life. It really brings things home when you are better prepared in the classroom. Others have so many ideas about how to approach even the hardest situations. And the last thing is that I'm humbled every day that the teachers that I help by how much they go out of their way to just help a kid," Krakowiak said.
"And we forget that sometimes I think and I get phone calls at, you know, 6 p.m., 9 p.m., you know, 'There's a kid that doesn't understand this or they have this problem, what do I do?' Teachers are constantly thinking about those that they are impacting and I want teachers to know that I know. I know how much they care and I know how much they put forth no matter what the circumstances are," she said.
A national committee of scientists, mathematicians, and educators will review the applications and recommend up to 108 teachers to receive PAEMST awards. Teachers who are selected will each receive a $10,000 award, a presidential citation, and a trip to Washington, DC, for a series of recognition events, professional development activities, and an awards ceremony.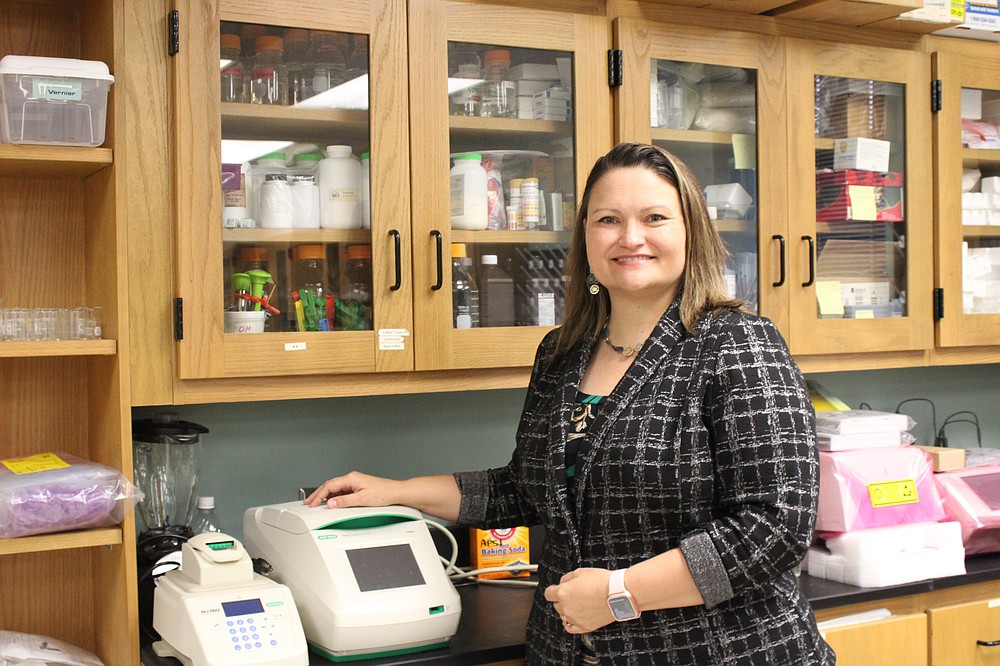 Arkansas School for Mathematics, Sciences, and the Arts professor Patrycja Krakowiak is now in her 17th year teaching at ASMSA. - Photo by J.P. Ford of The Sentinel-Record