Lakeside took a pair of games from Hot Springs last Thursday with the junior high football team shutting out the junior Trojans 35-0 while the eighth-grade Rams winning 28-14.
Ryan Ballard scored a 38-yard touchdown with 1:57 off the clock for the early lead, and he ran it in from the 10 with 3:30 left in the period for a 12-0 lead after both conversion attempts failed.
Ballard found Grady Ohman for a 20-yard TD pass six seconds into the second frame before connecting with Zak Haywood on the conversion to make it 20-0. Ballard broke free on a 63-yard run for the end zone with 4:47 left in the half, and Haywood ran in the conversion attempt for a 28-0 halftime lead.
Ballard ran the ball in from the 36 with 5:56 left in the third quarter to set the final after Denver Davidson's PAT.
"Our guys played extremely hard and competitively. and that is what we have to keep doing every week in order to have success," said head coach Chris Brock.
Ohman led the team with 15 tackles, six for loss and two sacks. Britton Diaz added nine tackles with two for loss, Haywood had seven tackles, and Joseph Newman had six with a fumble recovery. Ballard had seven carries for 168 yards and four touchdowns.
The junior Rams (4-0, 1-0) travel to Camden Fairview Thursday.
In the eighth-grade game, Lakeside took a 6-0 lead on a 20-yard touchdown pass from Wally Wolcott to Javarius Russell with 4:55 left in the first quarter, capping the opening drive that featured a 26-yard pass to Beau Brock and a 24-yard pass to Drew Morgan.
Wolcott found Luke Wrublesky from 22 yards out to make it 12-0 with 2:24 remaining in the first after another failed conversion. Hot Springs responded by cutting the lead in half.
Chris Ford broke free for a 24-yard run to set up a 2-yard run by Brock with 3:03 left in the half for a 20-6 halftime lead after Brock ran in the conversion attempt.
The eighth-grade Rams went up 28-6 with 3:36 left in the third as Wolcott found AJ Burns on a 47-yard touchdown pass, and Brock found Burns in the end zone. Hot Springs scored late in the fourth to set the final.
Wrublesky, Ford, Deklin Mckinney and Tucker Young each had five tackles for Lakeside.
Lakeside's eighth-grade team also travels to Camden Fairview Thursday.
LAKESIDE SPLITS AT TEXARKANA
The freshman Rams volleyball team took a 25-16, 25-15 win over Texarkana last Thursday, but the eighth-grade Rams fell, 25-20, 25-20.
Alexis Kessler led the freshman Rams (8-4, 3-0) with five kills, six digs and an ace, Lola Rucksthul added five kills, two blocks, two digs and two aces, Claire Vance had two kills, three digs, a block and five aces, and Alyssa Nugent had two kills, four digs and two aces. Ella Witherington, Avery Wade and Reagan Stone had a kill each.
Sophie Botter led the eighth-grade Rams (7-6, 2-1) with five service points and two aces, and Hope Graham had five service points.
FOUNTAIN LAKE TENNIS SPLITS WITH JESSIEVILLE
Fountain Lake's girls tennis team swept Jessieville, but the Lions won three of four over the Cobras Thursday in Fountain Lake.
In girls singles, Lainey Mungle, Paige Davis and Angela Coriaty each won in straight sets, 6-0. In girls doubles, Mungle and Davis took a straight-set win (6-0) while Emma and Aedan Kaumeyer and Emily Gaona and Mary Drakes each took 6-1 wins.
In boys singles, Aaron Breshears won 6-4. Paul Combs lost 6-4, and Andrew Bledsoe and Andrew Lydon both lost in straight sets, 6-0.
LAKESIDE TENNIS DOWNS LAKE HAMILTON
Lakeside dropped just two matches as the Rams and Lady Rams downed Lake Hamilton on the road Thursday.
In boys singles, Ben Hollis took an 8-0 win over Max Grisham, Graham Dolan downed Jake Spruill 8-1, and Brodie McAllister defeated James Ballard 8-0. In boys doubles, Kai Condley and Ty Robinson defeated Walker Wood and Greyson Cornelison, 2-6, 7-5, 6-4.
In girls singles, Julia Malone bested Denisa Gui, 6-0, 6-1, Sabrina Long defeated Sheyla Praetzel, 6-2, 3-6 (10-4), and Lake Hamilton's Julia Ballestros defeated Isabelle McDonough, 8-2. Elizabeth Cowen and Lauren Latham defeated Hayleigh Wyrick and Natalie Tedder, 6-0, 6-3, and Addyson Dowdy and Caley Anderson beat Haven Lockwood and Rose Allgier, 6-2, 7-5.
BLOUNT EARNS SECOND GAC WEEKLY AWARD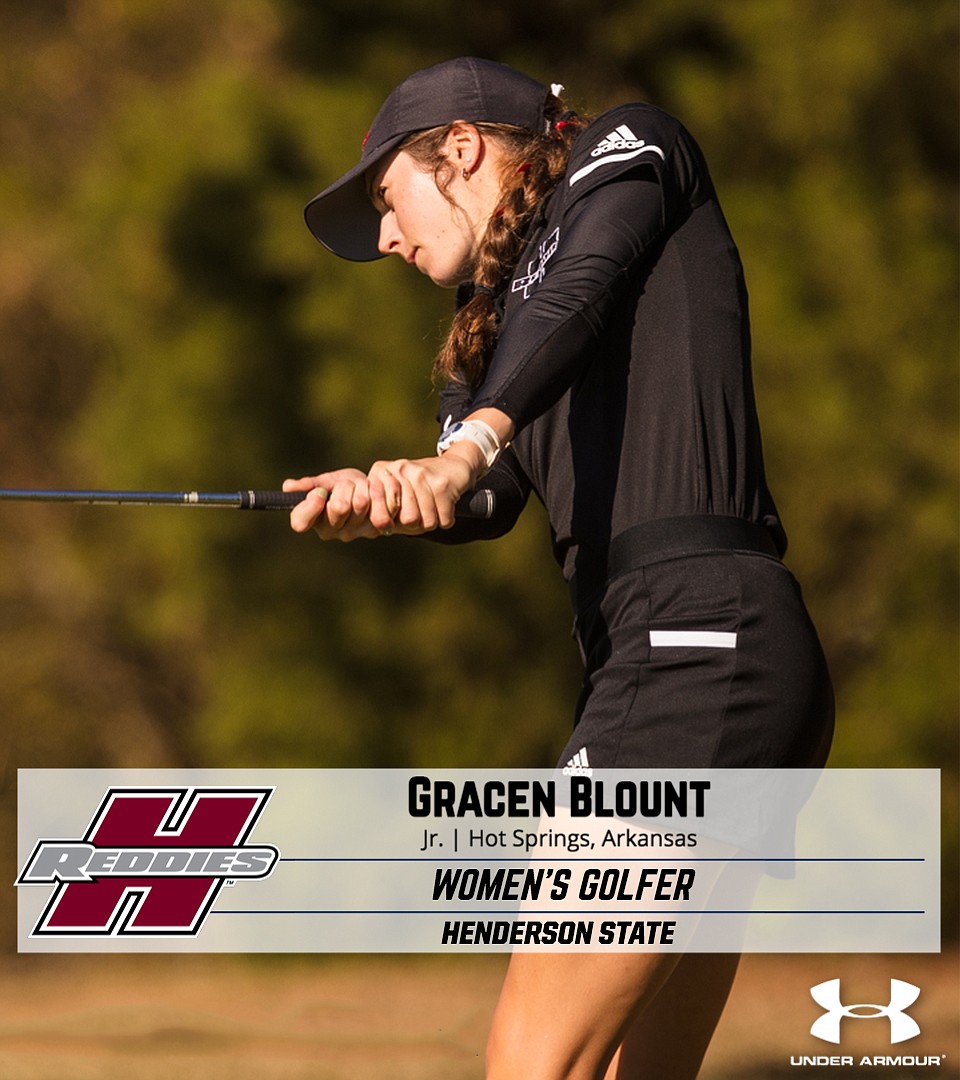 Lakeside grad Gracen Blount picked up her second GAC Women's Golfer of the Week award in as many weeks, and Southwestern Oklahoma State's Gregor Weck earned the men's award.
Blount, a junior at Henderson State, dominated the competition at the Northeastern State Classic, breaking the tournament record with a 7-under par 137 for the two rounds. She also set a school record with a 5-under 67 on the second day to lead the Reddies to a 12-stroke win in the 16-team event.
GAC NAMES WOMEN'S WEEKLY SOCCER PLAYERS
Ouachita Baptist's Michele Snow was named the Great American Conference Goalkeeper of the Week last week while Oklahoma Baptist's Hannah White and Northwestern Oklahoma State's Caitlyn Bidart were the offensive and defensive players, respectively.
Snow had consecutive shutouts to Union and Christian Brothers, bringing her to three clean sheets in four matches this season.
White had three goals in the second half against Central Oklahoma, her first three goals of the season, and Bidart led a NWOSU defense that allowed just 12 shots, seven on goal, on the road against Nebraska-Kearney and Wayne State with just one goal allowed.
HARDING SWEEPS CROSS COUNTRY WEEKLY AWARDS
Harding's Nieves Megias and Luke Walling earned the women's and men's GAC Cross Country Runners of the Week awards, respectively.
Megias was second at the Bob Gravett Invitational with her second-fastest 5K time as a Lady Bison (18:32.2). She was the school's top runner for the eighth time in nine starts.
Walling took a 10-second win (25:16.3) in the Bob Gravett Invitational 8K, his first meet, leading the Bisons to a narrow 3-point win.