The failure of President Joe Biden's administration to fully evacuate American citizens from Afghanistan will likely have lasting effects on America's reputation, U.S. Sen. Tom Cotton, R-Ark., said Friday night at the Lincoln Reagan Freedom Fundraiser in Hot Springs.
The event, hosted by the Republican Party of Garland County at the Arlington Resort Hotel & Spa, and attended by Arkansas attorney general and gubernatorial candidate Leslie Rutledge, Arkansas State Land Commissioner Tommy Land and other state dignitaries, featured a tribute to the 13 service members who were killed on Aug. 26 in Afghanistan.
Cotton, who served as keynote speaker, told The Sentinel-Record prior to taking the podium the evacuation effort was a "catastrophe, not just on Joe Biden's watch, but of Joe Biden's making."
"I think that the drastic consequences will echo for years, if not decades," he said.
Video not playing? Click here https://www.youtube.com/embed/fTOMplDa1x8
"Many people, as Kabul fell, asked if it was going to be a Saigon moment, referencing the fall of Saigon in 1975. I fear that in 25 or 50 years people will be asking the future president about a Kabul moment. It has energized and inspired and motivated Islamic jihadists all around the world.
"They are once again pouring into Afghanistan. It has demoralized our allies and alienated many of those who fought alongside us like our NATO allies. And it's emboldened some of our worst enemies like China who, in the days after Kabul fell, was taunting the United States and Taiwan -- showing that our security guarantees are not worth much as long as Joe Biden is president. So I think we're going to be living with the consequences of this for a very long time and it's very dangerous for Americans," Cotton said.
Video not playing? Click here https://www.youtube.com/embed/BG6VB-5YZSI
On Aug. 15, the day Kabul fell, Cotton said an old high school classmate of his contacted his office saying he knew someone behind Taliban lines.
"I knew this person had not served in the military or probably gone to Afghanistan, so I didn't imagine how he could know an Afghan," Cotton said. "He said, 'No, it's someone from Arkansas.' And only then did it kind of dawn on me the scale of a fiasco that we had -- still had thousands of our citizens that were now behind enemy lines."
Unable to receive practical guidance from the state department, Cotton said they converted his office into an "ad hoc evacuation war room."
"For several days we worked around the clock, given the time difference between here and Afghanistan," he said.
"Pretty much all of my staff here at home and in Washington, whatever their job, whether they're a press person, or legislative work, or operations, were pitching in. And their combination of working with one of my aides who happened to be ... at the Kabul airport, and some of the relationships that my aides or veterans had with soldiers and Marines on the ground and then some of the relationships we built -- I think we ended up getting more than 800 persons into the airport now in the country," Cotton said.
"That includes American citizens, green cardholders, Afghans who have been fighting alongside us for years and were approved and vetted to get a special immigrant visa, and some of their families," he said. "Unfortunately, there's still a lot left behind, though, and we continue to work that every single day, trying to get out of the country and to safety anyone who shouldn't have been left behind."
Cotton commended the work of his team as well as that of his colleagues in the U.S. Senate and U.S. House of Representatives -- both Democrats and Republicans alike. He would further speak on the rescue efforts during his keynote speech to the roughly 200 people in attendance.
"Something that Joe Biden shockingly calls an extraordinary success," he said. "'Extraordinary success,' that we have been humiliated by a degenerate gang of 7th-century savages in the Taliban. That he left thousands of people behind Taliban enemy lines. How else can you account for some of these mistakes? You don't exactly have to be a U.S. Grant to know that you should get your civilians out of the country before you get your military out of that country. It doesn't take a Dwight Eisenhower or a George Patton to know you probably shouldn't surrender your secure air base that is 40 miles away from enemy lines while we're trying to evacuate an airport and a city of 6 million people."
Cotton said these are not hard challenges and that while Biden thinks that it is time for America to be "humble" and to "lay low," he rejects that strategy. Cotton said he has spoken with several troops in Afghanistan over the past month, including some Gold Star families who lost loved ones in battle.
"And they say, 'Was that service in vain?'" he said. "I said, 'Of course it wasn't.' We have but one core mission in Afghanistan and it's been the same mission since the very first day. And that's to prevent that country from ever being a sanctuary and a safe haven from which brutal terrorists could launch attacks that could kill Americans by the thousands. And it didn't happen for 20 years because of their service -- down to the very last man of these 13 Marines and sailors and soldiers who gave their life so they could save their innocent fellow citizens. ... Every one of their sacrifices was noble and honorable."
Noting how special it was to be back in Hot Springs Friday -- the place Cotton held his very first political event 10 years ago, nearly to the day -- he also spoke of the heroism of local native Adam Brown who served the country as a part of the elite SEAL Team Six.
"Adam gave his life in service for this nation in Afghanistan and that was a noble sacrifice," he said. "No matter what Joe Biden did over the last three months, to squander the safety of people like Adam Brown, or Taylor Hoover, whose funeral I attended this morning at Arlington National Cemetery, or any other one of our great veterans who gave their life in Afghanistan, it can't tarnish it for a moment."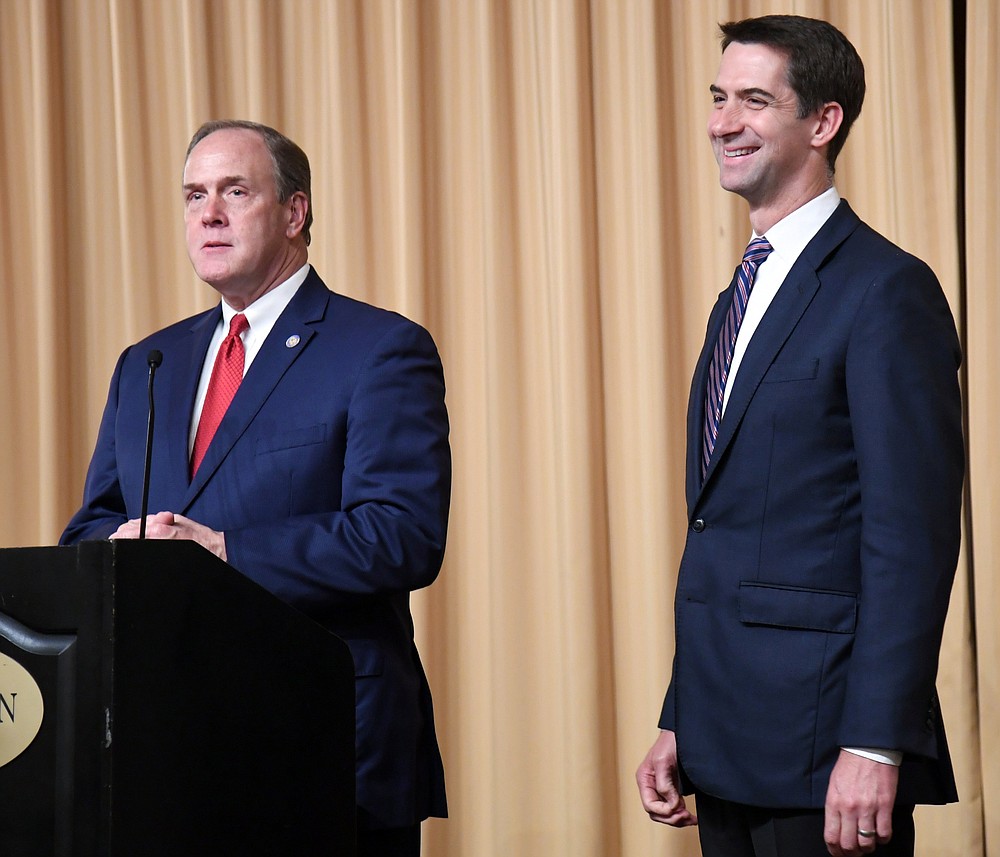 It's Les Warren, left, and Tom Cotton at the Arlington.