The October exhibit at Justus Fine Art Gallery, "Intentional Forms," will feature work by Robyn Horn and Sandra Sell.
A selection of wood sculptures and paintings by the artists will be showcased in the exhibit, with an opening reception from 5-9 p.m. Friday as part of the monthly Gallery Walk in downtown Hot Springs. The exhibit will be on display through Oct. 30.
"I am drawn to abstract, geometric sculpture, the volume of it, the form, the textures, the negative spaces. I am obsessed with tension and movement, the gestural qualities of sculpture. I believe that the individual character of the material can be preserved by the inspiration of the artist, that they can both exist by the combining of the curving lines of nature, together with the angular lines of geometry, resulting in a gentle merging of the two entities, one working with the other in a union of souls," Horn said in a news release.
Horn's wood sculptures have been collected and exhibited by museums and galleries throughout the nation and abroad. Public collections include The National Museum of American Art, Renwick Gallery, Washington, D.C.; Museum of Arts and Design, New York; Victoria and Albert Museum, London; Museum of Fine Arts, Boston; Museum of Fine Arts, Houston; White House Collection of American Crafts, Clinton Library, Little Rock; Arkansas Museum of Fine Art, Little Rock; Fuller Craft Museum, Brockton, Mass.; Arizona State University, Tempe, Ariz.; Long Beach Museum of Art, Long Beach, Calif.; Los Angeles County Museum of Art, Los Angeles; Minneapolis Institute of Arts, Minneapolis; Mobile Museum of Art, Mobile, Ala.; The Center for Art in Wood, Philadelphia; Yale University Art Gallery, New Haven, Conn.; Ogden Museum of Southern Art, New Orleans; North Carolina State University, Gregg Museum of Art & Design, Raleigh, N.C.; Mint Museum of Craft & Design, Charlotte, N.C.; Detroit Institute of Art, Detroit; and Arrowmont School of Arts & Crafts, Gatlinburg, Tenn.
Horn was born in Fort Smith and earned her B.A. from Hendrix College. She currently lives with her husband, John, in Little Rock.
A native of New Hampshire, "Sell grew up with a passion for visually emulating nature and constructing objects," the release said.
After completing a career in the military, Sell relocated to Arkansas where she earned an M.A. in Art from the University of Arkansas at Little Rock.
"With experience in drawing, painting, and sculpture, she strives to convey the observations of her emotional responses to life in her work. Sell's passionate commitment to her profession as an artist spurs her to continually seek new and creative opportunities," the release said.
In 2018, Sell served as part of the artist team working with Mel Chin for the Times Square installation "Unmoored" in New York. Continuing her development as an artist, Sell also served as studio assistant for Stoney Lamar and Brent Skidmore at the Pendland School of Craft in Pendland, N.C., and as an apprentice to artist Robyn Horn in Little Rock.
"Sell is also enthusiastic about sharing her creative process through teaching, demonstrations, and by speaking to arts organizations and groups such as the Friends of Contemporary Craft (FOCC), an affiliate group of the Arkansas Arts Center," it said.
Since 2007, Sell's work has been included in more than 30 exhibits in the U.S. Recent exhibitions include Materials: Hard + Soft International Contemporary Craft Competition and Exhibition (2018, 2017), Greater Denton Arts Council, Denton, Texas; Curiosity Revealed (2016), Thea Foundation, North Little Rock; Merging Form and Surface (2016), Pulaski Technical College Center for Humanities and Arts, North Little Rock; Longevity (2015), Arkansas Capital Corporation Group, Little Rock; Solo Show (2015), River Valley Arts Center, Russellville; Edges & Lines, National Juried Exhibition (2015), Fredericksburg Center for the Creative Arts, Fredericksburg, Va.; Annual Juried Art National Exhibition (2015), South Arkansas Arts Center (SAAC), El Dorado; The Penland Experience (2015), University of Arkansas at Little Rock; Small Works (2015), The National Association of Women Artists, Inc. (NAWA), New York; Salvage: Reclaiming Recycling (2009), National Juried Exhibition, and The Phillips Museum of Art, Franklin and Marshall College, Lancaster, Pa.
Sell's work is included in the permanent collections of the Arkansas Museum of Fine Art, the University of Arkansas in Little Rock, and the Historic Arkansas Museum, along with many private collections. Sell was also awarded first place in the 2018 Materials: Hard + Soft International Contemporary Craft Competition and Exhibition hosted by the Greater Denton Arts Council in Denton, Texas.
Justus Fine Art Gallery, 827-A Central Ave., is open from 10 a.m. to 5 p.m. Wednesday through Saturday and by appointment. Call 501-321-2335 or visit http://www.justusfineart.com for more information.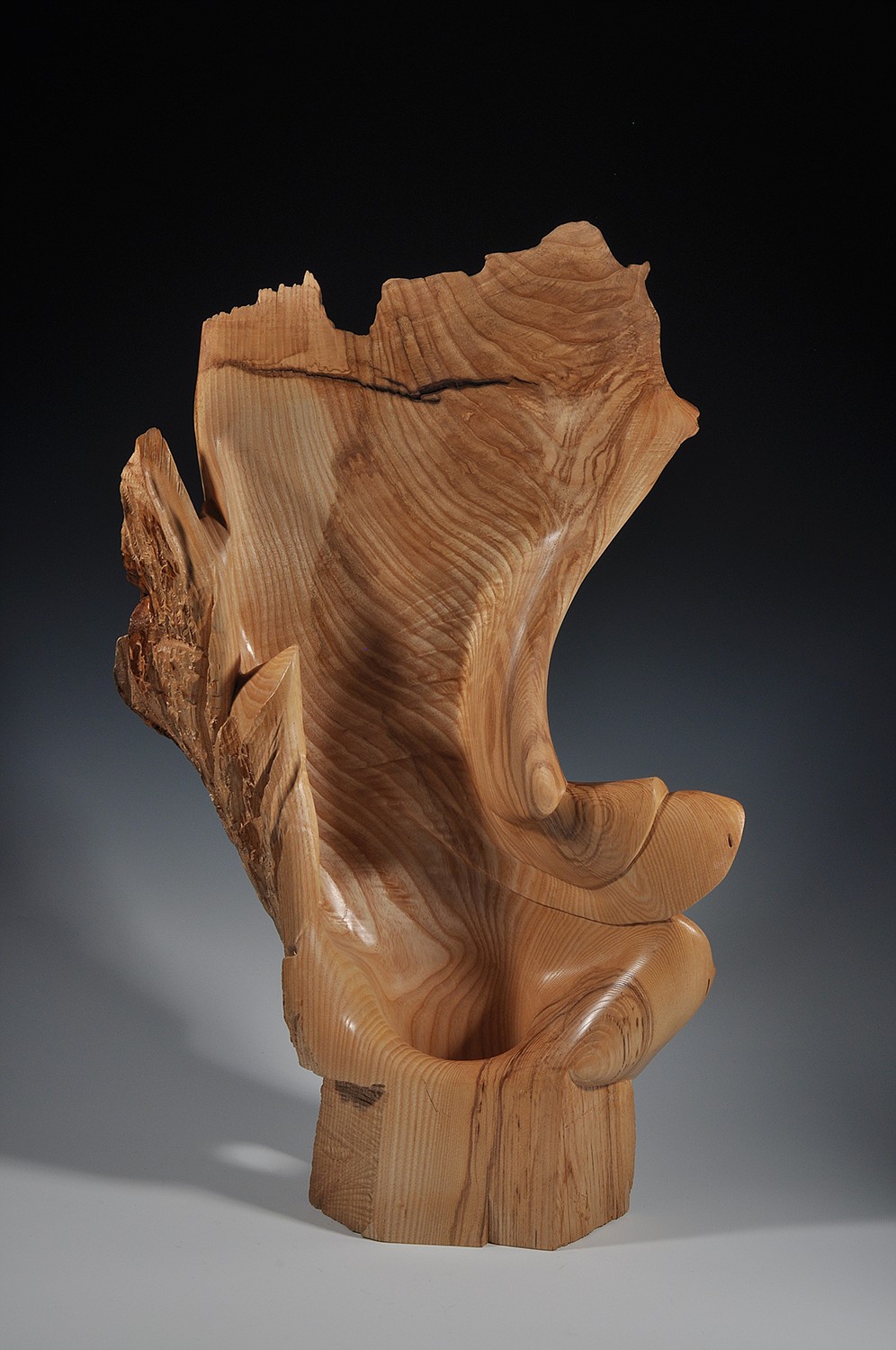 "Ash Poise," by Sandra Sell. - Submitted photo