Outdoor writer and photographer Corbet Deary is featured regularly in The Sentinel-Record. Today, Deary writes about Lake Charles State Park.
Last week's destination article featured a section of northeast Arkansas of historical significance with an interesting story to tell. Well, we're going to shift gears this week, as we near the end of this series of articles that focused on a section of the state referred to as Crowley's Ridge.
I don't suppose Lake Charles State Park is a location that history buffs will find of great interest. However, those who have a passion for spending time in the midst of the wonderful outdoors are apt to find this particular destination both intriguing and worthy of a visit.
The facility is situated in the northeastern foothills of the Ozark Mountains, literally just minutes away from the historic site we discussed in last week's article.
Lake Charles State Park is nestled on the western shores of a 645-acre reservoir and is close to four scenic rivers and the Shirey Bay-Rainy Brake Wildlife Management Area. In a nutshell, the park's proximity to acres upon acres of public waters and land is a recipe for hoards of fun.
But let's focus on what lies within, or is at least accessible from the perimeters of the park. We'll begin with Lake Charles. The impoundment is one of the largest man-made reservoirs throughout the northeastern section of the state and is responsible for the opportunity to experience several outdoor activities.
The swimming area is a popular destination throughout the summer months, and one would suspect that some will continue to visit the designated area during some of the warmer days of the early fall season.
The swimming area is open to the public, free and is located in the day-use area. The gentle slope consists of a sandy substrate. One should be aware that pets are not allowed and no lifeguards are on duty.
Video not playing? Click here https://www.youtube.com/embed/YKdg8yR1O50
Speaking of the day-use area, the picnic sites are popular stops for those who prefer a short stay in the midst of Mother Nature and would rather spend the nights in the comfort of their own homes. Most of the picnic sites are under the shade of native trees and sport tables and grills. Those utilizing the picnic area will find themselves in close proximity to modern restrooms.
Those planning a large gathering might be interested in the group pavilion. The structure is screened in and has lights and ceiling fans. A playground is also located within the day-use area, lending to an opportunity for parents to soak in the beauty around them while their youngsters burn energy.
Four launching ramps lend to ample access to the lake. However, one does not have to be a boat owner to experience an excursion on the water. In fact, canoes and kayak rentals are offered at the visitor center, as are guided tours.
Those embarking upon a paddling excursion will be privy to plenty of beautiful scenery and are apt to see a variety of plant and animal life during their journey.
Of course, spring and early summer lend to the greatest chances of seeing wildflowers swaying in the wind. However, there are native plants that bloom later in the year and might be seen making a showing in the weeks to come.
As for native wildlife, one is apt to see critters going about their everyday rituals throughout all seasons. Various mammals, including whitetails, raccoons, opossums and squirrels frequent the shoreline. And I would not be the least bit surprised if an occasional paddler eased within sight of a fox, or possibly even a bobcat.
The lake is situated in the Mississippi Flyway, deeming it a great bird-watching destination during the annual waterfowl migration. One might see a bald eagle flying overhead or perched in a nearby tree during the winter months, and some wading bird species likely call the lake home throughout all seasons.
Now let's talk fishing. Lake Charles is stocked with bass, crappie, bream and catfish. And as for the quality of fishing? I, personally, have never fished these waters. However, I have read information suggesting that the lake "is the place where the largest numbers of 20-inch bass have been caught in northeast Arkansas."
I don't know about you, but that's more than enough to convince me that this particular body of water is worthy of wetting a hook. It is also comforting to know that a full line of live bait is available at the visitor center from March through October.
Boat owners should be aware that there are no motor horsepower restrictions on the body of water. However, personal watercraft, skiing and tubing are prohibited. And of course, within 100 feet of the park shoreline, all docks and piers are considered as a no-wake zone.
Although those who are fishing from a boat likely stand the greatest chance of action, that's no indication that the angler won't experience their fair share of success while fishing from the shoreline's edge. In fact, I'll step out on a limb and suggest that most folks who pursue catfish with a rod and reel prefer bank fishing.
With that in mind, two barrier-free wheelchair-accessible fishing piers are located within the perimeters of the park, as are several courtesy docks.
How about those who are not so much into fishing and other water-related sports, yet they still have a great passion for the wonderful outdoors? Of course, one can enjoy the scenery and soak up the fresh air from anywhere in the park. But designated trails also wind through the property.
The Butterfly and Blooms Trail is accessible across from the visitor center and lends to an easy one-third-mile jaunt. Those embarking upon hike along the designated path will meander alongside wildflowers during the warmer months of the year, and are apt to see butterflies and other insects gathering pollen from the flowers. Deer are often seen browsing within sight of the beaten path, as well.
The Mockernut Trail stretches three-quarters of a mile and lends to an easy to moderate walk. The route loops through a forested environment and along the shoreline. Mockernut hickory trees are plentiful along the trail and are preferred by woodpeckers. Several wildlife species feed on the nuts and can often be seen in the area.
The Cedar Trail stretches 1 mile and lends to an easy walk. In fact, a majority of this particular route is paved, as it follows the contour of the lake's shoreline. The path makes its way alongside limestone outcrops and within sight of several native tree species.
The White Oak Trail is 1.5 miles in length and is rated as moderately difficult. The designated path crosses occasional streams and runs alongside the shoreline's edge. Wildlife spottings are commonplace along the route, as it makes its way through an area that is fertile with various natural food sources.
Of course, camping enthusiasts are welcomed at the park, as well. In fact, it sports 24 class-AAA sites and 34 class-B sites.
Yep, the Lake Charles State Park has something to offer to many. And it is a destination I plan to revisit again when I have time to cast into the reservoir's waters.
To get to the state park from Hot Springs, take Highway 70 east to I-30, and head east, toward Little Rock. Travel 32 miles and take Exit 143B to merge onto I-40 east. Travel 1.6 miles and take Exit 155 (on the left) onto US 67/167 toward Jacksonville.
Drive 120 miles and take Exit 121 onto US63, toward Hoxie. Go a half-mile and take a left onto US 63 toward Black Rock. Travel 10 miles and turn right onto North Third Street. Go 800 feet and take a right onto Highway 25.
Travel 5.7 miles and turn right onto County Road 258. Travel 200 feet to the destination's entrance.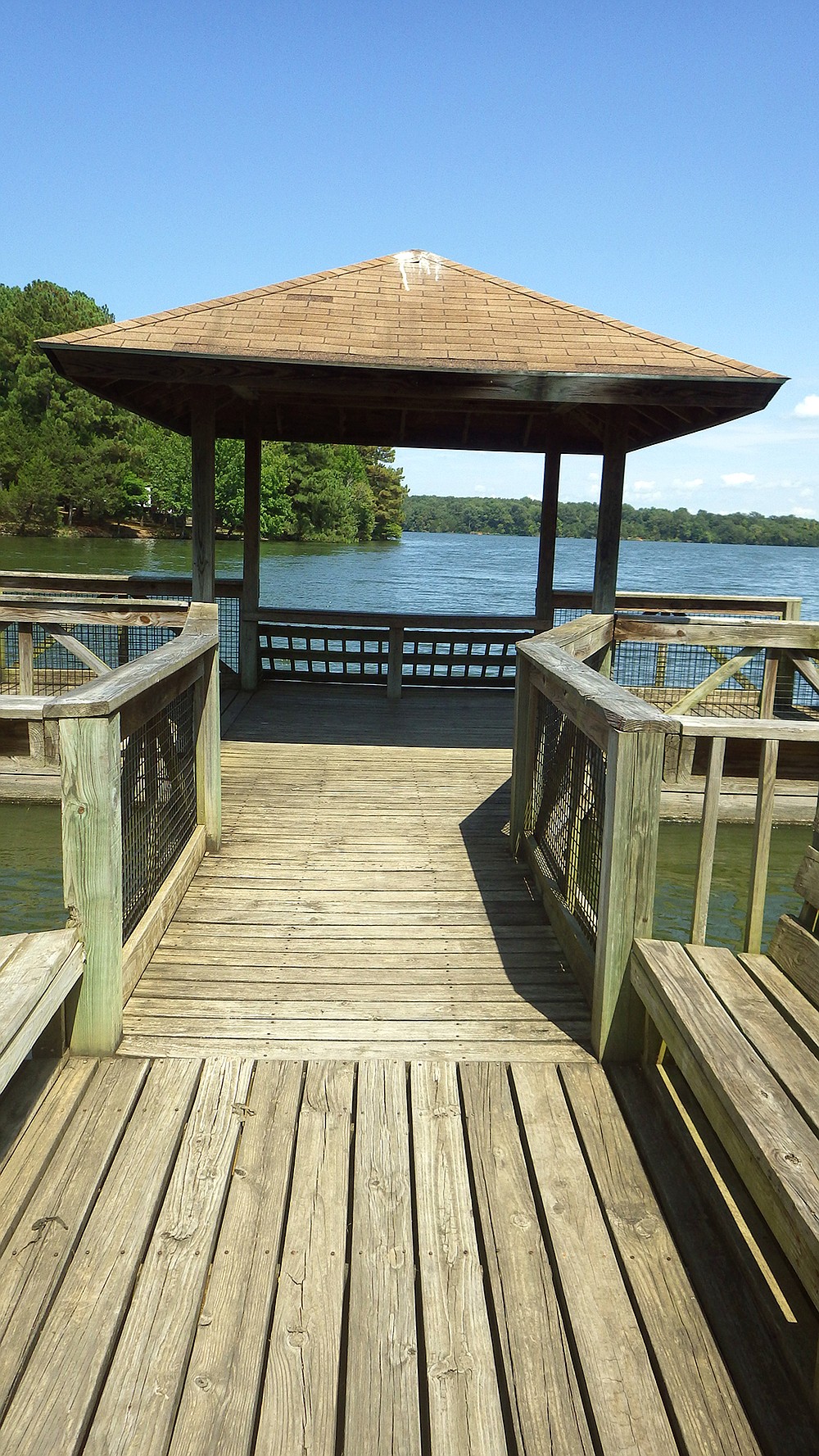 Two accessible fishing piers await those who visit Lake Charles State Park. - Photo by Corbet Deary of The Sentinel-Record