UPDATE
Lake Hamilton and Mountain Pine have joined the list of school districts switching to virtual learning due to the spread of COVID-19, according to Facebook posts by the two districts.
Lake Hamilton's post, made Wednesday morning, states:
"Due to the increase of COVID-19 cases and quarantines among staff and students, the Lake Hamilton School District will utilize two AMI days and will shift to virtual learning on Thursday, January 13, and Friday, January 14, 2022.  The LHSD understands the hardships this places on families but is simply unable to fill vacant staff positions with substitutes in classrooms, the cafeteria, and bus transportation.
"Additionally, schools will be closed for a regularly scheduled holiday on Monday, January 17, 2022, in observance of Martin Luther King Junior Day.  All schools and offices will be closed for public access during this time.
"In-person learning is scheduled to resume on Tuesday, January 18, 2022.
"AMI days are approved by the Arkansas Department of Education and count as instructional days.  All students are required to complete assignments through their learning management systems:  SeeSaw (grades K - 5) and Canvas (grades 6 - 12) in order to be counted present for the two AMI days on Thursday and Friday.  Please contact your teacher(s) with any questions related to AMI assignments and expectations.
"All athletic and extracurricular events and activities have been postponed during this time and are scheduled to resume on Tuesday, January 18, 2022.
"During the five days off-site, the LHSD strongly encourages all students and staff to avoid large group gatherings, follow social distancing protocols, and take every precaution against COVID-19."
The Fountain Lake School District announced Tuesday afternoon it was switching to virtual learning today through Friday.
Mountain Pine's post, also made Tuesday afternoon, states:
"Due to an abundance of positive COVID results and quarantines, we will be using AMI (Alternative Methods of Instruction) days Wednesday-Friday (Jan. 12-14).  Teachers will be sending home work to be completed and returned on Tuesday, Jan. 18.  Teachers will be available by email, Class Dojo, etc. to answer questions.
"We will be observing Martin Luther King Day on Monday, Jan. 17 (no school).  We look forward to seeing students and staff return on Tuesday, Jan. 18."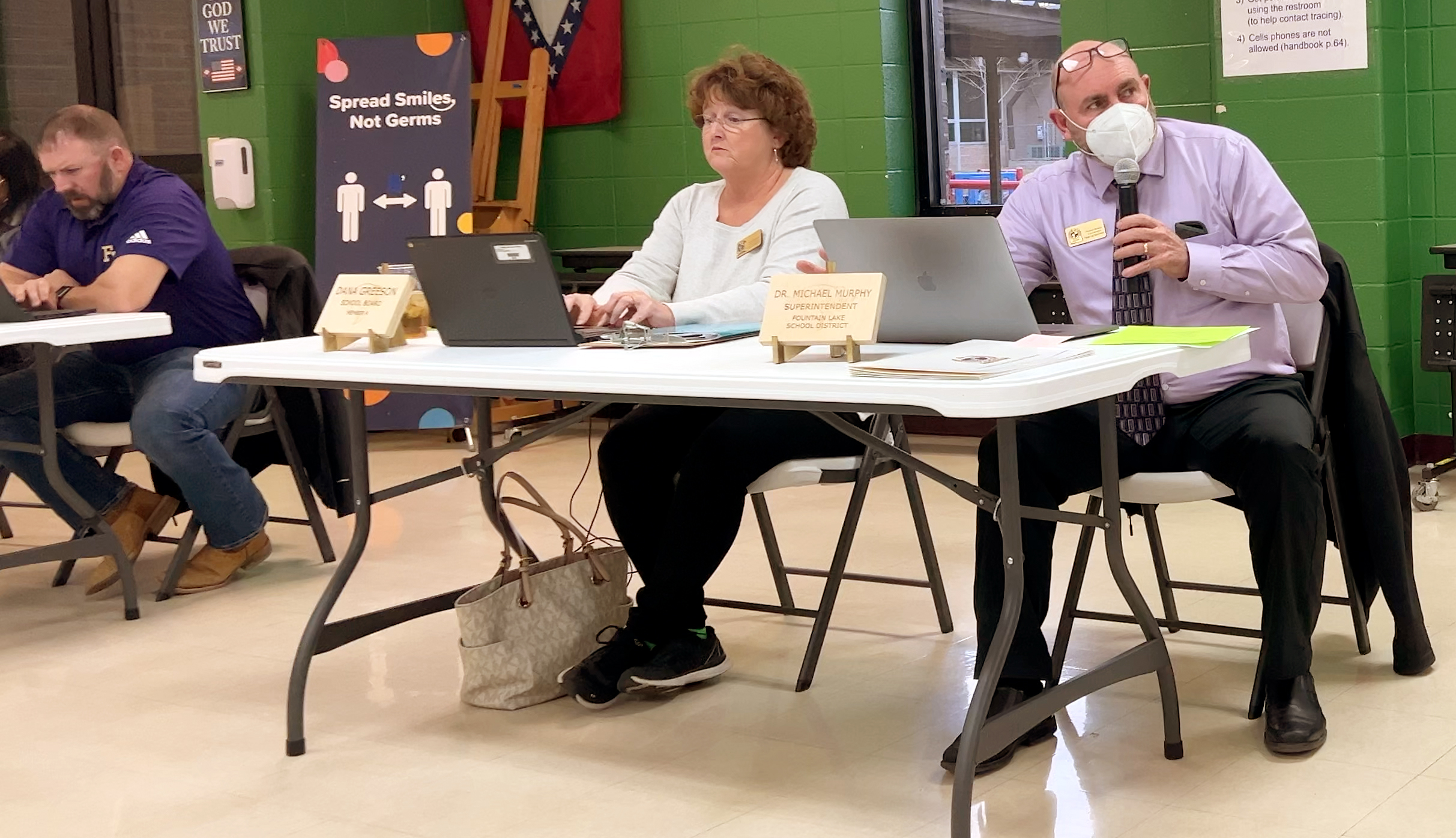 Superintendent Michael Murphy comments during Monday night's mask mandate discussion at Fountain Lake's monthly school board meeting in the high school cafeteria. At left is board president, Dana Greeson, and vice president, Cory George. - Photo by Brandon Smith of The Sentinel-Record

ORIGINAL ARTICLE
FOUNTAIN LAKE -- After the Fountain Lake School Board voted Monday night to temporarily reinstate its mask mandate policy at its regular monthly board meeting, the school district announced on Facebook Tuesday that it was pivoting to virtual learning for the rest of the week.
"Due to rising positivity rates of COVID-19 cases among students and staff, the Fountain Lake School District will pivot to virtual instruction for the remainder of the week," beginning today, the post said.
There is no school scheduled for Monday, it said.
"Students and staff will return to campus on Tuesday ... A.M.I. Days will be utilized. Students will receive instruction through Google Classroom and/or SeeSaw," the post said.
All on-campus activities are postponed through Monday, and homecoming activities and games will be rescheduled. There will be no PeeWee games on Saturday, and no practices will be held on campus through Monday, it said.


Video not playing? Click here https://www.youtube.com/embed/MfGgKLw_QoI
According to the board's motion, which went into effect Tuesday, all students and staff will be required to wear masks while indoors and on school buses during normal school hours, except during athletics, choir, band, and physical education periods, until Friday, Jan. 21. As with the district's previous mandates, medical and religious exemptions will apply.
At the end of the school day on Monday, out of 1,362 students, there were 40 active positive cases among the students and 15 among the staff. Steve Campbell, Fountain Lake director of education, said there were 100 probable close contacts that were still in process as of the meeting and the vast majority of those were community-spread cases.
"We've seen a significant increase," he said. "We've doubled from Friday in the number of positive cases we have on campus. And that number, based upon what Dr. Murphy heard from (Fountain Lake Health Coordinator) Ms. (Kim) Harrell, is going to continue upward."
Campbell said the larger concern, currently, is the number of staff cases.
"The issue is going to be ... our teachers who are in quarantine or who are positive, who are healthy enough to continue teaching, are teaching," he said. "They're doing it remotely. They're working from home, they're zooming with their kids, and so they're able to continue teaching. But supervising the students who are on campus is where we're going to run into issues."
Campbell said they were "very short" on substitutes Monday and "looking at the numbers at the end of the day" he noted they were "already very short" on substitutes for Tuesday.
"Some of those may get picked up but it's going to become very difficult for us to continue to supervise the students on campus if we see much more in the way of cases," he said. "That's where we are right now. It's a very difficult spot. Part of the reason why we're so slow on our tracing today is because our contact tracers were having to cover classrooms, cover duties, so that we could keep the kids supervised."
Fountain Lake Superintendent Michael Murphy said he doesn't know if the mandate will "save the day for us," but it definitely can be another tool at the district's disposal before having to move to virtual learning.
"What we were looking at was a window of time long enough to make a difference," he said of the mandate. "It's not something you can just pivot for a day and then come back the following day and hope everything is better."
Murphy, who is a member of the Hot Springs/Garland County COVID-19 Task Force, said that during their weekly meeting that morning there was "probably more anxiety among school leaders and community leaders regarding the overall number of cases and the degree of spread that happened over the last five days than probably any other point when I've been convening with county officials and school leaders."
"We're not alone in looking at these numbers. This is truly a countywide issue and a regional issue, and truly, in my opinion, a statewide issue at this point in time," he said.
Board member Cindy Herring suggested the board revisit the mandate issue during the board comments section of the agenda.
"My concern is that if Mr. Campbell (is) saying that we can't sustain at the number that we're expecting it to increase, then what are we going to do to try to help that a little bit?" she said. "So I'm not, probably at this point, in any kind of position to be in favor of going virtual but if masks are an option."
Board President Dana Greeson said requiring masks would not necessarily mean the district might not have to switch to virtual in the future if more teachers get sick and are out.
"I understand that substitutes are a rare find these days and you already have a bunch of teachers out that, you know ... you're just kind of hanging precariously right there with the number of staff that are out."
Board member Lloyd Little said going virtual should be their last choice.
"You know, I want to give the tools to the administrators and the teachers that they need but if we can keep the kids in school with the mask mandate, I'm in favor of the mask mandate," he said.