David Nash's Gold Wing Honda Motorcycle doesn't quite look like other motorcycles of its kind.
To start off with, Nash decided to turn the 2009 Gold Wing 1800 from a two-wheel motorcycle to a trike.
"We went up to Branson, Missouri," Nash said. "We drove all over the mountains, everything. Went down to Eureka Springs. Didn't have a bit of trouble. But when I got right up here to Lakeside and Malvern, when I pulled onto Lakeside, that's where it fell over on me."
Nash decided at that moment he was not going to be able to ride a two-wheel motorcycle anymore.
"These things are so top-heavy that they couldn't go in and out of parking lots that well," Nash said. "For safety is the reason why I did it. They say these things are hard to tip over once they're triked out."
If someone is lucky enough, they will see Nash's Gold Wing on a day when it's hauling its trailer. This isn't any old trailer -- instead, it's a trailer modeled after a 1920 Ford, and it can hold up to 800 pounds.
Video not playing? Click here https://www.youtube.com/embed/kj7J3vqR1mk
The top of the Ford opens up, and things can be stored inside the hollow trailer.
"They think it's really cool, especially if I have the trailer on the back of it," Nash said. "'Where'd you get it at? Where'd you get it?' The motorcycle came from Mississippi. The trailer back there came from Alabama."
When Nash and his wife travel on the Gold Wing, they store their luggage in the trailer and pull it along. The trailer comes equipped with working headlights and taillights.
"We decided to go with this 1920 Ford," Nash said. "It was a delivery truck back in the day. ... The joke was when they got the headlights fixed I had a car following me too close."
Photo Gallery
Hot Springs Wheels: Honda Gold Wing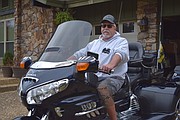 David Nash shares his 2009 Honda Gold Wing in this week's installment of Hot Springs Wheels. - Photos by Donald Cross of The Sentinel-Record
Gallery not showing? Click
here https://www.hotsr.com/photos/galleries/2023/nov/20/hot-springs-wheels-honda-gold-wing/
The Gold Wing sports a black paint job with blue accents across both the trike and the trailer. The trike also showcases plenty of chrome on its body.
"Looking at it, you couldn't tell it was an 1800 Gold Wing," Nash said. "I tell them that's what it is. They say, 'Wow. Man, that thing's humongous.' It speaks for itself as far as the character. (It provides) stress relief."
Nash originally got into motorcycles when he was a teenager. He went to a local motorcycle track and rode together with friends on the dirt track back in the day.
"First time I did that," Nash said, "it was pretty awesome."
Nash got out of the motorcycle game for a long time before finally getting back into it in 2015.
"I had two of them," Nash said. "I had a VTX, and I had this Gold Wing. I didn't ride this thing for a year. I finally said 'Well there's no sense in having two,' so I got rid of the VTX. Took this. Got it fixed. I've always had a love for motorcycles."
Now, Nash and his wife are both retired and between the two, they have a truck and the Gold Wing. So, Nash is a pretty frequent driver of the trike around town.
"It takes the stress out of you," Nash said. "It's fun to ride."