The Salvation Army's Angel Tree program will allow individuals and businesses to give something back to the community this holiday season by making a child's Christmas more meaningful, according to Captain Joshua Robinett, commanding officer.
Angel Trees will be set up at locations around Hot Springs, including Newk's Eatery, Purple Cow Restaurant, Fashion Nails, Wal-Mart, Buffalo Wild Wings, the Hot Springs Family YMCA, and The Hot Springs Mall. Volunteer "Angel Tree Guardians" will be on hand at the mall to answer questions during regular mall hours. The gifts can be returned to the mall, Wal-Mart or The Salvation Army office, 115 Crescent Ave.
"The angel they adopt is an actual child and the things on that angel are on the child's wish list," said Robinett. Each child's name only appears on one paper angel.
The official Angel Tree kickoff will be at 11 a.m. Saturday at the mall. The Golden Harvest Band, Bob "Bugle Boy" Russell and the Gospel Light Children's Choir led by Sonya Chittum will provide entertainment.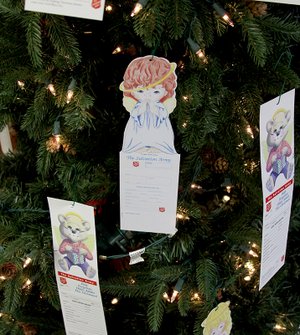 The Sentinel-Record/Elisha Morrison ANGELS: From 800 to 1,000 paper angels, each representing a child's Christmas list, will be available for adoption on trees at locations across Hot Springs, along with 30 senior angels.
In October, parents applied for their children to take part in the Angel Tree program and met with organizers. The parents provided sizes for shoes, clothing and coats for the children, in addition to their wish list for gifts. According to Robinett, more than 400 families signed up for the program, which means 800 to 1,000 children have an angel on one of the trees.
Robinett said the most-popular gifts requested are bicycles, Barbies, board games, crafting items and learning toys.
Thirty senior angels will be joining the child angels on the trees. Their wish lists include blankets, pillows and similar items. Senior angels are lower income seniors without families to provide Christmas for them. They go through the same selection process as the children.
Robinett said people who want to participate in the program, but may not be able to afford everything on an angel's list, have other options. The Salvation Army will collect individual toys, or groups can join together to adopt one or more angels. Robinett said he encourages Sunday schools, civic groups and businesses to come together to adopt angels.
The Salvation Army's staff and volunteers are working to ensure all angels get adopted, but if any are not selected, the board will step in to ensure that each angel will still get their Christmas.
The Salvation Army will partner with Wal-Mart on a "Fill The Truck" campaign. Boxes will be set up to collect toy donations starting Black Friday, the day after Thanksgiving. Volunteers will be at Wal-Mart locations at 1601 Albert Pike Road from 4-8 p.m. Dec. 4, at 4019 Central Ave. from 11 a.m. to 7 p.m. Dec. 5, and at 3604 Highway 7 north near Hot Springs Village from 4-8 p.m. Dec. 11, collecting donations.
In addition making sure the children have gifts to go under the tree on Christmas, The Salvation Army is partnering with Stomp Out Hunger to make sure the families in the program have a traditional Christmas dinner. The Salvation Army will provide the families with meat for the meal, and collection bins for traditional side items such as gravy, pie fillings, sweet potatoes, corn, stuffing, cranberries and pie crusts will be located around Hot Springs. Items can also be dropped off at The Salvation Army office.
Robinett said they would also happily accept any turkey or other meat donations.
"Our desire is that those people don't have to leave home for that traditional Christmas meal," said Robinett.
Robinett asks that donated items not be wrapped so the parents will have the opportunity to wrap the presents themselves. The Salvation Army will provide wrapping paper.
The Salvation Army is also looking for volunteers to performs tasks that include picking up donations to sorting toys. Call The Salvation Army office at 623-1628 to volunteer.
Families receiving gifts and food boxes will receive letters with instructions on how to pick up the items. Arkansas Beverage has donated warehouse space to be used for distribution on Dec. 19.
"We are grateful for our partnerships in the community to meet theses needs," said Robinett.
Local on 11/08/2015