A 4-year-old Hot Springs girl who was taken into state custody last week reportedly had been zip tied to furniture as a punishment by her mother and her mother's live-in boyfriend and thought her name was "idiot," according to an arrest report.
The mother and the boyfriend, Jennifer Diane Denen, 30, and Clarence Eugene Reed, 47, who both list a Cones Road address, were taken into custody shortly after 3 p.m. Friday and charged with felony counts of first-degree domestic battery, punishable by up to 20 years in prison, and permitting abuse of a minor and first-degree endangering the welfare of a minor, each punishable by up to six years.
They were each being held Monday on $500,000 bond and are set to appear Aug. 23 in Garland County District Court.
According to the report, Hot Springs police officers responded to Cooper-Anthony Mercy Child Advocacy Center after Arkansas Department of Human Services workers and center employees examined the 4-year-old girl and determined she had been abused.
She had deep purple bruising on her bottom, lower back and legs; a black eye; swollen right cheek; a bruise on her forehead; healing scars across her back; and dried blood in the corner of her mouth. The girl also had ligature marks on her wrists indicating she had been restrained, and appeared to be malnourished.
Officers asked the girl her name, and she reportedly responded, "idiot." Another juvenile at the residence reportedly confirmed the girl had been tied up and was referred to as "idiot."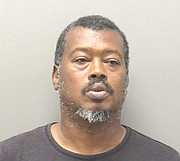 Denen and Reed, her live-in boyfriend, were present at the center when officers arrived and transported to the police department for questioning. During an interview, Denen stated she saw Reed strike the 4-year-old on the bottom with a plastic bat. The other juvenile reportedly told Denen that Reed had tied the girl to a chair using plastic zip ties.
Denen allegedly admitted to not seeking medical care for the girl's injuries and that Reed regularly referred to the child as "idiot" while in her presence.
Reed allegedly admitted to striking the girl on the bottom with a half-inch thick wooden paddle, but not a plastic bat. He also allegedly admitted that he and Denen had used zip ties to secure the child to her bed after she was observed climbing the cabinets in the kitchen.
Reed stated he did refer to the child as "idiot," but claimed it was only as a joke.
Local on 08/16/2016