A Hot Springs woman has had "butterflies in my stomach" since Monday night when her son, Antwon Hicks, qualified for the semifinals in the men's 110-meter hurdles at the 2016 Olympic Games in Rio de Janeiro.
"I'm just so happy he's come this far," Kimilar Graham said. "We just had to get through that first hurdle."
Hicks, 33, was born and raised in Hot Springs, graduated Hot Springs High School in 2001 and went on to graduate from the University of Mississippi in 2005 after getting a track scholarship there. He led the Trojans to three consecutive state championships from 1999-2001 before hurdling at Ole Miss.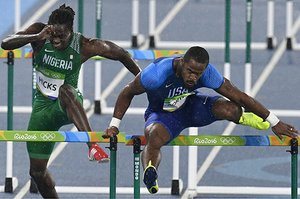 Photo by The Associated Press
The Associated Press HOMETOWN STAR: Antwon Hicks, left, a Hot Springs native and 2001 Hot Springs High School graduate, competing for Nigeria, and U.S. athlete Jeff Porter race to the finish in the men's 110-meter hurdles heat Monday night at the 2016 Olympics in Rio de Janeiro.
Running for Nigeria, Hicks qualified for the semifinals scheduled for Tuesday night after finishing fourth in the first preliminary heat Monday night, making it out of the "speed heat" in 13.70 seconds in his first Olympic appearance. Hicks was unable to advance to the finals on Tuesday, though, finishing seventh.
"As a kid, I put him in several different sports to see what he liked. I just let him do everything," Graham said, noting that by the time Hicks was 8 years old he was most interested in track and field.
"There were all different events and he liked the high jump and did really well at it, but he decided early on to focus on the hurdles," she said. "He also liked the 100 meter and 200 meter running but didn't think he was fast enough."
A two-time NCAA indoor 60 hurdles champion at Ole Miss, Hicks was barely edged out in the U.S. Olympic trials in 2008 and 2012. He qualified for Nigeria by breaking the national record, clearing the hurdles in 13.27.
"It's exciting," Graham said. "I am very proud of him. It's a dream he has had since he was very young. I'm so glad he's accomplished his goal and that he never gave up."
Graham said this may be her son's last year to compete, especially at this level. "He may retire after this, I'm not sure," she said. Hicks is currently an assistant track and field coach at Neosho County Community College in Ottawa, Kan.
Graham said she has been watching all the Olympic coverage and "I think he's ready. He's been preparing for this for a long time." She said they message each other on Facebook and had a FaceTime visit Sunday night.
She said he always comes home for the holidays and visited last Thanksgiving in Hot Springs. "He's very busy and has a lot going on," she said.
Hicks is the lowest-ranked semifinalist, drawing an outside lane for the semifinals.
"I don't think he's nervous," she said. "He's such a quiet, humble person so even if he was nervous I would never know."
Local on 08/17/2016