The media got its first look at Magic Springs Theme & Water Park's first new thrill ride in 10 years, Brain Drain, a 13-story tower drop ride, on Wednesday.
The park opens for its 40th anniversary season on Saturday, with gates opening to the public at 11 a.m.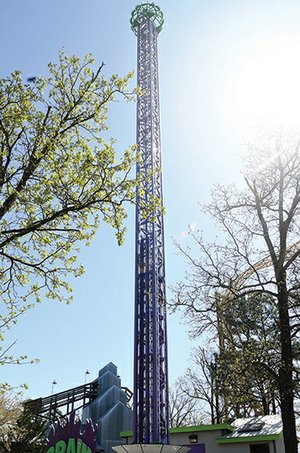 Photo by Grace Brown
The Sentinel-Record/Grace Brown BRAIN DRAIN: Magic Springs Theme & Water Park will debut its newest thrill ride, Brain Drain, on Saturday as the park opens for its 40th anniversary season.
Season pass holders will be admitted into the park at 9 a.m. Saturday, two hours early, to be among the first to experience Brain Drain.
Michael Wampler, Magic Springs' director of sales and marketing, said Wednesday that everything is right on track for the big day.
"The park is looking beautiful," he said. "Everything I've seen as far as the weather goes shows that we should have great weather on Saturday for the opening."
Construction for the ride began in early February and was completed just under two weeks ago, Wampler said. The Brain Drain replaced a smaller, slower tower drop ride within the park.
"It was not our decision (to replace the ride). As many people know, Magic Springs is currently operated by Premiere Parks LLC and the previous management team started selling off rides at the rate of one ride per year for about five years. We don't know why the decision was made to do that but it's brought us the Brain Drain," he said.
Though the weather outside is still a little cool for guests to take advantage of the water portion of the park, Wampler emphasized that Magic Springs is Arkansas' only theme and water park, "so it's two parts for one," he said. The water park is set to open May 12.
Two additional dates have been added to the 2018 Magic Springs Summer Concert Series this year, for a total of 14 concert dates with 18 artists.
Concert schedule
• May 26 -- Vertical Horizon and Sister Hazel.
• June 2 -- Granger Smith featuring Earl Dibbles Jr.
• June 9 -- Queensrÿche with Warrant and Great White.
• June 16 -- Crowder.
• June 23 -- Martina McBride
• June 30 -- Kansas.
• July 7 -- TobyMac.
• July 14 -- Foghat & Blue Oyster Cult.
• July 21 -- Seether.
• July 28 -- Skillet.
• Aug. 4 -- Lauren Alaina.
• Sept. 1 -- Jacob Sartorius.
• Sept. 2 -- Banda Carnaval.
• Aug. 11 -- En Vogue.
"In all honesty, every one of these performers seems to be super popular. We're even doing an '80s hair band festival," Wampler said.
In addition to the concert series, Magic Springs will host four Dive-In Movie nights in July at the Wave Pool.
Movie night schedule
• July 6 -- "Star Wars: The Last Jedi."
• July 13 -- "Smurfs: The Lost Village."
• July 20 -- "Justice League."
• July 27 -- "The Nut Job 2: Nutty by Nature."
All concerts and movies are free with a season pass or purchase of a park ticket.
The park is currently offering a special on season passes for $64.99 plus tax. Season passes can be purchased online at http://www.magicsprings.com or from any area Kroger location.
"When you talk about season passes, the pass is just crammed full of perks and benefits. The biggest one that's time sensitive is if someone purchases and visits before April 29, they're going to get season parking absolutely free," Wampler said.
Other season pass perks include a souvenir sports bottle (visit by May 28 required), Bring-a-Friend ticket (visit by June 30 required), and season pass holder appreciation events.
In addition to season pass perks, the park plans to host a variety of specials throughout the year to celebrate its 40th anniversary. Wampler said for guests to look out for events like funnel cake eating contest, lots of giveaways for season pass holders, and the dive-in movies each Friday night in July.
Magic Springs' Halloween event, Magic Screams, will return to the park beginning Oct. 6 and will feature new, longer hours, from noon to 11 p.m. on Saturdays and noon to 9 p.m. on Sundays.
Local on 04/05/2018