An annual fundraising dinner will be held in September for Christian-based rescue mission Samaritan Ministries, which will use the proceeds to support its daily operations and carry on with construction of its new apartment complex.
The dinner is set for 6 p.m. Sept. 22 at 300 Valley St. next to the nonprofit's main building. Doors will open at 5 p.m.
Samaritan Ministries was established in Hot Springs in 2006 when the need for additional homeless shelters, for men in particular, was recognized by Jan and Charles Laggan. The couple purchased an old Weyerhaeuser storage building for $5,000 and opened its doors in 2007. Since then, the mission has grown tremendously and served over 2,500 homeless men in the community.
Just inside the doors of the facility's main building at 131 Sanford St. is a photo hanging on a wall showing some men occupying an outdoor homeless camp located a short distance away, before Samaritan Ministries was operational.
"After we opened, all of those men came through our program. Some of them have done well, some of them haven't done well, but we know that's a choice they have to make; it's not a choice that we can make for them," Executive Director Jan Laggan said.
The organization's mission is to transition men out of homelessness while helping them gain self-esteem and a more structured lifestyle. Two programs are available -- an overnight program and a residential program.
For temporary assistance, men are permitted to stay in the shelter for up to 10 days each month. Each night the facility opens its doors from 4-5:45 p.m. for check-in and can house up to 28 men in its night dorm.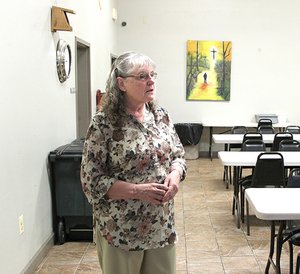 Photo by Richard Rasmussen
The Sentinel-Record/Richard Rasmussen MINISTRY: Samaritan Ministries Executive Director Jan Laggan gives a tour of the facility located at 131 Sanford St.
"Sometimes we'll have five men, sometimes we'll have 28. When we open the door at night is when we find out how many people we have," Jan Laggan said.
The men are provided with meals each day, clean clothing and towels, a bed to sleep in and toiletries.
For individuals in need of a long-term option, Samaritan Ministries' residential program allows its residents to live on-site for up to 10 months. As of right now, the shelter can house 14 long-term residents.
"Right now we have four in our residential program, sometimes we have 11; they rotate in and out through the 10 months," Jan Laggan said. "We bring them in and we go through the information that we teach them, basic Bible studies and decision-making. What these guys really, really need, and this was the best way that I have ever heard it put, one of our residents said, 'I needed to come here to decompress from life,' to get back to the basics."
The program assists the men in learning additional job skills, finding sustainable employment, developing good personal hygiene habits, increasing Biblical knowledge and, eventually, securing permanent housing.
Both the overnight program and the resident program are completely free of charge.
An extension of the resident program is the apartment complex being added on to the facility next door to the main building. It will feature seven apartments that will be available to men who graduate from the program and are ready to live on their own for an affordable cost.
"Our desire is to keep them out of the situations that they don't need to be back in. They would be able to come here and have a meal if they want to, and we'll be here for them to talk to, but they'll be working full-time because they'll be paying something for the apartments," Jan Laggan said. "We've had a lot of guys that haven't been able to find something that's affordable and end up going back to situations that have caused them to fall again."
Donations from three local groups have allowed construction to begin on three of the seven apartments, but additional funding is still needed to finish the others.
Samaritan Ministries' annual fundraising dinner is its one and only fundraiser for the year, and because it is a nonprofit organization, it relies solely on donations to continue to operate.
The dinner menu will consist of rib steak (alternate barbecue chicken available), baked potato, vegetables, salad, roll, drink and dessert.
Individual tickets are $40. A table of eight can be reserved for $300. Reservations are required.
Attendees will also enjoy entertainment and hear testimonies from former graduates of the program.
Call 501-321-2888 for information.
Local on 08/25/2018