Oaklawn Racing and Gaming announced a historic $100 million-plus expansion project on Monday that includes expanded gaming, a high-rise hotel and a multipurpose event center and is possibly the single-largest hospitality investment in the state's history.
The expansion, which is a private investment and involves no public dollars, will include a hotel area that overlooks the track on one side and additional on-site parking, according to information Oaklawn released Monday during an announcement held on the first floor of the grandstand, near the paddock area.
The seven-story hotel, which has not yet been named, will have 200 rooms, including two presidential suites. Amenities will include an outdoor swimming pool, a luxury spa, fitness center and restaurant. Half of the guest rooms will include one-of-a-kind track views.
The 14,000-square-foot event center will accommodate up to 1,500 people for concerts, meetings, banquets and weddings. The expansion will add around 28,000 square feet of gaming space.
A shuttle service will be available in the expanded parking area, with shuttle stops strategically located throughout the parking areas, according to a fact sheet released by Oaklawn.
The expansion project has been in the planning stages since 2014.
The fact sheet on the project said Oaklawn anticipates "several hundred jobs" will be created in expanded areas. Wayne Smith, general manager of Oaklawn, said during his remarks that "just north" of 400 permanent jobs would be created by the project's completion.
Flintco Construction will begin work on the gaming expansion in May, following the end of the 2019 live meet, with a target completion date of January 2020. Smith said the hotel and event center are scheduled to be complete in late 2020. HBG Design of Memphis is the architectural firm for the project.
As many as 2,300 construction jobs will be created during the construction phase, he said.
Smith said they anticipate breaking ground on May 6. "So that's pretty quick."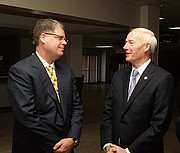 Arkansas Gov. Asa Hutchinson said during Monday's announcement that Louis Cella, president of Oaklawn Jockey Club, Smith, and Eric Jackson, senior vice president of Oaklawn, met with him in October to discuss plans for the expansion -- which the governor said demonstrated to him that the passage of Issue 4, which allows Oaklawn to have casino-type gaming, was not relevant to their commitment to the state and to Hot Springs. Voters approved the ballot issue earlier this month.
The meeting "demonstrates that they wanted to debrief me on what they were doing and their plans were committed before the election," Hutchinson said. "That means that Issue 4 was not relevant to their decision to expand and I think that's important to underscore and to emphasize that this is a commitment to Arkansas, it's a commitment to Hot Springs that we value."
Tourism is the second-leading industry in Arkansas, Hutchinson said, and this investment will not only add Oaklawn as an attraction and tourism destination, "but it will also build this as a racing venue."
"I am very proud of the fact that Arkansas does have a thoroughbred racing venue that is second to none," he said. "We want to continue that and we want to build on that."
The governor said while he can't take credit for this project because it is a private-sector investment, and while he and Mike Preston, executive director of the Arkansas Economic Development Commission, did not give any economic incentives for the project, "I'm still governor and so I get to rejoice in this and celebrate it, and say thank you for this extraordinary investment that means a lot to our tourism industry and the continued growth and expansion here in Arkansas.
"Whenever you see the thoroughbreds that go through here and go on to be Kentucky Derby winners and go on to be Triple Crown winners, we know that we have something special here. I am delighted for this success and I look forward to its future success for a long time to come."
Kane Webb, director of the Arkansas Department of Parks and Tourism, said he believes this investment may be the single-largest hospitality investment in the history of the state.
"Oaklawn is so tightly woven into the fabric of Arkansas," Webb said. "It's our meeting place in the spring. It is where we gather, where we make friends, where we relive old times, where we look forward to better times especially if our horse comes in and pays a decent price. It's one of our collective traditions in the state.
"The leadership here has always done such a wonderful job of placing excellence first in building this racetrack. Even in hard times, they always wanted racing to be the premier reason for coming to Arkansas because they understood it was about more than just racing -- it was a social gathering place for Arkansans."
"You're here on a day with an idea that was conceived nearly five years ago, but it's our history before that which really brings us here today," Cella said. "Though Oaklawn opened over 100 years ago, our success in becoming one of the nation's top thoroughbred tracks began really in the latter half of the 20th century. But the most significant changes occurred in the 21st century."
Cella noted that, in 2000, Oaklawn introduced Instant Racing, then, in 2006, added electronic games of skill. It permitted Oaklawn to add to its purses and attract "some of the very best thoroughbreds in the world."
In April, the race track announced one of the most significant changes in its racing schedule, shifting the live race meets three weeks a closing out on May 4 -- Kentucky Derby day.
"You all may have heard our tagline, 'Stay until May' -- please pass it on," Cella said. "And that brings us to today."
Cella said in a news release that the development will create new partnership opportunities with the city of Hot Springs, in that marketing efforts will be designed to complement those of the city. While various on-site amenities will be offered, he said Oaklawn will want guests to enjoy all that Hot Springs has to offer, including Hot Springs National Park, lakes, hiking and biking trails, museums, restaurants, shopping and more.
According to Visit Hot Springs CEO Steve Arrison, the event center will complement the meeting space at the Hot Springs Convention Center by attracting more groups to Hot Springs and Arkansas that wouldn't normally consider the Natural State (see related story).
"It's a great thing for tourism," he said. "It's incredible when you think the No. 1 tourism attraction in the state of Arkansas is Oaklawn and now they're going to do a $100 million expansion. The No. 1 economic demand generator in our community is Oaklawn and it's not only going to get bigger, it's going to get better."
In introducing Arrison, Cella said a famous quote -- "A rising tide lifts all boats" -- will apply to Hot Springs, a quote that Arrison also paraphrased during his talk.
"We're so excited on so many levels about this hotel and event center, and what it will mean to our city, to our state, and as Kane said to our racing program," Cella said. "As we have worked through this process for the past few years, we wanted to make sure our local tourism industry greatly benefitted with this expansion."
Smith, who joined the racetrack in 2016 with extensive experience in working with resort properties around the world for ITT-Sheraton, MGM Grand and Caesar's Entertainment according to the fact sheet, said this is Oaklawn's third major construction since 2008, and the luxury hotel will strive for a four-star rating.
The expansion of gaming will ultimately impact racing as well, he told The Sentinel-Record.
"We anticipate the expansion of gaming will ultimate impact the purses," he said. "Because we're expanding the gaming side, obviously, we hope to get more revenue which will ultimately get us the purses."
Smith said in a news release that the Cella family, which helped found Oaklawn in the early 1900s, continues to make significant investments in Arkansas. This expansion represents the second significant announcement at Oaklawn since Louis Cella succeeded his late father, Charles, as president of Oaklawn Jockey Club last December.
Local on 11/20/2018