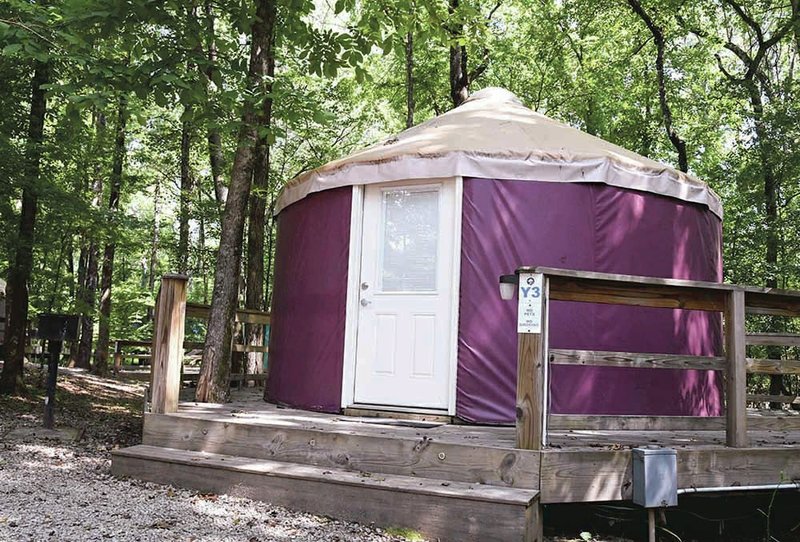 The Sentinel-Record/Grace Brown A yurt at Catherine's Landing.
The summer sun has a way of drawing out people who find peace and pleasure in common outdoor activities such as camping, water sports, boating, fishing and nature hikes.
For Catherine's Landing in Hot Springs, the word "common" simply does not apply. The RV, camp and lodging site offers all of that while putting a twist of refinement on the outdoor living experience.
Not only does this hidden gem provide a nature-filled oasis for the outdoor enthusiast, it has redefined camping altogether as the venue guarantees a conveniently comfortable relaxation spot garnished with a wide range of state-of-the-art amenities that ensure to provide guests with the comforts of their own home -- the chaotic hustle and bustle of a regular-routine schedule not included.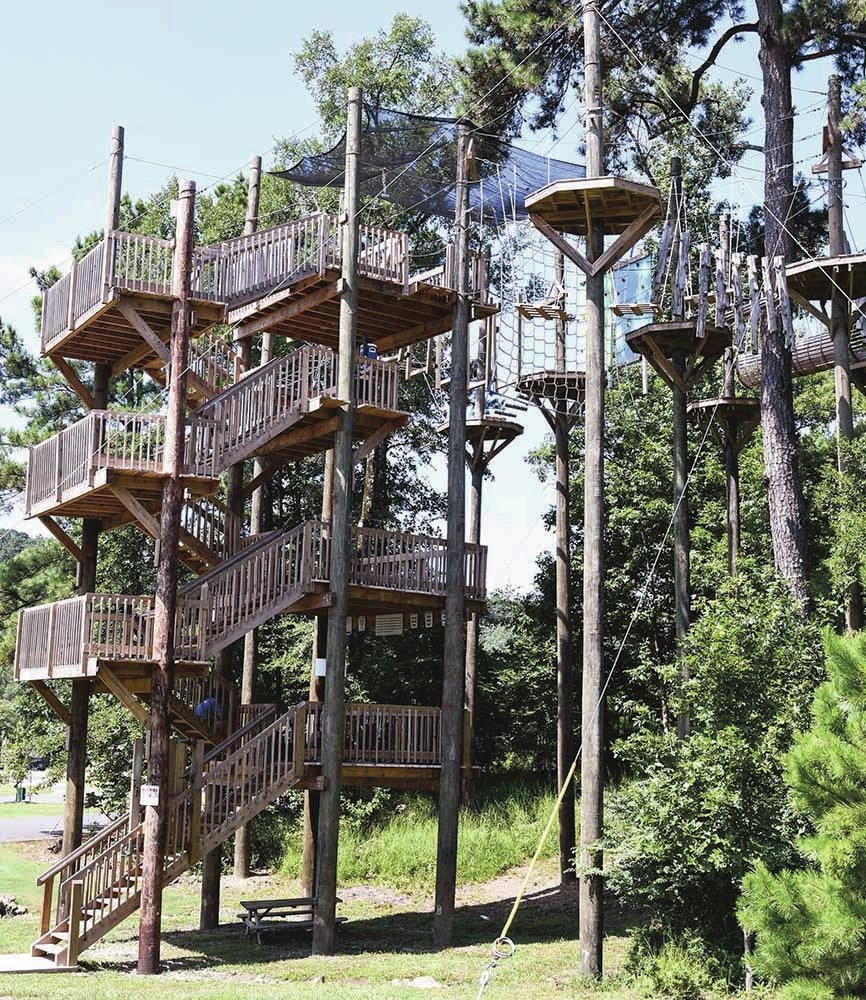 The Sentinel-Record/Grace Brown The ropes course at Catherine's Landing.
Located just 10 minutes outside of Hot Springs, Catherine's Landing is nestled within the heart of the Ouachita Mountains while sitting peacefully on 400 pastoral acres in view of over a one-mile stretch of tranquil water frontage on beautiful Lake Catherine.
The site is linked to an immersive network of mesmeric outdoor locations owned and operated by RVC Outdoor Destinations. Andy Cates, owner of RVC since its founding in 2007, regulates multiple properties in numerous locations throughout the United States.
Catherine's Landing General Manager Marcus Lauren explained how this idyllic property is infused with rich history dating back to its original owner, Harris Humphreys: founder of the renowned Humphrey Family Dairy Farm. After being preserved for generations, this captivating location is fully maintained while providing a gateway for many to escape, recharge, kick back and reconnect with the serenity of the natural world.
"I guess the thing that makes Catherine's Landing different is that we pretty much have a little bit of everything and not too much of any one thing," Lauren said. "It's kind of like goldilocks (the fairy tale). We're right on the lake so whether you're in a site that's actually facing the lake or not, you'll always be by the lake.
"There's excellent fishing and a little bit of everything to do for everyone. Some folks just want to take a little time to do nothing. ... You're in a pleasant atmosphere with things available to do if you want to, but you don't have to. You can just go sit down by the water and read a book or you can set your fire up for a nice, quiet evening."
A glance at the guest comments left on the campground's official website shows the staff at Catherine's Landing has won the hearts of many, as they have proven to exceed expectation by being exceptionally attentive and hospitable.
For those that prefer the outdoors but have particular needs not met by the lack of amenities found in most campsites, Catherine's Landing goes above and beyond for their guests as the establishment offers numerous niceties and modern facilities to accommodate and meet the public's needs.
"It reaches 400 acres down here and there's over a mile of exposure to the lake," Lauren said. "What we offer includes RV sites, tent camping, yurts and cottages. Bathrooms are located nearby in the bathroom and showering facilities. ... Additional restroom facilities are also located on the premises. There's a good size swimming pool and a splash pad for kids that's located right next to the pool ... there's a lot of splashing around in the water and the kids just love it."
The perks don't stop there, as the campsite also offers recreational activities and suitable accessories for guest entertainment and convenience, including miniature disc golf, zip line tours, hiking trails, a movie room, a small workout facility and an on-site laundry room.
Each RV site is complemented with its own fire ring, built-in charcoal barbecue and picnic table.
As Lauren mentioned, the property provides myriad suitable lodging alternatives. In detail, yurts are air-conditioned, round structures with a surrounding wooden deck. On the inside of this unique structure, guests will find full-sized beds, bunk beds, an apartment-size refrigerator, and microwave.
The cottages sleep anywhere from four to six people with multiple lofts, a full kitchen, full bathroom, a master bedroom and air conditioning.
The owners and staff at Catherine's Landing recognize that guests will more than likely appreciate any and all lake access they can come by, especially on a hot summer day.
"We're right on the lake and have our own private boat launch," Lauren said. "We have kayaks, canoes and pontoon boats that we rent out to the guests. We have a boat dock so when guests come in from elsewhere with their own boat, they can feel free to use the launch to launch their boat and to recover it from the lake.
"We have another company which operates on our property that conducts the zip lines ... that is also available for the outside public to come down here and book zip line tours. We have people that come stay who are right from Hot Springs."
This immaculate establishment welcomes families and group celebrations of all kinds while playing host to special events and celebrations such as wedding receptions, family reunions and group events.
From front-row wildlife encounters to the picturesque landscapes of Lake Catherine's translucent waters, one can only hope for the chance to experience first hand what this distinguished destination has to offer while exploring the natural beauty of the Natural State.
"There's just something for everybody," Lauren said. "Different types of accommodations, different types of atmospheres. Do something or do nothing, just come have fun and relax."
Go Magazine on 08/15/2019
Print Headline: Catherine's Landing: A home away from home, lose yourself in the heart of the Arkansas Ouachitas
Sponsor Content
Comments