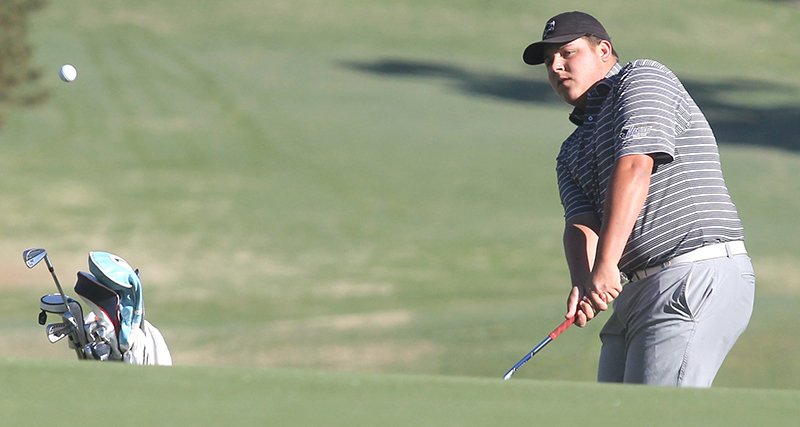 The Sentinel-Record/Richard Rasmussen MOVING OUT: Harding sophomore Ryan Camras, a Lakeside graduate, chips onto the 13th green during the first round of the Great American Conference Men's Golf Championship at Hot Springs Country Club on April 15. The GAC announced Wednesday that the tournament will not be held in Hot Springs for the 2020 season, but it may return in 2021. - Photo by Richard Rasmussen
RUSSELLVILLE — Bank OZK Arena will remain the host of the Great American Conference volleyball tournament in 2019, but Hot Springs will not host the 2020 golf championships, the league office announced Wednesday.
The GAC will return to the arena for the seventh-straight year as Harding looks to claim its second-straight title and third overall Nov. 21-23. The Lady Bisons were the runners-up in the 2017 tournament.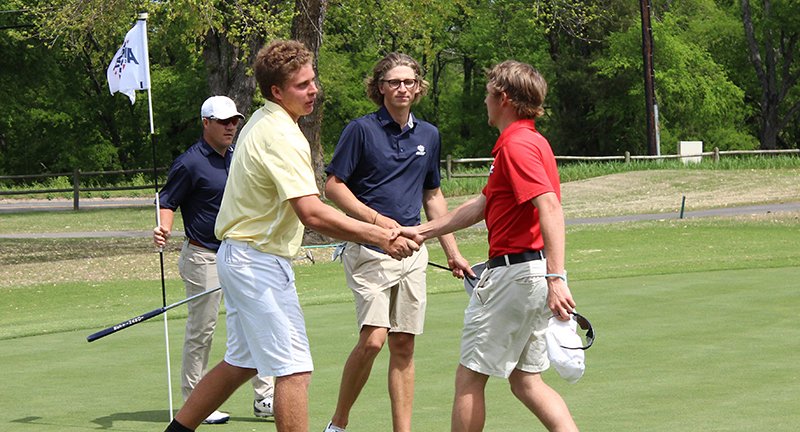 The Sentinel-Record/File photo GAC leaving the Spa City: Henderson State junior Trey DePriest, right, shakes hands with Arkansas Tech's Andre Jacobs at the end of their round of golf in April at the Great American Conference championships as Southwestern Oklahoma State's Gustavo Tineo steps in. The league announced Wednesday that the GAC Golf Championships, which has been held at Hot Springs Country Club since its inception, will not be played in Hot Springs for the 2019-2020 season but in Duncan, Okla. GAC Commissioner Will Prewitt said that the decision was made to move to Oklahoma as "a lot of coaches were wanting to get to where travel is not as significant."
Hot Springs will not host the GAC golf championships for the first time in league history as the GAC looks to expand the tournament into Oklahoma. The men will play at the Territory Golf and Country Club while the women will play at Duncan Golf and Tennis Club, both in Duncan, Okla.
"We've had an unbelieveable experience with Hot Springs Country Club," said GAC commissioner Will Prewitt Wednesday. "We hope to continue that relationship in the future, but we have so many great golf courses in this region. Our coaches wanted to move around and look at other courses.
"There is a bid process, and we had several courses that bid [for the golf championships]. We elected to go out to Duncan. They have a couple of great courses out there, and we hope to come back to Hot Springs Country Club for the 2021 event."
Hot Springs Country Club General Manager Barry Howard said that he was disappointed to see the tournament leave Hot Springs.
"It is a big deal to me," he said Wednesday. "I'm disappointed that they are not coming back, but it is their choice."
With the increased level of competition from the Oklahoma schools, the league decided to look into the move to a pair of neutral courses in Duncan, so those schools would not have as far to travel to compete.
"Southwestern [Oklahoma State] has been really competitive for the past few years," Prewitt said. "So have Southeastern [Oklahoma State] and Southern Nazarene. We have some really good programs out there. And we have some other Arkansas programs that wanted us to look into a different location."
Howard said that the GAC expressed that the decision to move had nothing to do with dissatisfaction in the facilities or the city.
"It has nothing to do with how they were treated in Hot Springs or at this club," he said. "It had nothing to do with us in Hot Springs. The city and everyone here treated them well, and everyone enjoyed coming here. There was nothing that we did wrong to run them off."
While neither Territory Golf and Country Club nor Duncan Golf and Tennis Club is a home course for any of the Oklahoma members of the GAC, they are centrally located to most of the schools.
"It's about 90 minutes from Southwestern," Prewitt said. "And it's about two hours from Southeastern. It's a very neutral site. I'd say that probably four out of the six Oklahoma schools are within two hours."
Prewitt emphasized the fact that the league's relationship with HSCC and the city is still strong.
"I think we will definitely continue our presence in Hot Springs on a very consistent basis," he said. "We're looking for a possible Arkansas/Oklahoma/Arkansas/Oklahoma back-and-forth [hosting] situation. … We have 12 schools with nothing but an incredible relationship with Hot Springs Country Club and Hot Springs. We are excited to be back for volleyball, and we are always looking to continue or grow our relationship with Hot Springs."
Howard said that his disappointment came from the fact that he and HSCC helped to create and nurture the tournament into what it has become.
"You put your heart and soul into something and do everything you can so it can be as good as possible, and it leaves," he said. "We care about what we do, and it is hard to see something that we helped create go away."
The GAC announced all of its conference championship tournaments on Wednesday with Ouachita Baptist hosting its first men's and women's cross country meet on Oct. 26. East Central's men have claimed six of the conference's seven championships, including the 2018 title, while Harding leads the women's cross country title race with four, East Central two and Oklahoma Baptist looking for its second title after the Bison had seven of the first nine runners in the points last season.
Men's and women's soccer will be hosted by the GAC regular-season champions with the women's tournament running Nov. 14-16 and the men's taking place Nov. 15-17. Four new schools have joined the GAC for men's soccer with Fort Hays State, Newman, Northeastern State and Rogers State joining the running as affiliate members.
Bruin Fieldhouse will once again serve as host for the GAC basketball championships. The ninth consecutive tournament in Bartlesville, Okla., will run March 5-8.
Harding will host the men's and women's track and field championships April 16-18. The meet was previously held at First Security Stadium in 2017.
Women's tennis will again be hosted in Bentonville April 23-25 at Memorial Park. Men's tennis has moved into an affiliate relationship with the Mid-America Intercollegiate Athletics Association, so no men's GAC tournament will be held.
Softball's championship will be determined April 30-May 2 at Tiger Athletic Complex, also in Bentonville. Baseball's championship will be held May 2-5 at David Allen Ballpark in Enid, Okla.
Print Headline: HS retains GAC volleyball, loses golf championships
Sponsor Content
Comments