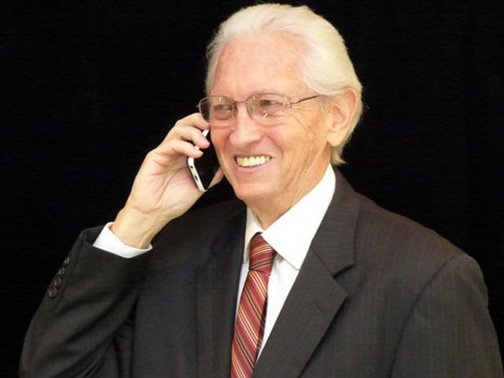 EDITOR'S NOTE: This is the first in a series of articles about the impact of cancer on patients and their families leading up to the 18th Annual Village Walk for Cancer Research in September.
Special to
The Sentinel-Record
HOT SPRINGS VILLAGE -- Many people know Lloyd Sherman as a property owner advocate, running as a candidate for one of the three Hot Springs Village Property Owners' Association board vacancies in the recent election. But what they may not know is that Lloyd is a cancer survivor.
Lloyd was having difficulty swallowing and seemed to have a tickle in his throat all the time. This started when he was living in the Republic of Panama in December 2013. Due to insurance issues and Medicare eligibility, Lloyd moved back to Dallas but had to wait six months before seeking medical treatment in July 2014. It was at that appointment his primary care doctor discovered a large lump on one of his tonsils and immediately referred him to an ear, nose and throat doctor. He was 66 when he had his tonsils removed on Aug. 12, 2014.
Testing of the tissue resulted in a diagnosis of Stage 3 throat cancer. He was puzzled as to the diagnosis, because he never smoked and there wasn't any cancer in his family. Working with his oncologist, they developed a treatment plan that would do the least harm to healthy tissue while destroying the bad tissue. Lloyd opted to have chemotherapy on Mondays, followed by radiation treatments, Monday through Friday, for 33 days. After he completed all of his radiation treatments, and in concert with his seventh dose of chemo, he was taken to the emergency room and admitted to the hospital for an extremely low blood count. During this time, Lloyd lost 40 pounds but was quick to say he wouldn't recommend this "diet."
He discovered the beauty of Hot Springs Village in June 2014 but wasn't able to spend time here due to his cancer diagnosis and treatments. When his lease in Dallas ran out in November 2014, he decided it was time for him and his wife, Linda, to explore the Village. So they packed up their belongings and moved in December 2014, having found a rental to live in before finding their dream home. Lloyd and Linda have been happily married for 19 years and have three boys and five grandchildren. Lloyd was looking forward to retirement after working as a senior vice president in an outsourcing computer services company and the last 12 years as a business consultant. When he finds time, Lloyd enjoys fishing and playing golf, especially on Ponce and Cortez.
Staying positive helped Lloyd and his family. At first, he questioned God, asking "why did this happen to me?" but soon realized that he needed to have a positive attitude and get on with his life. It took almost two years for Lloyd to get his energy back. He is most thankful for his family and that he has been given more time on this earth so that he can make a difference.
The 18th Annual Village Walk for Cancer Research will be held Saturday, Sept. 28, at the Balboa Pavilion, 476 Ponce de Leon Drive. The opening ceremony will be at 7:30 a.m., rain or shine. Sponsorship and walker registration forms are available at http://www.walkforcancerreach.org. The registration fee is $30, and increases to $35 after Sept. 1. Registration includes a T-shirt. The goal is $50,000 for the Conquering Cancer Initiative at the Winthrop P. Rockefeller Cancer Institute at the University of Arkansas for Medical Sciences, with the moneys donated to the "Seeds of Science" program for cancer research. Call Melanie Pederson at 608-692-0458 or email [email protected] for more information.
Society on 05/19/2019
Print Headline: Lloyd Sherman: Why positivity is important during journey of life
Sponsor Content
Comments