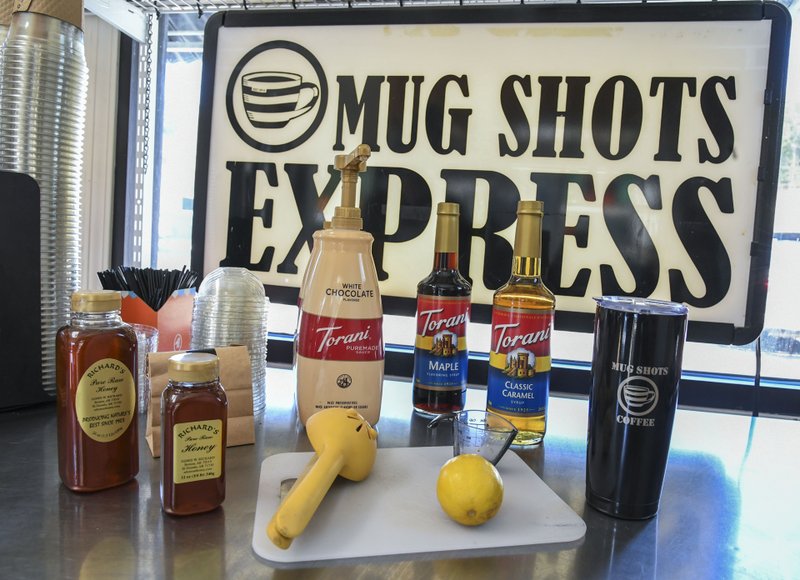 Flavor add-ins at Mug Shots Express. - Photo by Grace Brown of The Sentinel-Record
Mug Shots, a tiny jailhouse-themed drive-through coffee shop, opened its Hot Springs location in June 2014 and is operated by a nearly all-female staff.
Manager Serena Saylor said it wasn't until just recently the shop hired its first part-time male barista.
The staff at Mug Shots Hot Springs is currently made up of seven employees.
"I love being able to help develop the baristas coming up under me," Saylor said. "I'm like big sister, mom, leader, manager, but first and foremost, I'm barista. It's what I love, it's fun to share that passion with new people."
Mug Shots co-owner Steven Fryar said they primarily look for a personality that will connect with customers, developing a relationship that will make for a long-lasting customer, in potential employees.
"We're like a little family here, we find people that will fit into that," Saylor said. "It's not just a job here, we want to be friends, we want to be family, and that's kind of how we've always gotten such amazing workers."
Saylor said Mug Shots also prides itself in its customer interactions.
"We definitely pride ourselves on having that one-on-one, you know, you're not just a face, you're not just a drink, we get to know our customers, we have conversations with them," she said. "We get to know their faces, we get to know their drinks. We genuinely care about the people who come through here. Especially the ones we see every day; it just really develops that rapport."
"I like the idea of coffee being part of a morning, part of an experience that gets you going during the day," Fryar said. "It's kind of a comfort thing in a lot of ways, in addition to it being just a neat beverage, it's also kind of a life-changing kind of thing."
Fryar and Saylor said Mug Shots also prides itself on is sourcing most of its products locally.
"We have tried to keep things very local, keep things very centered around our community and the greater Arkansas community and get things as much as we can from Arkansas," Fryar said.
Saylor said all of their coffee is roasted by Arsaga's, in Fayetteville.
"Arsaga's has been our roaster since the beginning and really provide quality bean and taste, and work with us really specifically for what blend we need for our coffee," she said. "It's nice having that local, big-batch roaster that we can source from and have fresh coffee from every other week."
Fryar said the shop also uses and sells "Richard's Honey," a local honey business that serves central and south Arkansas.
Mug Shots also uses local print shops like Gear Factory, Rave Graphics and TLI Print for its apparel and signage.
Additionally, Fryar makes most of the shop's syrups, including the vanilla bean, lavender, cardamom, toasted caramel, pumpkin spice, dark cherry and blackberry.
"I usually make the blackberry out of blackberries from my farm, so it's not just locally made, but locally sourced as well," he said. "Or some are made with products from farmers market vendors like the cucumber mint and lemon grass plumb."
Fryar said a goal of Mug Shots is to have even more local integration than what they already have.
"I want us to be making our pastries and almost all of our syrups, so we're working on that," he said. "Looking at what it would take to build a production kitchen and start to do things ourselves. That way, it comes from this area and we can really put our heart into it and really make it how we want it."
Fryar said Mug Shots' jailhouse theme was derived from his love of puns.
"I'm a huge fan of puns and wordplays in general, and I just liked the play-on-words with 'Mug Shots,'" he said. "I said 'OK, we live in Hot Springs, home of the gangsters, and we have all of this history and this past, let's just go with Mug Shots and make it kind of gangster-y.' We thought of the old black and white striped jumpsuits that they wore in prison, so that became part of our logo."
Saylor said, to go along with the theme of the shop, the two daily coffees brewed are Death Row -- their dark roast -- and Electric Chair -- their dark roast with two shots of espresso added.
Fryar said he was sold on the concept of a drive-through coffee shop from the beginning. He said he had worked at a coffee shop with a drive-through in the past, and could see the potential for it being a main business because he learned customer connections could still be made through the window.
"It didn't matter that you were in a drive-through and you were only speaking to them for a few minutes -- you could still make those connections and develop those relationships," he said. "So I liked the idea of having something that wasn't as large -- you could work one person at a time -- but you could also get to know people on a more personal basis."
Saylor said the first coffee shop she ever worked at was a drive-through shop in California, and it was the format she came to love, and actually preferred, over a cafe-style shop.
"I worked at a cafe-style at one point, and I felt like I had a better connection in this format than a cafe-style, personally," she said. "I love the speed of it, when you hit that rush, and you're getting people through."
Mug Shots has one other location in Malvern that opened in August 2017, but there are plans to expand even more with at least three more stores located slightly outside of Hot Springs and Malvern, but would first and foremost Fryar said they plan to open a second Hot Springs location.
"That's one of our big goals at the moment is a second Hot Springs store," Fryar said. "Because right now, we serve this area, everything from this busy part of town. But there's so many people on the other side of town who don't have access to a good, local coffee shop that we'd like to be."
Saylor said the shop's fall menu will consist of a Maple Cinnamon Mocha, Pumpkin Spice Cheesecake Latte, Cardamom Brown Sugar Latte, S'Mores Latte and Apple Cider. She said the most popular fall item is a tossup between the Pumpkin Spice Cheesecake Latte and the Cardamom Brown Sugar Latte.
Saylor also said Mug Shots will have a full-setup shop in Magic Screams this season.
Go Magazine on 10/15/2019
Print Headline: Mug Shots Runs off of Caffeine and Femininity
Sponsor Content
Comments