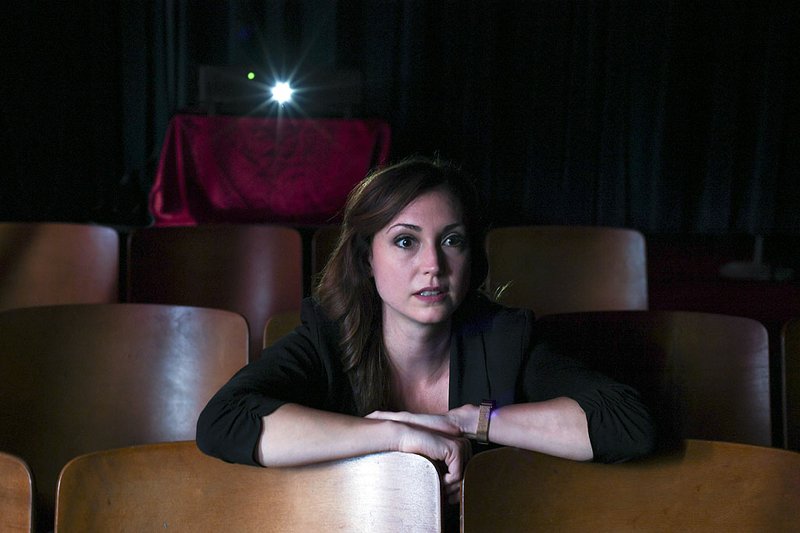 Jen Gerber, director of the Hot Springs Documentary Film Festival, watches part of the first film she made in this photo illustration taken at Low Key Arts. - Photo by Grace Brown of The Sentinel-Record
"There's really nothing like sharing a movie that you created with an audience and seeing the live-action to a story. I have devoted my life to the power of storytelling and really understanding the roles that stories play in our lives as humans," Hot Springs Documentary Film Festival Executive Director Jen Gerber says.
Gerber's love affair with film began after she found herself on the set of a country music video while in college. Although there to star in the music video as an actress, she found herself enthralled with the action behind the camera.
On the set, she realized "this is everything I want in life. So I just stayed the whole day ... and watched the director work. I just wanted to know everything about it."
A Hot Springs native and alumnae of Lake Hamilton High School, Gerber said she did not have access to the resources that students have today. However, through sheer grit and determination, Gerber blazed her own path.
"I'm very unlike most filmmakers, in the sense that I didn't grow up making movies. I didn't really even watch movies. We didn't have a TV in my house so it was kind of new," Gerber said.
"I think my family was like, 'What is she doing? This doesn't seem like what we thought she would do.' But, you know, now I think everyone sees that it's a good fit."
Within a month filming the music video, Gerber packed her bags and headed to Chicago with her sights set on the film school at Columbia College. She spent several years in Chicago and eventually moved on to New York. During that time, Gerber said she discovered the worth of her perspective as a Southern woman and began to integrate that into her work.
"When I was first in Chicago, I was, you know, I hate to say it now, but I was almost afraid that if people knew I was from Arkansas, that they wouldn't take me seriously. So I was trying to hide my Southern accent (and) I didn't talk about being from the South very much," she said.
"I was in graduate school in New York (and) that program is so focused on telling personal stories and telling a story that only you can tell. So for the first time, I started writing scripts about Arkansas and writing stories about my hometown, and the people in my hometown. I was so surprised to hear how interested everyone was. I kind of found my voice in grad school as a Southern female filmmaker."
Eventually, Gerber decided to move back home, hoping to bring one of her scripts to life. When she arrived, she found herself in the middle of the longest-running documentary film festival in North America.
"Literally the week I moved back, it was the week of the Hot Springs Documentary Film Festival. I was like, 'Amazing! Filmmakers are in town, I'm gonna go get involved.' So I was a volunteer projectionist that year.
"I think what really set that whole experience apart for me is, you know, one of my role models or idols in filmmaking is Deborah Granick, the director who did 'Winter's Bone.' She was there with her documentary and I met her. You know, in New York, I could have tried so hard to connect with her and here she was just in my hometown, hanging on the Arlington. ... It was at that moment that I knew that the festival was really special and it was providing something very unique to this area," Gerber said.
From then on, Gerber volunteered for the festival each year. Working in nearly every area of the festival's production gave her the knowledge and rapport she needed to become the festival's interim executive director in 2017.
Initially, Gerber said she intended to take the reigns for the 2017 festival and pass off the duties once the festival found a permanent director. However, after feeling the rush of organizing a festival, Gerber decided to fulfill the position full-time.
"By the time we finished the festival, you know, it's so intense. It's like no one could ever prepare you for the amount of, not just work, but the pressure. You have all these elements happening at once. But, I mean, I love that. That's kind of what filmmaking is too," she said.
As executive director, Gerber said she takes a hands-on approach when organizing the festival. Although it only takes place over the span of several days, Gerber said she spends all year planning and preparing for it. From attending Sundance in January to scout out the best documentaries to coordinating the large group of volunteers, Gerber said she is "intimately involved" with the festival's production.
This year, Gerber said viewers can expect to see much more representation on screen. In line with the push for more representation in Hollywood, the festival purposely sought out incredible documentaries made by women.
"So we are pretty much right at the 50-50 parity, which means that we have 50 percent female filmmakers in our program. (It) is really incredible in this day and age to be able to offer that. We're really championing women's stories, among other things, obviously. We're really proud of the films that feature women," she said.
Among the films made by women showing at this year's festival, Gerber said the film "One Child Nation" stands out.
"It is has been a festival favorite of the year and it's very likely to be an Oscar contender," she said.
Directed by award-winning filmmaker Nanfu Wang, the film takes a look at China's one-child policy. Wang takes a look at her own family in the film and explores how the extreme population control measure traumatized families.
"She will be receiving our Impact Award, basically recognizing cinematic achievement. ... Her film deals with basically filming in dangerous situations and dealing with (situations) when the film puts your subjects in danger. So it's very high-stakes storytelling. She just embeds herself with her subjects to tell these really powerful stories. It's definitely going to be an Oscar contender this year. We're so honored to have her at the festival," Gerber said.
Gerber has also secured a world premiere for a film called "The Objector." The film follows a young Israeli woman who refuses to join the Israeli army. "It creates quite a journey for her. ... She's a very strong woman taking a stand. It is just a very powerful film," she said.
"For a filmmaker to give us a world premiere is just, it's a huge honor. We want to make sure we deliver an awesome audience and an experience that is positive for the film."
Last year, Gerber said the festival held its first-ever filmmaker's retreat. They had 12 volunteers complete a lab program during the first week of the festival. The program provided the volunteers with mentorships, feedback, and different resources to help them complete their films.
One of the films featured at this year's festival, "Circus of Books," is the first film to premiere out of that filmmaker's retreat. Geber called the film a "festival darling," noting that Netflix already picked up the film.
"It is directed by first-time filmmaker Rachel Mason, and it's about her parents who own a gay porn store in San Francisco. It kind of deals with her family dynamics and has been very popular on the festival scene," she said.
For the past three festivals, Gerber completely dedicated her time and energy as the festival's executive director toward pulling together one of the most prominent documentary film festivals in the nation. However, next year, she said she plans on stepping out of one role and into an entirely new one. In January, Gerber plans to step down as the festival's executive director and become the artistic director.
"I'm not leaving. ... The idea is that basically, I'm taking the existing job description and dividing it into two parts -- one more business and one that's more artistic. I'll be taking on basically the creative aspects of the planning the events, working with the education programs, the selection of films, all that will still be me," she said.
"It's partly also a strategy to see us grow because, at this point, it's all on one person. I feel like I can see where I want the festival to go but I can only do so much. I can't really do more than I'm already doing but I think the festival can do more. Part of that is a long-term strategy to grow our leadership capabilities so that we can expand our programs, expand our offerings, and get our festival to the next level by our 30th anniversary in two years," Gerber said.
Despite the imminent change in her duties, Gerber maintains her momentum ahead of this year's festival. She said her hope for this year is that everyone finds something to watch they truly enjoy.
"This year, we're really trying to have something in the program for everyone. I would say that this is a different year for films. Like last year, we had like these blockbuster movies like 'RBG' and 'Won't You Be My Neighbor,' kind of obvious documentary hits. A lot of the hits of sleepers this year. Unless you're like really paying attention and know what's happening with festivals, you won't know.
"I would say (people should) just take a risk on a film just see something (they're) not sure about. I guarantee you that every single film in our program is impactful and will open your mind and your experience as a human, one way or another," she said.
The 28th annual Hot Springs Documentary Film Festival begins Oct. 18 and runs through Oct. 26. For more information, visit http://www.hsdfi.org.
Go Magazine on 10/15/2019
Print Headline: The Power of Storytelling A look at filmmaking, HSDFF with festival director Jen Gerber
Sponsor Content
Comments