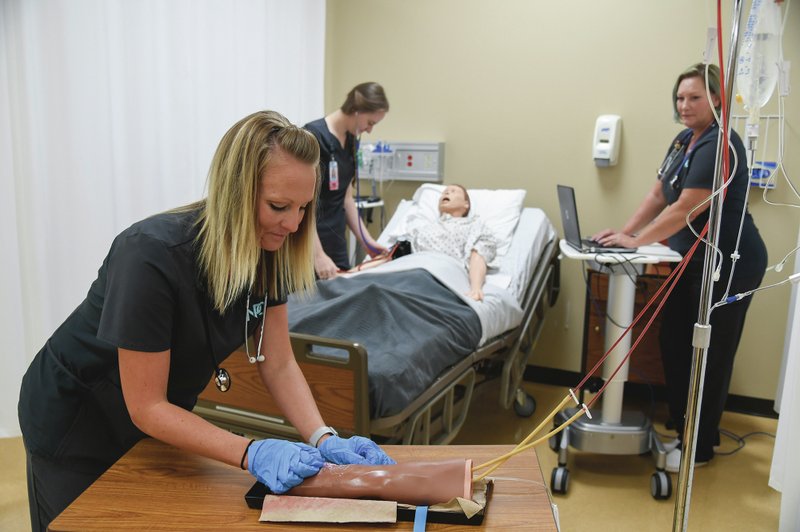 NPC nursing students Ashley Allison, left, Annie McWilliams, and Christie Welch demonstrate how they use some of the equipment int the National Park College nursing lab. -Photo by Grace Brown
National Park College's dedication to the health care field is evident in the number of highly skilled nursing students who graduate each year and its commitment to providing students with the latest technology. But its commitment goes beyond mere programming -- what sets this institution apart is how seriously it takes each student's education.
"We've heard a lot of stories about patients from the hospital who will purposely ask where the nurses graduated from because they've heard so many good things about the nurses from here. If (a nurse) says NPC (the patient is) like, 'Oh, yeah, we've got a good nurse here,'" said nursing student Annie McWilliams.
National Park College offers 10 different pathways into the medical field including health education, medical laboratory technology, and emergency medical services courses. HER Magazine toured the nursing and radiology technology sections of the Frederick M. Dierks Center for Nursing and Health Sciences, meeting with students along the way for a brief glimpse into the education process at NPC.
The nursing pathway splits into two different programs, practical nursing and an associate degree registered nursing program. Each program consists of four semesters, but Janice Ivers, dean of Nursing and Health Sciences, said most take six to complete it along with their general education courses.
In those four semesters, students gain experience in both the classrooms and the clinics. In their first month, every student will go through clinicals on-site at a facility where they will gain hands-on experience applying everything learned in the classroom. Ivers said students are frontloaded with information in the first month to ready them to take vitals and interact with a patient because "nothing makes sense (until you do it)."
During clinicals, students are expected to still attend their regular class schedule and keep up with the assigned homework and rigorous classwork. While challenging, students say holds some of the most influential experiences they have in school.
"My first clinical was in a long-term care facility. That was the one place I didn't want to go, but I so enjoyed it. I feel like I was lucky because I was one of the ones that that was my first clinical and I wasn't thrown into a hospital where there were IVs and you know, all of that major stuff. So for me, it was easier kind of working into it. ... We were doing the bed making, we were transferring, and feeding in the classroom while I was doing in clinical so it went hand in hand," said nursing student Christie Welch.
Throwing students into clinicals during their first semester of school seems a bit unconventional, but it is that unconventional approach that helps NPC stand out among other health science programs throughout the state. Its approach in the classroom, coupled with the latest technology, allows the college to provide students with top-notch resources.
"Team teaching is (also) something that you don't really hear of. ... You get the expertise of a multitude of faculty in one classroom. You'll have one person facilitating the class and five to seven other teachers in the back of the classroom ready to interact," Ivers said.
Ivers said the college staffs a variety of different expertise in their faculty. This wide range of faculty, each well versed in a different area, creates a valuable hub of resources for students. No matter which area of health sciences a particular student feels drawn to, they have a mentor within the faculty ready to answer even the most specific inquiries.
Students in the radiology technology claim the classroom set up allows them to form relationships with each of their instructors and gain vital hands-on experience. These experiences become highly influential throughout their educational experience.
"I feel like the instructors care a lot more, like care about our personal lives, not just what they're teaching or just like that. When I first started coming to class, my mom was really sick. Debra (Wilson, the program director) was texting me almost every week, you know, checking on mom. Not even, you know, 'Hey, are you are you interested in the program?' That was kind of like back burner. That meant a lot to me," said radiology technology student Brooke Mitchell.
"I was actually (in another radiology program) and decided it wasn't for me. I kind of switched around and finally came over to National Park. I think it was just a much better fit because it was more personal here and on a smaller scale than it was at (my former school)," Mitchell said.
As a radiology technology student, they learn how to take and read X-rays, how to helping an injured or uncomfortable patient get situated on the X-ray table, how the process of taking an X-ray works, anatomy, and radiation protection. To make this possible, the college equips the laboratory with the latest technology.
"We have something called digital radiography and it's a type of imaging we use in the radiology lab. With film, you had to go dip it, wait, and run it through the machine. With DR, you get the picture and it's automatically there (on the computer). It helps the patient because we can know what's going on almost immediately. This is brand new and every hospital is moving to DR. We have something that is brand new to learn and train on. I think that really helps us in the long run," said radiology technology student Raggan Wills.
Advance technology branches into every area of the health sciences at NPC. In the nursing program, students are met with a simulation lab where they interact with machines that simulate actual patients. These machines are capable of interacting with students -- blinking, breathing, and hosting complex medical procedures. There is even a simulation for hemorrhaging after live birth that students complete.
"It's a big deal in education to stay current and on the cutting edge of practice. We're teaching them current, evidence-based practices now. Whether it's in rad-tech or nursing or our medical laboratory, we want to keep our simulators truly as current as possible so when they graduate, they are workforce ready and can keep on going," Ivers said.
National Park College's formula for turning out top-tier medical professionals works. According to Ivers, they have 100 percent job placement in their nursing program and many students secure employment before graduating. One program help making this possible is the CHI Pathways Program.
"I signed a contract with CHI St. Vincent so when I graduate, I will be in working with them for two years. They actually finance a certain amount each semester. ... It helps us to get through the program financially. ... It's a very large honor to be able to know that we will have something waiting for us when we get out," said nursing student Ashley Allison.
In other areas of health sciences, Ivers said they are also well above the national average when it comes to graduates finding work in their field. Much of their success may be linked to the fact they employ several of their own graduates.
"With our (radiology technology) program, we're very fortunate is myself, Carla Kelly, and Kelly Stringer are all three graduates of this program. We went out and we came back because this is what we love. I think my favorite thing about being here is knowing that we're changing lives. When they leave here, they're going to work they're going to provide for their family," said Debra Wilson, radiology technology program director.
The whole population of the health sciences programs at NPC has fully dedicated themselves to their work, be it faculty, staff, or students. Each one is immersed in their program, striving for the best results possible. With equal amounts of passion and dedication, it is not difficult to see why they have so much success. Still, at the end of the day, their mission stays true: they all just want to help save lives.
"I want to be a patient advocate. There are so many times where the patient does not have an actual opportunity to sit and talk with someone. I feel like the nurse is there to take care of them, comfort them, and give them the care that they need and deserve. That's what my goal is," said Allison.
Go Magazine on 09/15/2019
Print Headline: Top-tier teaching NPC utilizes unique teaching techniques and top-tier technology to ensure students' success
Sponsor Content
Comments