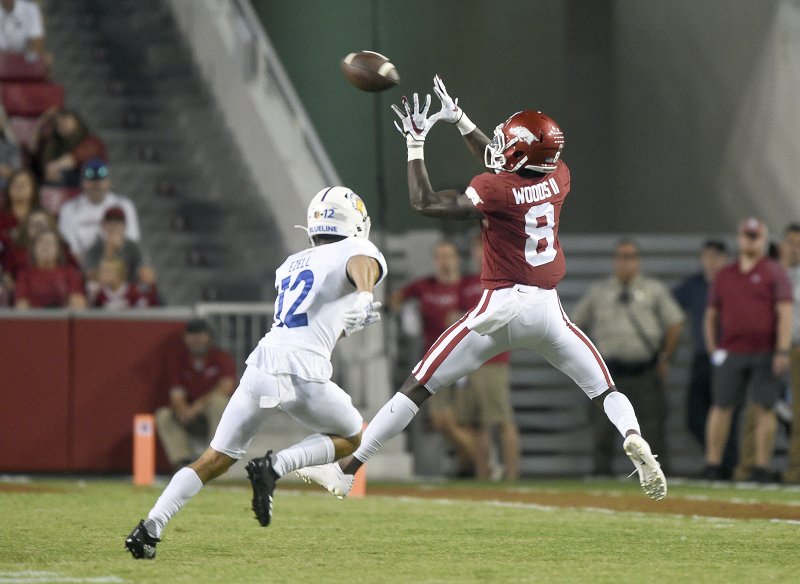 NWA Democrat-Gazette/Charlie Kaijo SPECTACULAR CATCH: Arkansas Razorbacks wide receiver Mike Woods (8) makes a catch during the second quarter of Saturday game at Donald W. Reynolds Razorback Stadium in Fayetteville. The Razorbacks lost to the Spartans 31-24.
FAYETTEVILLE -- San Jose State flew east with a bag of tricks, plenty of bravado and nothing to lose.
The Spartans intercepted University of Arkansas quarterback Nick Starkel five times in their territory, stopped a pair of fourth-down runs and stunned the Hogs 31-24 before a crowd of 56,058 at Donald W. Reynolds Razorback Stadium.
San Jose State (2-1) left Arkansas with a $1.5 million guarantee check and one of the biggest victories in school history, their first over an SEC team in seven meetings.
Coach Brent Brennan had entered the game with a career record of 4-23, but the Spartans used an open date last week to hone its run-pass option attack and unleash a variety of trick plays on the Razorbacks. The Spartans ran into the northeast corner of the end zone to celebrate with their 75 or so fans who made the cross-country trip after completing the upset.
San Jose State snapped a 25-game losing streak to Power 5 teams that dated to a 35-34 victory over Stanford on Sept. 9, 2006.
Arkansas (2-2), trying to build momentum after a dominating fourth quarter in a victory over Colorado State last week, saw its bowl hopes take a huge hit with the loss in their first meeting with the Spartans. The Hogs have not won back-to-back games under second-year coach Chad Morris.
Josh Love completed 32 of 49 passes for 402 yards and two touchdowns and directed a nearly perfect two-minute drill to break a 24-24 tie.
The Spartans out-gained Arkansas 503-487 in total offense and held the Razorbacks' run game, which had clicked in their 55-34 victory over the Rams last week, to 131 yards.
The Razorbacks rallied from a 17-point second half deficit to tie on Trey Knox's eight-yard touchdown pass from Starkel with 2:56 remaining.
Arkansas had shut out the Spartans through the second half and needed one more defensive stop to fend off the upset bid, but they couldn't get it.
Love completed consecutive passes of 12 and 18 yards to Tre Walker, then found JaQuan Blackwell for 24 yards on a deep back-shoulder throw. DeJon Packer stormed over the right side for a 19-yard touchdown on the next play to make it 34-27 with 1:13 remaining.
Bobby Brown II picked off Starkel's deep throw for Mike Woods on the next Arkansas play, and the Spartans were able to compete the game in the Victory formation.
Starkel went the distance and completed 28 of 50 passes for 356 yards and three touchdowns to go along with the five interceptions.
San Jose State won the all-too-critical turnover battle 5-1.
Trailing 24-7 at halftime, the Razorbacks drove to the San Jose State 31 and 7 yard lines on their first two possessions of the second half but did not score.
Safety Jay Lenard made a diving interception over the middle at the San Jose State 13 yard line to end the first possession. Cornerback Nehemiah Shelton anticipated a throw near the goal line for Knox on the second series and intercepted Starkel at the 1.
The Razorbacks finally got points on their next two possessions.
Connor Limpert's 47-yard field goal pulled Arkansas within 24-10 with 5:01 left in the third quarter.
The Razorbacks tightened the margin even more on their next series, but they needed a critical fourth-down conversion in their own territory to do it. Devwah Whaley ran 16 yards with a pitch play over left end to convert the key fourth and 1 from the Hogs' 29. Three plays later, Tyson Morris caught a slant over the middle and braced for contact. He took the hit, spun away from two defenders and turned it into a 30-yard touchdown.
Arkansas went three and out on its next possession but tied the game with an 80-yard drive.
San Jose State committed an unsportsmanlike conduct penalty after Rakeem Boyd's 18-yard run to get Arkansas into Spartan territory. Woods caught a 40-yard pass to convert third and 13, then Starkel found Knox for the tying touchdown.
The Razorbacks fell behind early for the fourth time this season as San Jose State scored on its opening possession.
Love found Bailey Gaither streaking behind the defense on a play-action pass on the first snap of the game for a 50-yard gain. Love connected with Blackwell on a three-yard slant pass touchdown six plays later for a 7-0 lead.
Arkansas drove 62 yards with its second possession but came up empty when Morris elected to go for it and fourth and 2 from the Spartans' 4. Devwah Whaley was stopped for a 2-yard loss by Christian Johnson and Kyle Harmon to end the sequence.
The Razorbacks drew even with their next possession when Starkel stepped up in the pocket and fired deep for Mike Woods, who had gotten behind cornerback Zamore Zigler for a 62-yard touchdown.
Arkansas had its first big jolt of momentum two plays later when safety Kam Curl ran down Love's go-route for Isaiah Hamilton and picked it off at the Arkansas 34.
The Spartans snatched it right back as linebacker Ethan Aguayo, the nation's tackles-per-game leader, intercepted Starkel over the middle and returned the pick 32 yards to the Hogs' 28.
Two plays later, backup quarterback Nick Nash went over right guard, made a good cut and scored a 16-yard touchdown.
The Razorbacks came right back with a 56-yard drive, but it ended when 334-pound nose tackle Sailosi Latu stood up Starkel's quarterback sneak on fourth and 1 from the San Jose State 23.
Aided by Myles Mason's pass interference on a flea-flicker pass, the Spartans drove into Arkansas territory and Matt Mercurio connected on a 47-yard field goal to make it 17-7.
But the Spartans weren't through scoring in the half. After a three and out by Arkansas, San Jose State drove 79 yards to go on top 24-7.
Walker made the play of the drive, converting a third and 10 with a cross-field catch and run for 20 yards. Love fired a swing pass to Isaiah Holiness in the right flats and the 5-10 freshman dashed through the secondary for a 26-yard touchdown to further stun the home crowd.
Sports on 09/22/2019
Print Headline: Spartans grab 5 INTs, roll to win over Hogs
Sponsor Content
Comments