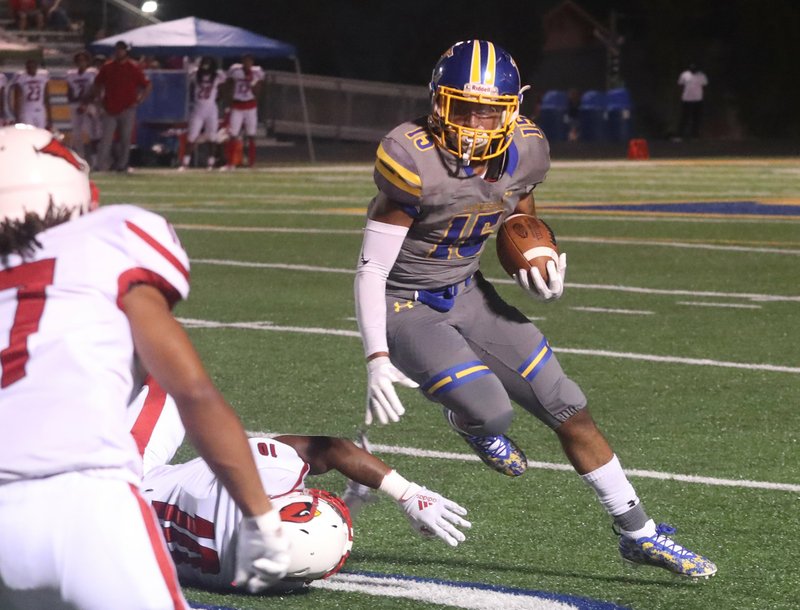 Lakeside's Dealond Lewis runs the ball against Camden Fairview at Lakeside. Photo by Richard Rasmussen of The Sentinel-Record
A Camden Fairview interception with 1:20 to play sealed a 26-21 Cardinal win over Lakeside Friday at Chick Austin Field in the 5A South conference opener.
Eric Albert's pick capped a final 12:46 that saw two lead changes, including Logan White's 2-yard touchdown catch from Will Ross that gave Lakeside its only lead, 21-20, with 46 seconds to play in the third quarter. The Cardinals answered with a 59-yard touchdown pass from sophomore quarterback Logan Robertson to Javien Clemmer to regain the lead and set the final margin, 26-21, with 8:27 to play.
Clemmer outfought two Lakeside defenders to secure the underthrown pass Robertson lofted on third and long. It was one of his five catches for a game-high 144 receiving yards and three touchdowns.
Lakeside was unable to muster a game-winning drive, turning the ball over on downs twice and throwing an interception on its final three possessions. The Rams' (2-1, 0-1) flat fourth quarter followed a dynamic third frame that saw them convert two Cardinal turnovers into 14 points.
Jesus Damian's interception of an overthrown pass with 5:23 to play in the quarter set up a seven play, 58-yard touchdown drive capped by Dealond Lewis' 5-yard touchdown run at the 1:59 mark of the quarter. Lewis ran for two touchdowns on the night and finished with a game high 113 rushing yards on 18 carries.
A 36-yard completion on a flea flicker from Ross to White on fourth down positioned Lewis for the score that cut the Cardinal (2-2, 1-0) lead to 20-14.
Noah Duvall recovered a fumble on the ensuing kickoff to set up a three play, 28-yard drive that put Lakeside ahead with 46 seconds to play in the third quarter. Ross found White down the seam for 26 yards to set up the go-ahead 2-yard touchdown pass to White.
White's 102 receiving yards on 11 catches led Lakeside. Ross finished 22 of 37 for 182 yards.
Lakeside struggled to find its rhythm in a first half disjointed by penalties, dropped passes and lengthy discussions between coaches and officials. It had 25 total yards in the first quarter, two intentional grounding penalties and failed to field the opening kickoff as the Cardinal coverage team ran under the short, high kick before Lakeside's up men could react.
Camden Fairview seized on the unexpected possession, with Robertson lofting a 54 yard touchdown pass to Clemmer on a third down and 32 that was a near facsimile of their game-winning connection. Clemmer plucked the ball from two Ram defenders who appeared to have position. The play was the first of four third downs the Cardinals converted on eight attempts in the first half.
The Cardinals made steady and big gains throwing quick passes to the perimeter in the first half, including a quick pass junior wide receiver Jaden Bates raced 52 yards down the boundary to stake Camden Fairview to a 12-0 lead with 2:29 to play in the first quarter.
Bates' 129 yards on six catches were second only to Clemmer's gaudy night. Robertson finished 15 of 26 for 269 yards and four touchdowns.
Sports on 09/28/2019
Print Headline: Camden Fairview survives Lakeside's second half surge
Sponsor Content
Comments