Arkansas Secretary of State John Thurston emphasized the importance of participating in the 2020 Census to members of Oaklawn Rotary Club during an earlier meeting at The Hotel Hot Springs & Spa that was conducted according to current social distancing guidelines.
The club, in a news release, said that Thurston talked about how statewide redistricting will take place next year after the census is complete, and that the state of Arkansas receives $2,500 annually per each person counted by the census. Those funds are used to provide statewide services.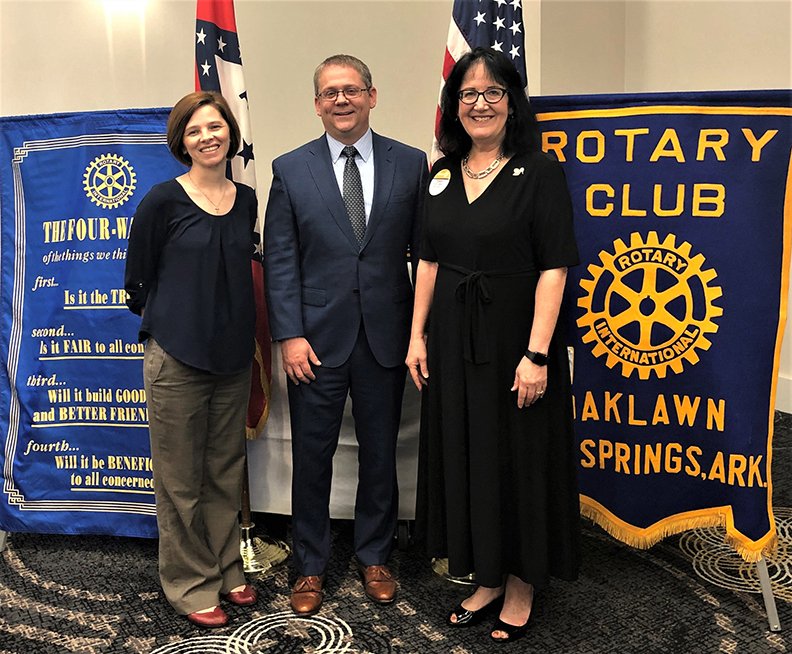 From left are Rotarian of the Day Christina Ellis, Secretary of State John Thurston, and Oaklawn Rotary President Terry Edens. - Submitted photo
After Census Day, April 1, residents might incur further taxpayer expense by receiving a home visit to complete their Census questionnaire, which is estimated to take 10 minutes to complete.
Thurston also detailed the duties of the secretary of state, which include overseeing the Business and Commercial Services Division, providing a wide range of services to individuals and companies that conduct business within Arkansas and acting as a starting point for new businesses.
The Secretary of State also oversees the state Capitol and related facilities; the Communications and Education Division; the Elections Division; the State Capitol Gift Shop; and the State Capitol Police.
Thurston was introduced by Rotarian of the Day Christina Ellis.
Society on 04/05/2020