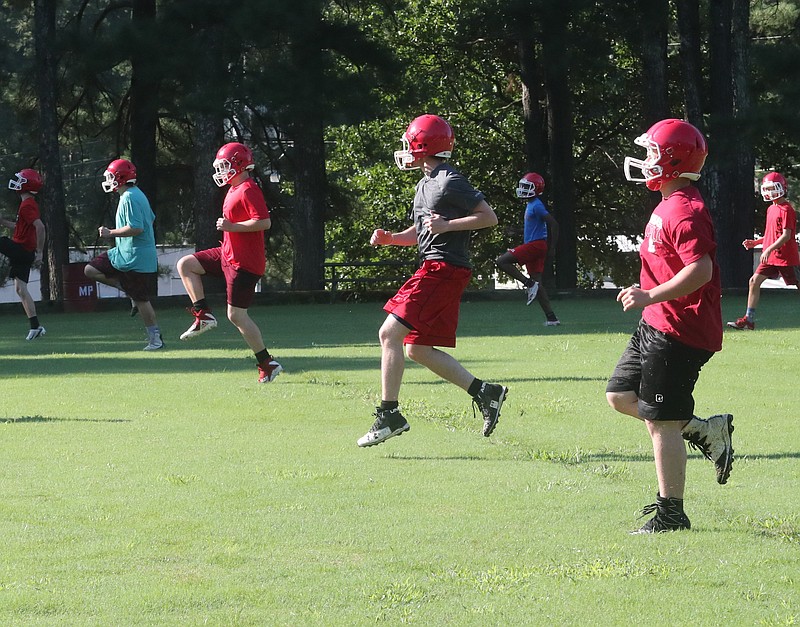 Football players go through drills during the first official practice of the season at Mountain Pine. - Photo by Richard Rasmussen of The Sentinel-Record
Football programs around the state kicked off team practices with limited contact on Monday after two months of following a strict no-contact mandate that applied to all players and personnel when performing any drills or conditioning-style workouts.
Lake Hamilton led the way with 88 players in attendance on the first day, and head coach Tommy Gilleran witnessed a smooth transition as his team adjusted to the progressive changes.
"They did really good today handling the practice," he said. "Since we could actually touch people, we did a lot more stuff today. We did 7-on-7 for the first time. We also blocked dummies for the first time, and we haven't blocked dummies all summer, so we did a lot of stuff where we could block people so we could work on our run game and stuff like that. ... Defense could line up to different sets and actually go through stuff that we do. It was a much-needed practice for us to get ready."
After a member of Mountain Pine School District tested positive for COVID-19 in June, head coach Sam Counce feels that the lack of Red Devil athletes who participated on the first day was a result of caution and concern by members and their families.
"We didn't have the numbers that I wanted," he admitted. "I still think people are a little apprehensive about getting back in the groove of things as far as getting around people, but I think our numbers will get better as the week goes."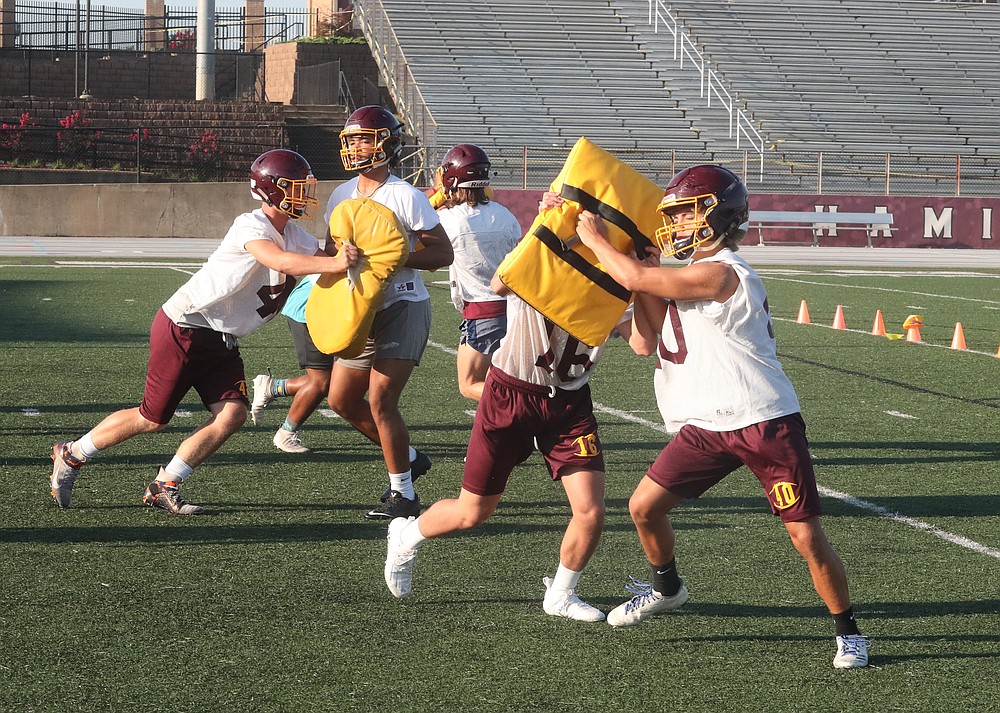 Football players run through drills at Lake Hamilton Wolf Stadium Monday morning. Monday was the first day that high school football and volleyball teams in the state could hold practice after two months of conditioning workouts. Athletes, while allowed to wear helmets, were not required to wear masks during active drills, but they are still required to wear them while on the sidelines or not active during drills. Photo by Richard Rasmussen of The Sentinel-Record
Counce said that things went well in the team's first official practice of the season.
"It went well," he added. "We had a few that struggled a little bit that have been in the house for a few months, but overall it was good. The kids worked hard, and I think they were glad to be out doing stuff, being back in the groove of football and seeing some of their friends."
Gilleran also recognized the thrill of his players to be re-acquainted with certain aspects of the game.
"They were excited just to get helmets," he explained. "We haven't had helmets all summer, and it was like a kid in a candy store. Those kids were excited to actually get a helmet. ... We're gonna get shoulder pads on Wednesday, but it's a 'thud' practice (for three days). ... It's not like you can just go out there and hammer each other. ... It was good just to do a regular practice."
Counce said that he is confident in his team's ability to "adjust" and cooperate with the new guidelines.
"Kids are resilient as far as being able to adjust to everything," he said. "We still had distance and stuff, but kids are social. They're talking, visiting and being around people. We stayed apart, but the hard thing is for me -- the kids get it I guess -- but I get too close to them. I'll look up, and I've got my arm around one, and I'm telling them something about what I need them to do, and I've got to back up.
"It looks different, and it is different, and the kids can handle it. ... It's not the traditional way we've always done stuff, (but) we're all glad to be there. The weather was great for a first day, and just like the kids I was glad to be back out there, too. It was fun. ... I think we're just kind of in a test mode of seeing what's going on and how we're going to be able to do things."
In an effort to promote good health among the staff and players, Lake Hamilton coaches have taken steps toward advanced social distancing while promoting the regular season to take place this fall.
"We're practicing like there's a season," Gilleran confirmed. "I think there's gonna be one. ... I'm not saying you can't get it from kid to kid, but seems like it's more contagious from adult to kid.
"As coaches, we take our temperature every day. ... We told our coaches that if anybody (doesn't) feel good not (to) come, but none of us have felt bad all summer. We've done a good job of doing stuff at home, not getting out in public and stuff like that -- trying to stay away from people so we didn't get around somebody that could have it."
Football players at Lake Hamilton run through agility drills during practice at Wolf Stadium. - Photo by Richard Rasmussen of The Sentinel-Record
Sponsor Content
Comments