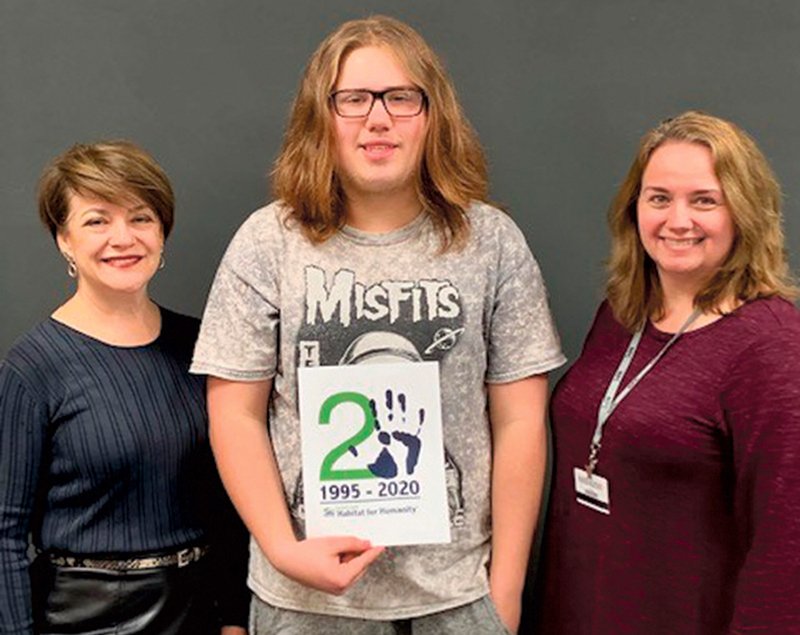 Cindy Wagstaff, left, Garland County Habitat for Humanity executive director, and Glenda Davis, National Park College Technology Center Graphic Design instructor, with Gabriel Garza, holding his winning logo design. - Submitted photo - Photo by Submitted photo
Time to get ready for purple martins
For bird-watchers and others who like to listen to birds sing, enjoy watching and learning from wildlife, or hope to get rid of a few flying insects, now is the time to put up new martin boxes, or clean out the old ones.
Purple martins will be arriving from Brazil around the middle of February looking for places to nest, Jerry Davis, wildlife biologist, said in a news release.
Purple martin scouts arrive first, looking for houses. The majority of purple martins will soon follow. Martins fly from Brazil to the same backyard and house that they used before.
"The houses need to be cleaned and in good repair so a bird that finds it will stay and nest," said Davis. "Martin houses should be cleaned after each nesting season. Martins may use the martin house to nest and roost, but when they are gone, other birds may use the box." Purple martins are declining, and everyone who wants martins will not get them, said Davis, noting the species is popular because its characteristic chatter and its habit of eating flying insects, the release said.
"Persons lucky enough to have martins should take care of them and manage the colonies to benefit the birds." Being a good martin landlord also means putting up predator guards to keep predators such as rat snakes, cats, and raccoons from eating the birds. Controlling house sparrows and European starlings is also critical."
Purple martin boxes should be placed 12 to 20 feet above the ground and have compartments with a minimum 6-by-6 inch floor space (7-by-12 is best), with a depth of 6 inches. The 2-and-a-half-inch wide entrance should be 1 inch above the floor. Martin Gourds have greater occupancy than boxes.
For more information, visit the Purple Martin Conservation Association at https://www.purplemartin.org/purple-martins/attracting/.
Habitat chooses 25th-anniversary logo
Garland County Habitat for Humanity, which is celebrating its 25th year in Garland County, recently partnered with the National Park College Technology Center to create a 25th-anniversary logo.
The contest was open to area high school juniors and seniors enrolled in the NPTC Advertising and Graphic Design class. The winning logo was designed by Gabriel Garza, a junior at Lakeside High School, and will be featured throughout the year to promote Garland County Habitat for Humanity's 25th anniversary.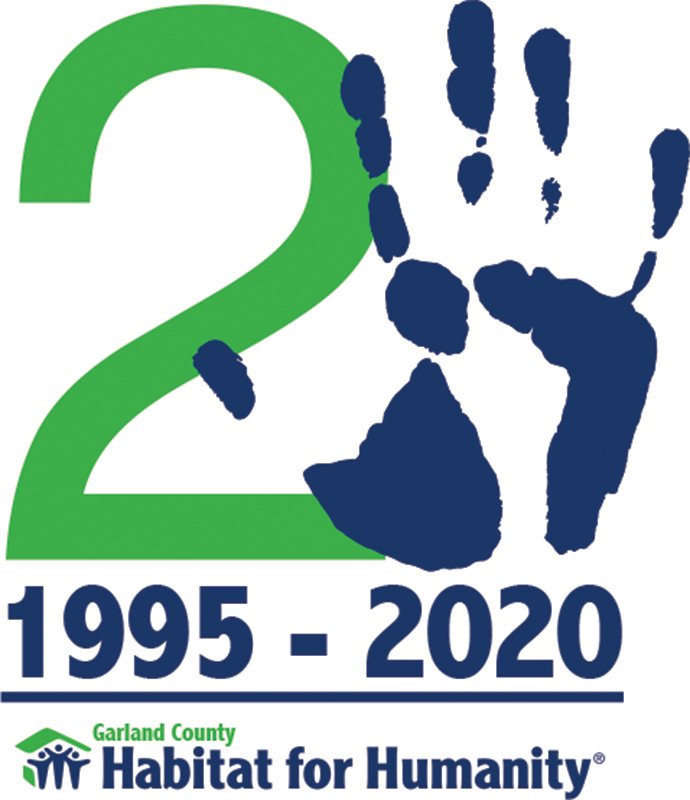 Winning logo design - Submitted photo
The students learned about Habitat for Humanity and were asked to create a logo that reflected the organization's motto, "a hand up, not a hand out." This inspired Glenda Davis, NPTC Graphic Design instructor, to set up a paint station for the students to make handprints of their own hands for the logo.
The NPTC Advertising and Graphic Design junior and senior students have participated in various community design projects.
"These are such great opportunities for our students to get real, hands-on project experiences," Davis said.
"We are grateful for all those who submitted logo designs for our 25th anniversary. The logo we ultimately selected accurately depicts Habitat for Humanity with a simple handprint. At first glance, it is the '5' in '25' but it also symbolizes the many hands that have volunteered over the years to build decent, affordable houses and reflects our motto, a hand up, not a hand out. The open hand also speaks to our commitment to inclusion and diversity. The fact that the hand is the artist's own handprint makes this logo unique and deeply personal to Garland County Habitat for Humanity," said Cindy Wagstaff, GCHFH executive director.
Habitat for Humanity has dedicated 145 homes since 1995 and impacted thousands of people through their commitment to the community.
Society on 02/12/2020
Print Headline: Items of interest
Sponsor Content
Comments