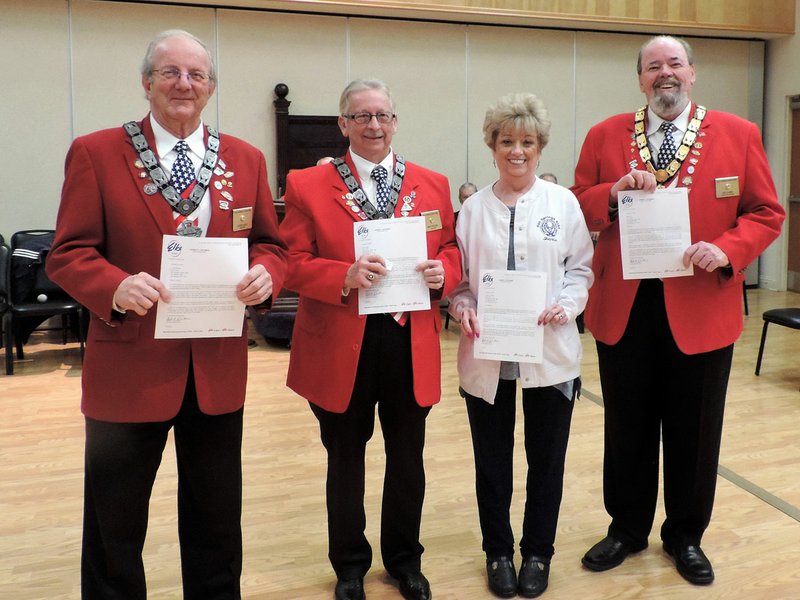 Elks Lodge 380 recently presented awards from the Grand Exalted Ruler to four members of the lodge for outstanding recruitment of new members. From left are PER David Ross, PER Roy Frazier, Sharon Kelsay, and ER Bill Sams. - Submitted photo
HSV Audubon to hear monarch presentation
Guest speaker Jim Edson will discuss the "Migration of Monarchs to Mexico" during today's Hot Springs Village Audubon Society meeting at 10 a.m. in the Coronado Center at Hot Springs Village.
Edson will discuss the fascinating 2,000-mile flight, on instinct alone, of 200-300 million monarch butterflies, a news release said.
NPPC extends photo contest deadline
National Park Photography Club is holding its inaugural Spring Print Contest for residents of Arkansas.
"This organization began in January of 2017 with a handful of photographers wanting to improve their skills through competition. They have grown from a bright idea to an active group of 26, meeting monthly in the Garland County Library for lively competitions, workshops and programs," a news release said.
Up to three images can be entered digitally for qualification. The photographers of the top 20 images will be invited to submit their framed prints to the club, and those prints will be displayed in the Garland County Library during the month of May. While on display, Jason Crader, a professional photographer from Little Rock, will choose the top prints to receive cash awards, and all finalists will receive ribbons.
Entry forms are available by emailing [email protected] There is no specific topic for the images. The entry fee is $10. Digital images are due by Feb. 22, and prints are due at the end of April. Call 501-226-5570 for more information.
Society on 02/13/2020
Print Headline: Items of interest
Sponsor Content
Comments