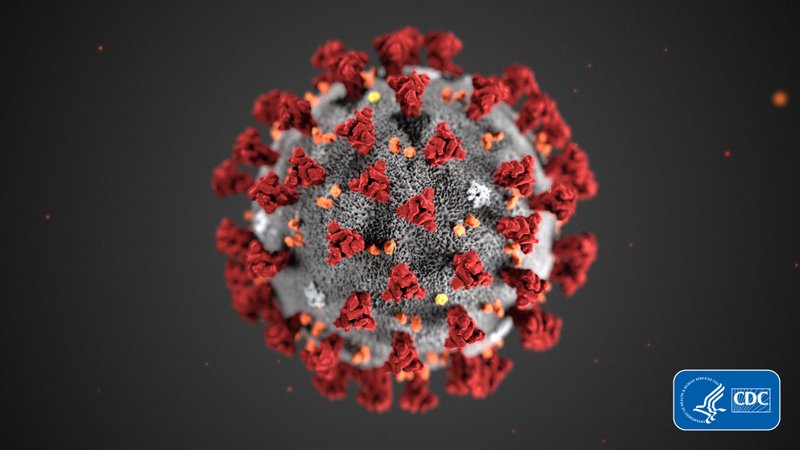 This illustration provided by the Centers for Disease Control and Prevention (CDC) in January 2020 shows the 2019 Novel Coronavirus (2019-nCoV). (CDC via AP, file photo)
EDITOR'S NOTE: As a service to our readers, The Sentinel-Record publishes updates released each weekday by the city of Hot Springs and the state of Arkansas.
The following stats were shared Friday at Gov. Asa Hutchinson's daily COVID-19 news conference in DeQueen and posted on the Arkansas Department of Health's website:
• 26,803 cumulative cases, up 751 from Thursday.
• 369,699 test reports, up 5,038 from Thursday.
• 7.2% rate of infection, up from 7.1% Thursday.
• 5,847 active cases, up 96 from Thursday.
• 20,642 recoveries, up 650 from Thursday.
• 402 hospitalizations, up eight from Thursday.
• 84 cases on a ventilator, up two from Thursday.
• 892 cumulative nursing home residents infected, up 13 from Thursday.
• 311 cumulative cases in Garland County, up eight from Thursday.
• 8,697 test reports for Garland County, up 84 from Thursday.
• 3.6% rate of infection, up from 3.5% Thursday.
• 52 active cases in Garland County, down 12 from Thursday.
• 256 recoveries for Garland County, up 20 from Thursday.
• Three deaths in Garland County, no change from Thursday.
New cases at the Ouachita River Unit of the Arkansas Department of Correction reported on the Health Department's nursing homes and congregate settings report Thursday were added to Friday's list of new statewide infections, making the 145 new cases reported Friday in Hot Spring County the most in the state.
The Health Department's nursing homes and congregate settings report showed no growth in infections at the Malvern prison, listing 679 cumulative infections and 312 active infections for a second day in a row. The city of Hot Springs is in neighboring Garland County, but the task force organizing the county's response to the coronavirus said at its meeting earlier this week that local hospitals have admitted patients linked to the prison outbreak.
Dr. Nate Smith, Health Department secretary, said many inmates who initially tested negative subsequently tested positive.
"As we've said before, if you've been exposed, a negative test cannot rule out infection," he said. "It means you could've been infected, but the amount of virus is too low to test positive. You have to go back and retest. There were individuals who were exposed. They actually were infected but they initially tested negative because it was too early in their infection to get a positive result."
The 751 new cases reported statewide Friday raised the rolling seven-day average of new cases more than 5%. Friday's 596 average was 2% lower than the June 28 peak of 608.14. It was the sixth time in 28 days and fourth in nine days that cases topped 700.
The state's infection rate, or positive tests as a percent of total tests, has risen almost 40% in the last two months.
Test results reported Friday surpassed 5,000 for the first time this week, but the daily total failed to reach the more than 6,000 daily reports the state needs to hit its goal of 200,000 tests in July. Hutchinson continued to explain that specimens from large states with growing infection rates have overwhelmed commercial testing labs, creating backlogs that have delayed the reporting of results to the Health Department.
Despite the backlog, Hutchinson said the average time between specimen collection and reporting of results is comparable to earlier in the pandemic. He said the gap was 3.2 days in March, 1.6 in April, 1.7 in May, 2.0 in July and 2.5 in July.
"I know some people hear this and say, 'Well it took me seven days,'" Hutchinson said. "This is on average, and this is what we're recording. We don't have all of our results in on the most recent days. From what I'm hearing anecdotally, that wait time will probably go up from that.
"That's something that concerns us, because we need quick results. That helps us to manage the outbreak. To isolate people who need to be isolated. We want to watch that and hopefully with national support we can get more resources in our commercial labs that will help us."
The eight new cases reported Friday in Garland County raised its rolling seven-day average of new cases to 5.71, up from 5.14 Thursday. The moving average ticked up but active cases fell from 64 to 52 on the strength of the 20 recoveries reported Friday.
Active cases are 63% of their July 3 peak of 83.
Sponsor Content
Comments