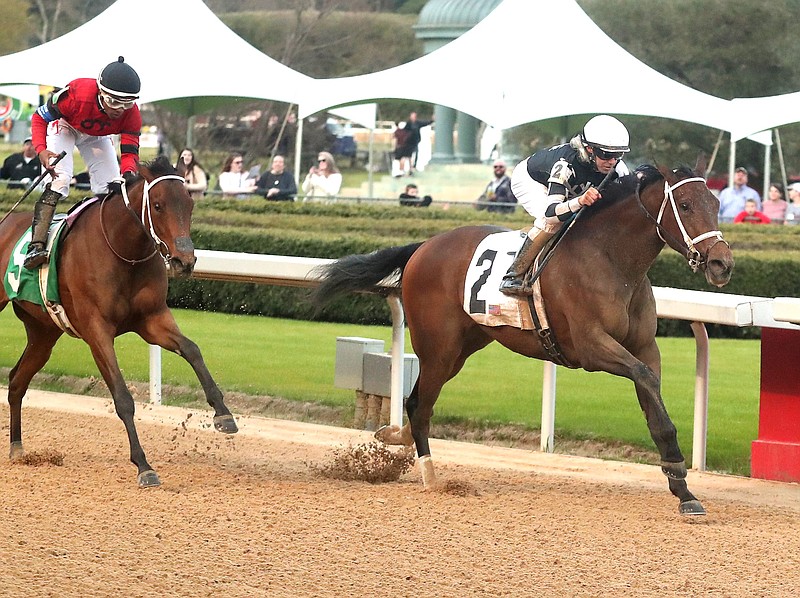 Jockey Joe Talamo guides Shedaresthedevil (2) across the wire in front of Alta's Award and jockey Ricardo Santana Jr. to win the Honeybee Stakes on March 7 at Oaklawn Park. Shedaresthedevil is currently second in the Road to the Oaks standings. - Photo by Richard Rasmussen of The Sentinel-Record
Following her second Grade 3 victory, the next race for Shedaresthedevil is up in the air, its connections say, but the long-range goal is unchanged.
If all goes well, Brad Cox will saddle two 3-year-old fillies in the Kentucky Oaks Sept. 4 at his hometown track, Louisville's Churchill Downs. Bonny South and Shedaresthedevil, both winners at Oaklawn Park, rank second and third in the Road to the Kentucky Oaks leaderboard. The Grade 1 classic was rescheduled from May 1 because of the coronavirus pandemic.
Shedaresthedevil, co-owned by Staton Flurry of Hot Springs, rolled to a five-length victory in the Grade 3 $200,000 Indiana Oaks on Wednesday at Indiana Grand. The Daredevil filly went off as 3-5 favorite after an allowance optional-claiming victory June 5 at Churchill Downs.
"She's got enough points to get in," Cox said. "I won't say we'll make it easy on her, but as easy on her as we can to get her into the Oaks the best way and get here there with some confidence."
Jockey Florent Geroux said Shedaresthedevil, racing in new surroundings, "was waiting a little bit on horses and waiting for my signal to keep going. I gave her a few taps at the eighth pole just to keep her focused, and it was just a matter of how many lengths by which she was going to win."
Shedaresthedevil clocked a fast-rated 1 1/16 miles in 1:43.50, picking up 20 points toward the Oaks for 90 overall.
"Big favorite. We expected her to run well," Cox said. "She'd been training the part out of her last race at Churchill, where she ran a big race. It was a good trip -- she responded well. I thought she looked great at the quarter pole.
"Florent had to kind of reach around and keep her alert the last sixteenth of a mile. He said she kind of got a little lost late. But when he asked her the last sixteenth, she really kicked on. Overall, it was a big effort, exactly what we were looking for. I was real pleased with her."
Cox has the same sure hand with 3-year-old fillies, it seems, as Bob Baffert with Kentucky Derby contenders and Chad Brown with turf horses. Cox scored division championships with Oaks winner Monomoy's Girl in 2018 and Covfefe last year. Covfefe, better suited going shorter, doubled as the Eclipse Award-winning female sprinter of 2019.
Formerly with Simon Callaghan in California after racing for Norm Casse in Kentucky, Shedaresthedevil went to Cox after selling for $280,000 at Keeneland last November. Flurry races her in partnership with original owner Qatar Racing Ltd. (David Redvers) and Big Aut Farms (Autry Lowry). Shedaresthedevil won Oaklawn's Grade 3 Honeybee March 7 off a last-out second to Bonny South (a subsequent New Orleans stakes winner), then third in Oaklawn's Grade 3 Honeybee May 1.
"The Oaks will be a good test for her," said Flurry, who along with his mother operates parking lots near the track during the Oaklawn live racing season. "I'm not saying we'll win the Oaks, but we should certainly be in the conversation. Being among the top three to five fillies in the race wouldn't surprise me by any means."
Fantasy winner and Oaks point leader Swiss Skydiver, trained by Ken McPeek, is entered against 12 males in today's Grade 2 Blue Grass at Keeneland. Fantasy runner-up Venetian Harbor, trained by Richard Baltas, and Honeybee runner-up Alta's Award (Steve Asmussen) are among six fillies in Keeneland's Grade 1 Ashland on opening Saturday at the track.
Sponsor Content
Comments