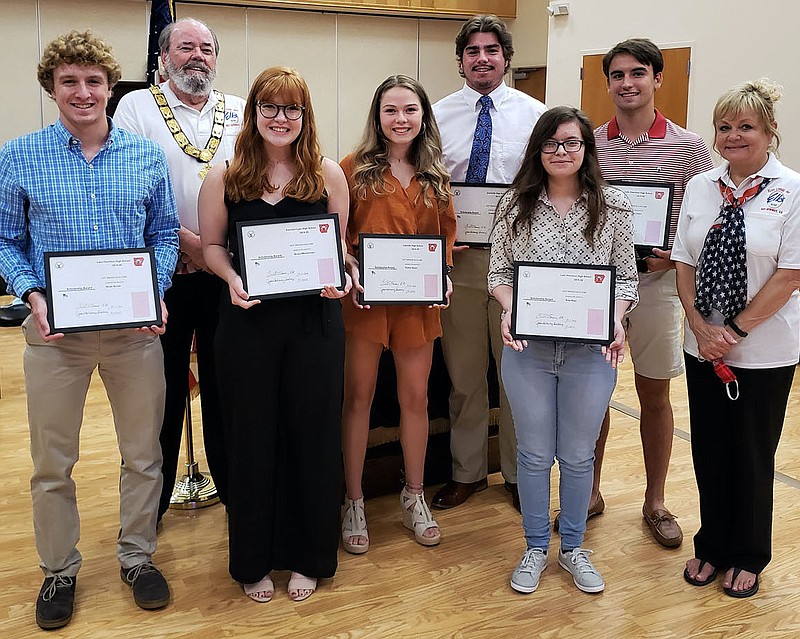 Front, from left, are Noah Smith, Lake Hamilton High School; Grace Westerman, Fountain Lake High School; Cailee Stone, Lakeside High School; Zoie Keys, Lake Hamilton High School; and Jackie Holloway, Scholarship Committee Chairperson; and back, from left, are Bill Sams, Exalted Ruler; Joseph Benson, Jessieville High School; and Pearson Hafer, Lake Hamilton High School. - Submitted photo
Elks Lodge 380 awarded scholarships to the six "Outstanding Students" of the year recently at a recognition ceremony following dinner honoring the students and their parents.
The scholarships are awarded annually to graduating seniors from local high schools, based on the students' accomplishments in scholarship, personal and school activities.
"The Elks award the greatest number of scholarships in the nation, second only to the U.S. government," a news release said. "Competition is held annually, and is open to students from all Hot Springs area schools, with the Lodge's Scholarship Committee coordinating with counselors at the various schools to determine appropriate candidates."
Call the Lodge at 525-1020 for more information.
Sponsor Content
Comments