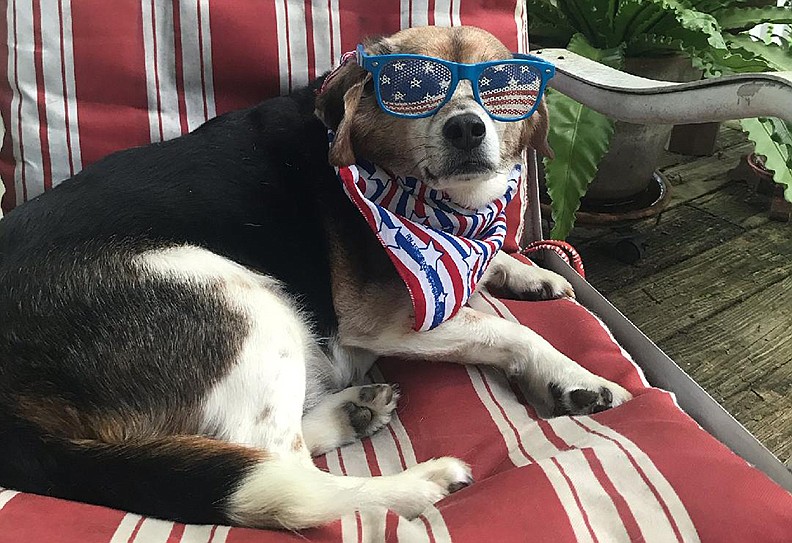 Rockit, a beagle mix, won the inaugural Patriotic Pet Contest that was hosted by the Friends of Hot Springs National Park. - Submitted photo
A local beagle mix named Rockit has been declared the most patriotic pet in Hot Springs following the Friends of Hot Springs National Park's inaugural Patriotic Pet Contest over the Fourth of July holiday.
The virtual contest encouraged pet owners to dress their animals in patriotic costumes. The submissions were posted on Facebook, and the pet with the most "likes" was the winner.
Rockit was decked out in American flag sunglasses and matching bandanna. His owner, Bethannie Newsom Steelman, said she was happy with the results. "Of course I was excited," she said.
As far as why she decided to enter Rockit in the contest, Steelman said that the dog "has a lot of personality."
"I thought he'd be into it," she said.
Steelman also said that she was expecting her dog to win. "I was not surprised at all," she said.
Roxanne Butterfield, president of the Friends, said that she was happy with how the event went. "We had submissions not just from Hot Springs, but from other states, as well," Butterfield said. She said that the event also helped bring more attention to Hot Springs.
Butterfield said that the submissions included cats, dogs and one horse. Watching the submissions arrive was fun. "It was a fun activity for a lot of people," Butterfield said, noting that the animals "looked happy" too.
For winning the contest, Rockit will get to have his photo shown on the Hot Springs National Park website and the Friends of Hot Springs National Park website and Facebook page for the rest of the month.
This pet show was held virtually due to the COVID-19 pandemic. Butterfield said that this event was supposed to be an actual pet show at the annual Red, White & You Picnic in the Park. She said that next year the plan is for them to hold an actual pet costume show at the picnic.
Steelman said that if she can fit in into her schedule, she might enter Rockit into next year's contest.
"He might have to defend his title," she said.
Sponsor Content
Comments