No negative health effects from a harmful algal bloom on Lake Hamilton have been reported to the state to date, according to the Arkansas Department of Energy and Environment's Division of Environmental Quality.
On July 8, a homeowner notified DEQ of "blue/green scum" on Lake Hamilton at the outlet of Little Mazarn Creek near Marion Anderson Road, which was found to be harmful algal bloom, or HAB.
Jacob Harper, Arkansas Energy and Environment's media and communications manager, said in an email that, to DEQ's knowledge, no negative health effects from the HAB have been reported.
"After confirmation of the HAB, DEQ immediately notified Entergy, the lake owner, and requested that Entergy put signs out at the public accesses and alert their constituents on the lake," Harper said. "On July 9, 2020, DEQ and the Arkansas Game and Fish Commission collected water samples from the site to determine the level of toxicity. Analytical results from the sample determined elevated cyanotoxins present in the water body."
He said cyanobacteria, which makes up a HAB, is regularly found in all lakes and ponds to some extent.
"It's not until conditions are right (high nutrients, warm weather) that they are able to outcompete the 'good' plankton and proliferate or 'bloom,'" Harper said.
At this time, the exact cause of the HAB at the outlet is unknown, but due to very rainy conditions so far this summer, DEQ may be seeing higher than normal nutrient loading into the creek as a result of runoff, he added.
"These events typically develop in coves where there is little wave and wind action," Harper said. "The hotter the weather gets and the more nutrient runoff from surrounding watersheds, the more likely these events will occur."
He noted it is difficult to determine the length of a HAB; some may remain for a day or two, while others may last for several weeks.
"The next major rain event could flush the HAB out into the main water body and dilute it, but it could also bring in more nutrients from the surrounding watershed," Harper said.
Although no negative reports from HAB have been reported, he said populations that are especially prone to cyanotoxin poisoning include children, pets and wildlife. If someone feels they may have been affected and come down with any of the following symptoms, they should alert their doctor immediately and describe where and when the exposure happened:
• Headaches.
• Weakness.
• Shortness of breath.
• Vomiting.
• Diarrhea.
• Liver damage.
• Kidney damage.
• Abdominal pain.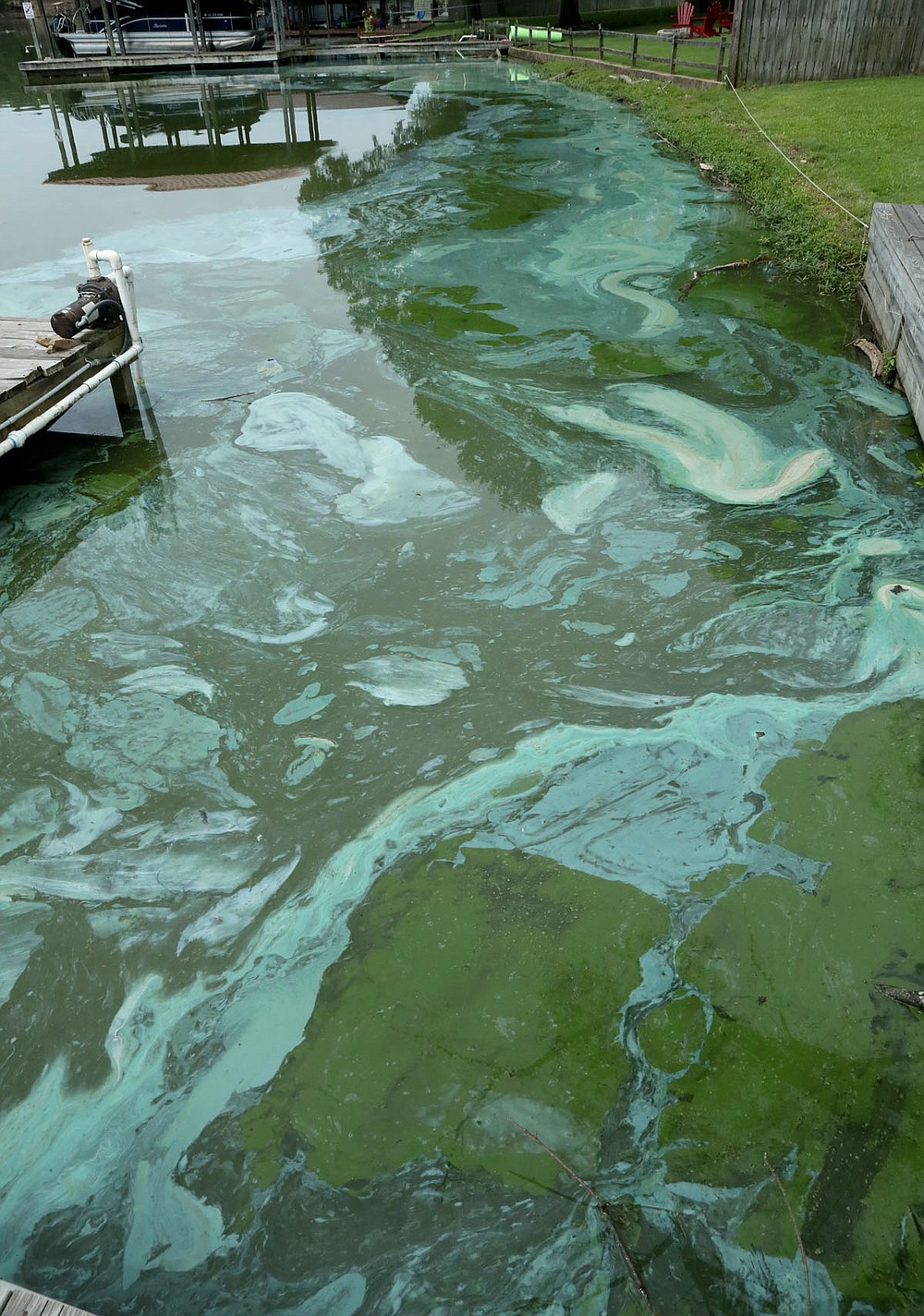 An algal bloom was visible in the 400 block of Joy Drive, near where Little Mazarn Creek flows into Lake Hamilton, on Monday. - Photo by Richard Rasmussen of The Sentinel-Record